Since there are hundreds of skid steer attachment manufacturers and thousands of different attachment models available, making the right choice can be difficult. To help with this buying process, consider these ideas before and after purchase.
1. Application and Environment
First, determine what you will be using the skid steer attachment for and what type of environment you'll be in. Knowing these two things is critical. Many attachments for skid steer loaders are built to perform in certain environments.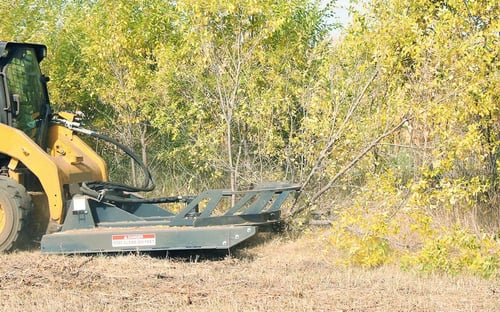 For instance, we have brush cutters that are specifically designed to cut brush on uneven terrain. Using a brush cutter built for level land on uneven terrain will result in decreased performance.
Another example would be using a grapple that's built for moving brush to move scrap yard materials. When the attachment's design doesn't suit your environment, it's likely it will underperform.
2. Frequency of Use
Usually, this is determined by whether the attachment will be used for commercial or personal use. Typically, commercial users are going to invest in the heaviest duty skid steer attachments on the market. They understand how much hesitations and downtime can cost them in the long run, and they're looking for attachments that aren't going to eat at their bottom line with poor performance or incurred damage. That's why choosing skid steer attachments made with high-grade steel is a worthwhile investment.
3. Compatibility with Your Skid Steer Loader
It is important to fit the attachment to your machine so it's not underutilized or overloaded. In order to find a suitable fit, you have to know the machine's operating capacity. There are attachments that will be too big or too small for your skid steer. For example, the Virnig V60 Root Rake Grapple is too big for a Bobcat® S185 to handle.
4. Having a Dependable Dealer
Choosing the right dealer can be as crucial as selecting the right attachment. It's important to have a dealer and manufacturer who are experienced and can quickly provide answers to your questions as well as any parts you may need in the future. Before you go and buy attachments for skid steers, ask yourself this: Do I know a dependable dealer?