A skid steer brush cutter with an open front is a great choice for clearing heavy undergrowth, saplings, dense grass, and weeds.
There are many different brush cutters that make quick work of clearing overgrown brush. Skid steer brush cutters are better suited to tackle large areas of extremely tough and dense brush with minimal impact on the property. They offer superior maneuverability compared to dozers, walk-behind cutters, and pull-behind mowers.
Choosing the best brush cutter for you depends on a number of factors, which I'll cover below. These include understanding the application, having experience, knowing the terrain, and finding a quality cutter that matches your skid steer's flow rate.
UNDERSTANDING THE APPLICATION
Open front brush cutters are not like lawn mowers. They have powerful motors, thicker blades, and are primarily used to cut down thick brush, small trees, and make stumps disappear.
Brush cutting provides many benefits, which include:
Limiting future regrowth.
Expanding usable property.
Reducing brush piles, if any.
Preventing wildfires.
Leaving landscapes looking great!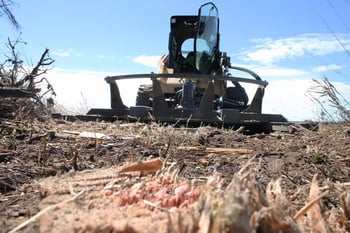 Buying a machine that isn't strong enough to tackle whatever you're clearing will be a frustrating waste of money.
If you have several acres to clear, an open front cutter on a skid steer is probably suitable. After all, nobody wants to clear four acres of brush with a walk-behind mower.
Open front brush cutters are used to:
Maintain or create new trails in the woods or around a lake.
Grind small tree stumps to the ground by tilting the deck forward.

NOTE: Some cutters offer teeth on the flywheel. These can only reach the ground if they are as low as the sides of the deck. Most are not.

Clear large areas for future development.
Cut down many trees in a short amount of time.
Clear weeds along fence lines.
Quickly reclaim neglected backyards.
3 Keys to Successful Brush Cutter Operation
1. Have or Gain EXPERIENCE
Experience. The 10-letter word that is vital to brush cutting success. Brush cutters look like they would be a fun attachment to use, but to get a job done efficiently isn't all that easy or fun. And it can be dangerous, too.
I remember how lost I was when I sat in the skid steer for the first time. There are a lot of controls to keep track of and objects to avoid when driving. Moving one control in the wrong direction could be disastrous! It takes time and finesse to become an operator as opposed to a driver. Regardless of what you do, be careful.
IMPORTANT TIP: If you'd like to learn more about these powerful attachments, check out our Ultimate Guide to Brush Cutter Attachments.
2. KNOW THE TERRAIN
Avoid using skid steer brush cutters on steep terrain. Steep terrain can come up quickly if you're not paying attention. If you are working on unfamiliar terrain, take a moment to walk around and see if there are any sudden drop-offs or soft, mushy areas. Also, look for rocks, wire, and other damaging debris before cutting.
IMPORTANT TIP: Brush cutters are very heavy. Cutting on wet ground can cause a skid steer to lose traction and sink deep into the ground. Traction can be increased by using a machine with tracks instead of tires.
3. FIND A HIGH QUALITY BRUSH CUTTER
The model you purchase needs to have the required structural strength and quality components to withstand the stress that comes with this type of work. A heavy-duty, high quality open front mower will eliminate extremely dense brush, and will cut 4 to 6" diameter trees down to the ground in seconds.
There are several important things to look for when purchasing a new or used skid steer mower.
Quality spindle
Reinforced mower deck
Heavy-duty flywheel
Reinforced, tall push bar
Hydraulic pressure relief valves
Replaceable blades
Replaceable skid shoes
Safety features
An open front skid steer mower with these features will be a high-quality, well-designed piece of heavy equipment. These points were covered in detail in my article on closed front brush cutters (they apply to both open and closed front cutters). If you'd like more information on these features, you can find it here.

MATCHING A CUTTER TO YOUR SKID STEER
Effective mowing always requires a suitable machine. With so many options to choose from, it is important to match the brush cutter to the overall skid steer width, as well as the flow rate capabilities of your skid steer's hydraulic system.
CUT WIDTH
A common question is what attachment width should I purchase? Purchase a brush cutter with a cut width that is wider than the tires or tracks of your skid steer. If the cut width does not cover the tracks, then you increase the risk of running over uncut debris; debris that could damage your skid steer tires.
Bigger is not always better. Selecting a brush cutter attachment that is too wide will:
Increase weight.
Increase overall cutting surface area.
Require more power to run it effectively.
And each of these factors directly impacts performance.
SKID STEER FLOW RATE
You must know the flow rate of your skid steer and the minimum and maximum flow rate of the brush cutter's motor. Flow rate is typically listed in gallons per minute (GPM).
IMPORTANT TIP: To achieve optimal performance, the brush cutter's flow rate should fall within the min/max range of the brush cutter motor.
Flow rate examples:
If you use a Standard Flow brush mower motor in High Flow the motor will be over stressed. It may not fail immediately, but irreparable damage has likely occurred and will eventually cause the motor to fail.
If you use a High Flow brush mower on a Standard Flow skid steer, you won't get the performance you desire.
SKID STEER OPERATING CAPACITY
Another factor to consider is the operating lift capacity of your skid steer loader. Brush cutters generally weigh about 2,000 pounds. Always check the attachment's recommended loader capacity to make sure your skid steer has the necessary operating capacity to effectively handle the skid steer brush mower.
Skid Steer Brush Cutter vs. Skid steer Brush Hog vs. Skid steer Brush Mower
When it comes to tools for taking on overgrown brush, it's easy to get swept up in a bit of confusion over what things are called. Are you looking for a brush cutter, brush hog, or brush mower? For some, these terms are used interchangeably, and for others, they have different meanings. It can all depend on who you're talking to.
A skid steer brush hog is a rotary mower attachment, and they come in all different sizes. A skid steer brush cutter is also a rotary mower attachment. And a skid steer brush mower? You guessed it. It's a rotary mower attachment.
Here at Virnig Manufacturing, we've named our rotary mower attachments brush cutters, but it's okay if people refer to them as brush hogs or brush mowers. The most important thing is that they're able to get their hands on the right tool for the job and operate it safely and efficiency.
Operation and Maintenance
SAFELY OPERATING SKID STEER BRUSH CUTTERS
For maximum safety, take the time to read and understand a brush cutter's manual before operating. The main thing is to keep bystanders at least 200 feet away from the cutter when it is being operated. Also, pay attention when mowing to make sure the front of the deck isn't plowing into the ground. Here are some general tips to safely operate skid steer brush cutter attachments:
When operating, never lift the blades above the cab door.
Never operate a brush cutter without a shatterproof cab door on your skid steer.
Before cutting, look for rocks, fence wire, or other damaging items.
Never exit the skid steer when the cutter's blades are in motion. Anytime the blades are off the ground and still moving they can be very dangerous.
Since debris can easily be thrown through the air, make sure there are no bystanders within 200 feet.
Use a skid steer with tracks when operating on soft ground. Tires can dig deep into soft ground and result in slow, poor performance.
MAINTAINING BRUSH CUTTERS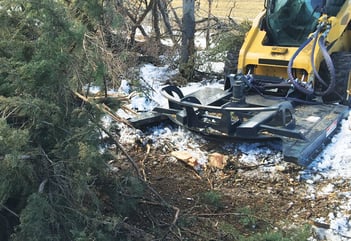 Whether you buy a new or used skid steer mower, always keep up with regularly scheduled maintenance and replace worn or defective parts as soon as they are detected.
Brush cutters require very little maintenance besides grease and oil. It is helpful to keep an eye on wear parts like the blades and skid shoes. Brush cutters have areas that must be greased and the motor oil needs to be checked regularly and filled with the proper oil.
IMPORTANT TIP: Keep the cutter's spindle well lubricated at all times. We receive many cases of part failure that could have easily been prevented with proper lubrication.
Make sure to take great care of your skid steer brush cutter attachment. Use the cutter's manual for maintenance information and stick to a schedule. You can count on years of reliable performance if it is well maintained.

THE RIGHT EQUIPMENT
Clearing brush can be very tiring, and having the right equipment can make it a lot easier on you during and after you are done. If there are several brush clearing jobs ahead of you, one of the best attachments you can own is a skid steer brush cutter.
But don't just take me word for it, see what brush cutter owners had to say about their brush cutters.
Skid Steer Brush Cutter Reviews
V40 Brush Cutter
"I thought I would have buyers remorse when I was making this purchase, but after getting it home I couldn't be any happier! I am a home owner with about 20 acres of overgrown woods. I used it a few times in a small area just to get the feel for it.
I spent about 5 hours in the skid steer with it so far. I was pleasantly surprised with the performance. I have been cutting everything from grass to small trees up to 3 inches in diameter. If I had to do it again I wouldn't hesitate for a minute!"
-Melvin P.
V50 Rotary Brush Cutter
"Amazing customer support and response! In addition to the 78″ Brush Mower, I own an 84″ Skeleton Grapple, 84″ Land Leveler, 30″ U Blade Tree Scoop and a set of forks, all Virnig and performing admirably. If I ever decide on any future attachments, I will definitely go with Virnig!"
- Gary O.
V50 Rotary Floating Deck Brush Cutter
"I'm in the commercial brush cutting business. We have 2 Virnig floating deck closed front mowers and the quality, durability and design are the best I have found in the market place."
- J McCarthy LLC
V60 Industrial Rotary Brush Cutter
"Bought this V60 rotary mower last year and finally got to put some time on it. It's truly amazing what this cutter will go through. Works fine on grass and tall weeds, but you really get to see what 41 gpm will do in thick brush and cedar.
This thing went well above and beyond my expectations. With the right machine this cutter is unstoppable. Glad I made this purchase. It definitely compliments our land clearing business."
- John
If interested in buying a new brush cutter, check out what we have to offer.