Virnig attachments have developed a reputation for being durable, designed to perform, and built to last. With our latest line of attachments, you can add tougher and lighter to the list. That's right, we're releasing a compact tractor line of attachments.
The line includes two brand new attachments, three redesigned attachments, and three attachments that were already part of the Virnig lineup (one snow blade and two utility forks). And with the exception of one of those utility forks, every implement in the line clocks in at 430 pounds or lighter. Plus, they're American-made, and have the same great design and construction you've come to expect from Virnig. Here's a look at the features and capabilities of each attachment in our compact tractor line.
V30 Root Rake Grapple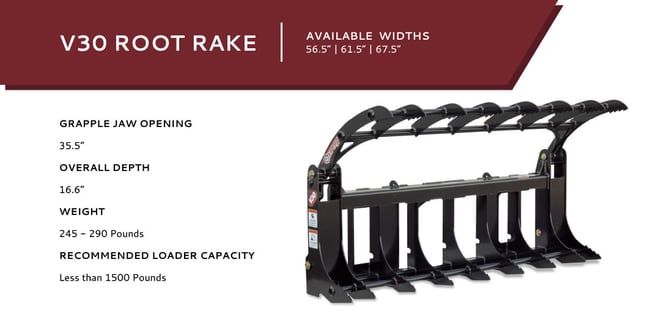 The new V30 Compact Tractor Root Rake Grapple is a useful tool for digging and raking brush, as well as for piling and loading debris. Capable of both forward and reverse operation, this attachment brings a level of versatility typically not found in implements made for compact tractors.
V30 Skeleton Grapple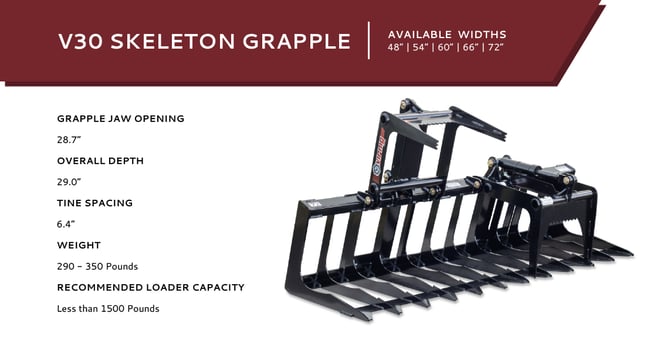 The V30 Compact Tractor Skeleton Grapple is a two-cylinder, independent grapple complete with an open-sided design for hauling brush and logs. The attachment's open bottom allows dirt and small debris to fall through. Each of the five available widths of this grapple have a jaw opening of 28.7 inches.
V30 Skeleton Rock Grapple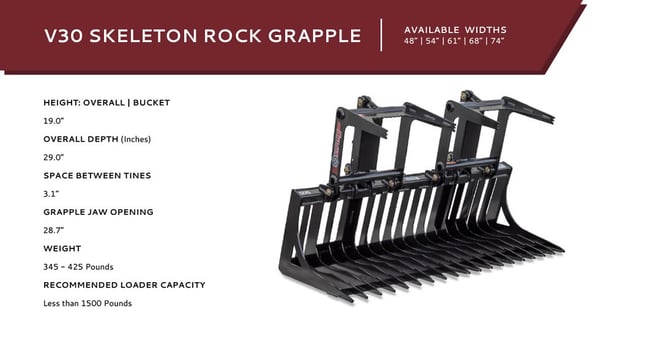 The newly redesigned V30 Compact Tractor Skeleton Rock Grapple is a two-cylinder independent grapple. It has a tight 3" tine spacing to effectively pick rocks and leave dirt behind. Plus, the attachment brings versatility with its hybrid side plates. They make hauling rocks secure, and they make it possible to haul material that's wider than the grapple, like logs.
V30 Skeleton Rock Bucket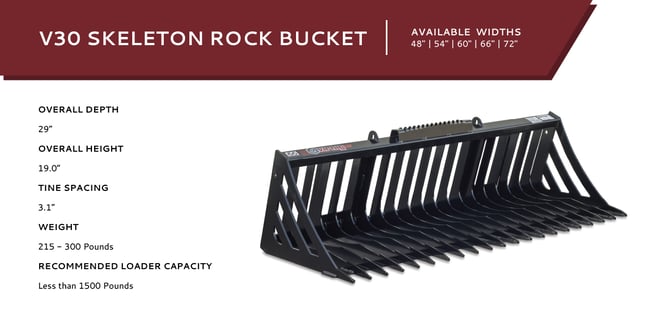 The V30 Compact Tractor Skeleton Rock Bucket isn't new to the Virnig line, but it is improved. The attachment was redesigned to be both lighter and more capable. Now, each of its five available widths are 20% lighter than the previous versions, meaning they can haul more material without overloading your compact tractor.
V30 Rail Pallet Fork
The V30 Rail Pallet Fork comes in a single width. With an approximate weight of 265 and a capacity of 2,200 pounds, this fork packs a lot of capability into its compact frame. Ideal for moving pallets in tighter warehouses.
V30 Angle Snow Blade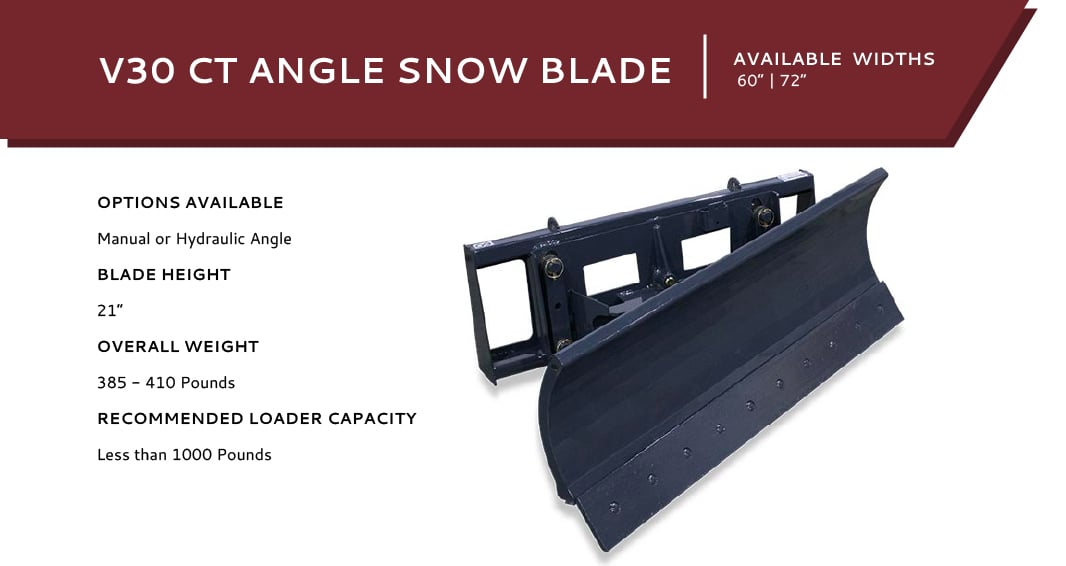 The V30 Compact Tractor Angle Snow Blade is a snow plow attachment designed for compact tractors. With +/- 4° side-to-side oscillation, this blade excels at clearing snow on uneven surfaces. This attachment comes standard with a manual angle with both one-cylinder and two-cylinder hydraulic angle options available.
V30 Utility Fork Grapple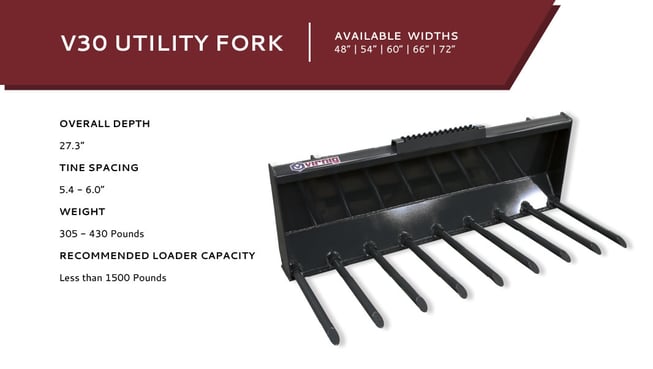 The V30 Compact Tractor Fork Grapple is a one-cylinder grapple with replaceable tines. The attachment handles a variety of materials, including manure, brush, and debris. With five widths to choose from, this fork grapple is great for compact tractors and small skid loaders.
V30 Utility Fork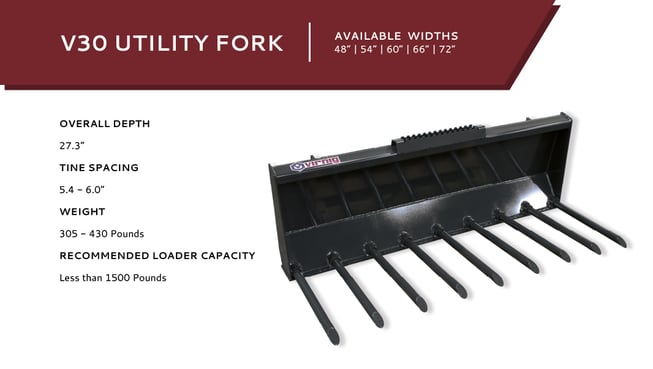 Available in five widths, the V30 Compact Tractor Utility Fork provides a cost-effective way to transport semi-loose material. Its low profile provides excellent visibility to skid loader operators, while its teeth easily penetrate loads. Depending on the width, this attachment comes with 7-11 replaceable bottom tines.
Interested in one (or more) of these compact tractor attachments? Contact us to get a quote.