Consider This a two-beverage job.
I overheard a couple of guys talking at Taco Bell the other day. One complained that he had busted a cylinder weld on his compact tractor grapple and that he needed to take it in for a replacement. His buddy responded "Don't do that. Just fix it yourself."
When his friend asked if it was easy, the other guy said "Piece of cake. A two-beer job at the most." I chuckled to myself through a mouthful of burrito. He wasn't wrong.
Routine tractor and attachment maintenance are often very straightforward, requiring only basic tools. Rolling up your sleeves and tackling repairs like a cylinder replacement will save you time and money, and get you back on the job faster. For anyone like the guy at Taco Bell who needs to do a cylinder replacement on a grapple, here's a 10-step guide to getting it done.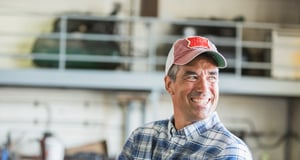 In the spirit of safety, let's go skip the beer and go with some brewed coffee.
1. Pick up a New Cylinder
Step one on any repair is to get the proper replacement part(s). Generally speaking, we recommend using the same OEM hydraulic cylinder specified by the attachment manufacturer, with the exact cylinder bore and stroke measurements.
For example, if your grapple is a Virnig attachment, we'd recommend sourcing the replacement part from us, mainly because we only use Nitrosteel cylinder rods vs. chrome-plated rods. The Nitrosteel finish delivers improved corrosion resistance and better grease retention, whereas chrome-plated rods can flake and pit, which ultimately destroys seals or other internal components.
Most parts for Virnig attachments are available in-stock and can be shipped as early as the same day the order is received. Check with your local Virnig dealer for replacement part availability.
2. Pour a Cup of Coffee
Nice job.
3. Grab Some Tools
In most instances, you'll only need a socket set and a wrench to replace a hydraulic cylinder on your compact tractor's grapple attachment. A hammer might come in handy too for tamping the cylinder hinge pins in and out.
4. Support the Grapple
It's always a good idea to put a board on the bottom "rake" and rest the grapple jaw on the board to prevent it from falling downward when the old cylinder is removed.
5. Remove the Cover plate
If your grapple attachment has a protective cover plate (cylinder guard) over the cylinder , taking it off is quick and simple. It's usually held in place with two or four bolts.
6. Pop the pins
Taking the two cylinder pins out is a snap. Simply remove the snap rings and bushings and then push out the hinge pins. If they're snug, a tap with the back of your wrench or a hammer should free them up.
7. Swap the lines
With the old cylinder out, grab your wrench and loosen the lock nuts on both hydraulic lines. Immediately reattach the lines to the new hydraulic cylinder. It's highly recommended to get some rags to immediately clean up any spilled oil.
8. Pour another cup
You're almost done.
9. Reverse the process
Putting the new cylinder in place is as simple as re-installing the pins, rings, bushings and protective cover plate — in the reverse order that you removed them.
10. Give yourself a toast
Congratulations, you just finished fixing your compact tractor grapple attachment. You saved time and money by doing it yourself, and that's a reason to celebrate.
I hope this how-to was helpful. You'll find that the same general hydraulic cylinder replacement outlined here applies to other compact tractor and skid steer attachments too. If you have any questions, the fine people at your local Virnig dealer are always happy to answer them. Cheers!