Picture this. You've acquired a beautiful, undeveloped piece of land. After months of preparation and anticipation, you're finally ready to clear away all the roots, brush, and debris and prepare this virgin soil to plant your newest field, install an improved storage facility, or construct your dream home.
There's just one problem. You've got a compact tractor sitting in the garage, but you need a grapple attachment. You know how important it is to select the right attachment for the job: If it's too big you run the risk of overloading your machine, possibly resulting in a dangerous and expensive accident. If it's too small, you could create more work for yourself in repeated trips and operational costs.
Whether you're a seasoned veteran or a newly-minted hobbyist, you need to find the right grapple for your compact tractor. Keep reading to understand compact tractor grapple basics, and how to choose the best one for you.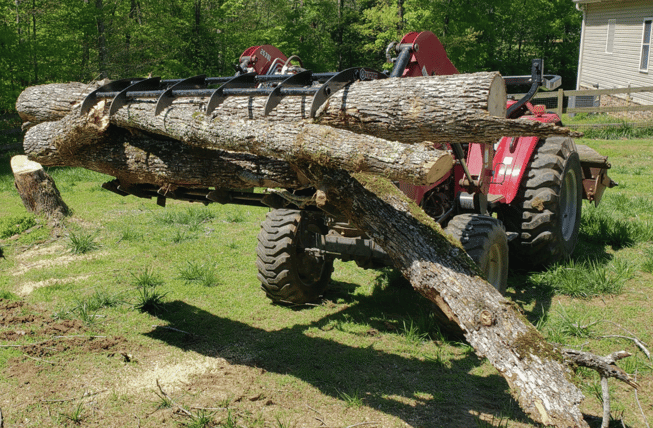 What is a Compact tractor grapple?
Put simply, a compact tractor grapple is an attachment that allows you to grab material that you want moved from one place to another. Long-time operators of these tools know just how useful they can be when clearing an area of brush, rocks, or roots. One of the most popular types of compact tractor grapple attachments is the root rake grapple.
This enormously versatile attachment makes clearing away bulky, unusually shaped, or lengthy material a breeze. Once the area is cleared of large above-ground debris, the tines can be used to dig up and completely remove brush as well as pesky plants like bamboo. And the root grapple bucket of these attachments has an open bottom, allowing you to remove unwanted material while letting that valuable soil fall back through.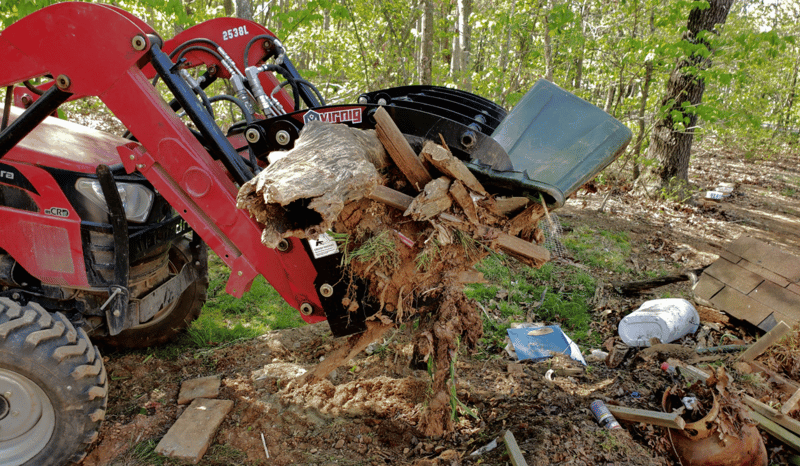 What is a compact tractor grapple used for?
There's a compact tractor grapple for just about any job that you can imagine. Tractor grapples are frequently used for:
Digging up and removing brush
Hauling scrap
Digging up stumps
Relocating hay bales
Moving pallets
All of these jobs and more can be accomplished with different types of compact tractor attachments.
How do you choose the right grapple?
Choosing the right grapple is a matter of asking the right questions. You need to know your tractor capacity and the exact purpose of the grapple.
To find precisely the right attachment for your job, there are five key concepts to keep in mind. We've touched on them here, but you can read more about them with Virnig's Ultimate Guide to Skid Steer and Compact Tractor Grapple Attachments, which covers:
Determining Your Specific Needs
Identifying High Quality Grapples
Understanding the Grapple Styles/ Options Available
Learning Safe Grapple Operation and Maintenance
And Matching the Grapple to Your Machine
What is the best grapple for a compact tractor?
The most important thing to remember when selecting a compact tractor grapple is that your compact tractor is smaller than its full-sized cousins and can't handle the same loads. When you add an attachment such as a root grapple, the weight of that attachment counts against your machine's operating capacity. That's why it's vitally important to keep the weight of your attachments down so you can haul more with your compact tractor in fewer trips.
The Virnig V30 series is meticulously designed with weight at the forefront. These compact tractor attachments are manufactured with the same high-strength steel and premium components as our industrial attachments, so that you can be confident that you're not missing out on durability or performance. But the V30 series is also one of the lightest set of attachments we've ever manufactured, allowing you to maximize your operating capacity. As always, our products are designed to perform and built to last.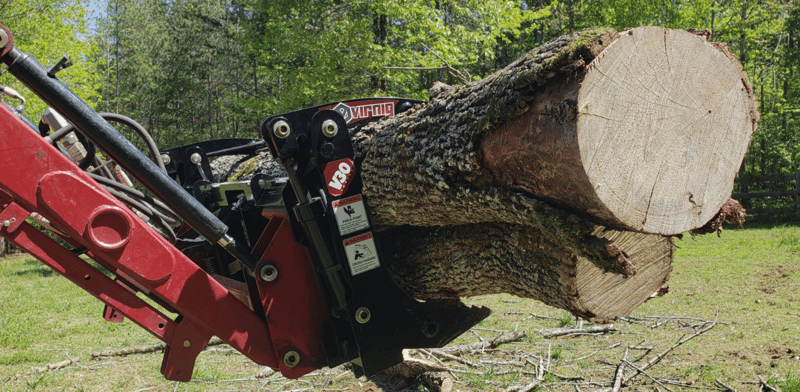 HOW DO YOU ATTACH A TRACTOR GRAPPLE?
All of Virnig's compact tractor attachments are made with universal skid steer mounts, making the process simple and stress-free. Once you've hooked your attachment onto your loader, it's a simple matter of securely tightening the hardware and connecting any hydraulic hoses or electrical wiring to the tractor itself. If you find that you do have questions, the experts at Virnig are always available to walk you through how to attach any grapple.
It is vitally important to make sure you relieve any pressure when disconnecting hydraulic hoses, and that you route those hydraulic hoses to avoid pinching or crimping of the hose when the machine is in operation.
Virnig is here to help, every step of the way
At Virnig, we are obsessed with the quality of our brand, and the care of our customers. We manufacture every one of our attachments in-house out of high-quality materials to ensure their performance and durability. And with literally hundreds of years of experience within the company, our customer service team is ready to help you find the best solution to any problem you have.

The experts at Virnig are standing by to field all your compact tractor grapple questions. Call us, or request a quote today to discover the right compact tractor grapple for your unique project.