We are excited to announce the new Hydraulic Snow Blade/Pusher attachment built for skid steers and track loaders.
The Hydraulic Snow Blade/Pusher Combo is a snow blade and snow pusher built into the same attachment. From inside the cab, the snow blade can quickly transform from a straight blade to a snow pusher or any position in between.
This versatile snow blade/pusher allows quick and cost effective snow removal for professionals and homeowners. It is ideal for clearing large areas such as parking lots. Variable pusher, straight, and angle positions allow the operator to efficiently windrow, push, scoop, pile, and back-drag snow all with one attachment.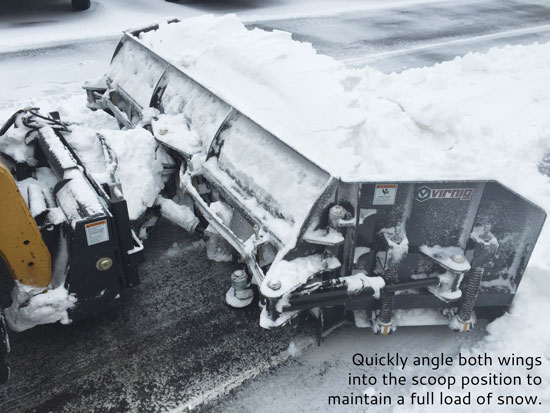 The Hydraulic Snow Blade/Pusher Combo utilizes the skid steer's hydraulics to angle the entire blade 30 degrees in either direction. Electric control is supplied and allows independent angling of each wing from 0 to 60 degrees. The entire blade adjusts independently from the wings for infinite plowing configurations.
The floating frame link and 4-degree side-to-side oscillation help maintain full blade contact by following the contour of uneven surfaces. These features save operators time and money by scraping pavement clean the first time.
Damage is minimized by utilizing three individual bottom trip edges with eight total compression springs that "give way" to manhole covers and other hidden obstructions. Additionally, a hydraulic relief valve protects the plow by absorbing shock and angling the entire blade if a curb or other object is hit with excessive force.
The heavy duty 3/16" moldboard features reversible, replaceable bolt-on cutting edges that allow 5 1/2" of total wear. Replaceable edge sections prevent snow from getting through the wings' pivot points when plowing. The Snow Blade/Pusher is powder coated to prevent rust and comes standard with adjustable skid shoes.
The Hydraulic Snow Blade/Pusher Combo is available in 11, 12, and 13-ft blade widths and comes standard with steel cutting edges, two pairs of steel edge pivot sections, cylinders, fittings, hoses and couplers. They are built with a universal skid steer mounting plate for quick and easy hook up.
With its heavy duty construction and intelligent design the Hydraulic Snow Blade/Pusher Combo will deliver efficient and reliable snow removal year after year.