A new Pin-on Wing option has been added to the snow attachment lineup.
The Pin-on Wing option features two, 12" wide wings angled 20° forward from moldboard to increase a snow blade's width by 21 3⁄4". Where extra width is not needed, simply remove the wings by taking out the two pins that hold each wing in place.
Each wing has a 1" thick urethane edge with slots for height adjustment as the blade's main edge wears. Slots allow enough adjustment for flipping
 of the main blade's wear edge.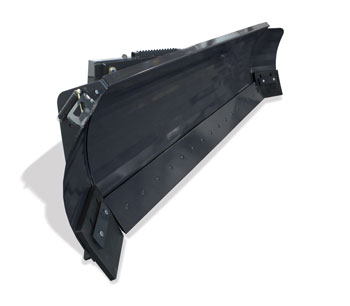 Pin-on Wings shown on a Virnig Angle Snow Blade.
QUICK, EASY INSTALLATION
Two brackets bolt to each side of the snow blade moldboard and two pins mount each wing to the bracket. It takes about 10 minutes to initially install both brackets and wings. Once the two brackets are installed on each side of the snow blade, each wing can be removed or pinned back on in less than a minute.
COMPATIBILITY
The Pin-on Wing option is compatible with new Virnig V-Snow Blades and Angle Snow Blades with factory mounted holes (see holes below).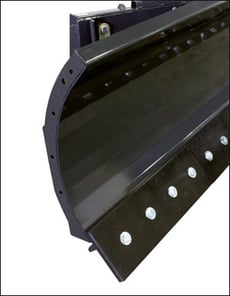 RETRO WING OPTION
Retro Pin-on Wings are also available for older models. These wings are installed by drilling holes and bolting brackets to each side of the moldboard. Two pins mount each wing to the brackets. Alternatively, the brackets can be welded to the moldboard.
We do not recommend installing these wings on non-Virnig Snow Blades.
All Virnig products are backed by a one-year warranty, and the skid steer attachments are built with a universal mount to fit most skid steer loaders including: Bobcat, Caterpillar, ASV, Case, Daewoo, Gehl, JCB, John Deere, Kubota, Mustang, New Holland, Takeuchi, Terex, Volvo, Wacker-Neuson, and others.