Skid steer disc mulchers can be safe, profitable land clearing attachments if they're properly matched with the skid steer. They can also be hazardous if the proper safety precautions are not taken. The first step is to ensure a proper match.
ENSURING PROPER MATCH
When using any mulching attachment, it's important to make sure it matches the machine's capabilities so it can operate safely and efficiently. With so many options to choose from, it's important to match the flow rate of your skid steer's hydraulic system
MATCHING HYDRAULIC FLOW RATE
Most mulcher attachments require a skid steer with high flow hydraulics. You must know the flow rate of your skid steer and the minimum and maximum flow rate of the mulcher.
For example, the Virnig V70 Series Tree Disc Mulcher has a recommended flow rate of 30-45 gallons per minute (GPM), which will require a machine with high flow hydraulics. If your machine's flow rate is under 30, you may not get the performance you desire.
IMPORTANT TIP: To achieve optimal performance, the mulcher's flow rate should fall within the min/max range of the mulcher motor.
MATCHING LIFTING REQUIREMENTS
Disc mulchers are one of the heaviest skid steer attachments you can purchase. The disc alone weighs over 900 lbs. They need to be well built to handle the abuse this type of forestry work requires.
Not only does the carrier need the necessary high flow hydraulics, it needs to be able to handle the weight of the attachment plus, be able to properly handle the weight of the trees it's pushing and clearing.
BE PROACTIVE, NOT REACTIVE
Disc mulchers are expensive attachments, especially if they aren't maintained. You must be proactive to ensure safe and efficient operation. "Do daily inspections for damages, leaks, and loose bolts. SHARP teeth cut, blunt edges hit like a hammer. Keep teeth sharp to eliminate unnecessary damage to holding components and retain efficiency while cutting," said Greg Meyer, MTS Tree Service.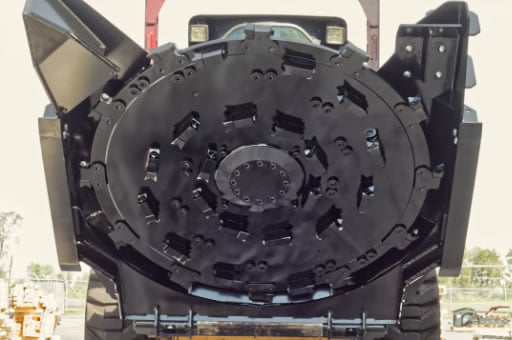 KEEP IT CLEAN
Every time you connect couplers there's an opportunity to add contaminants to the hydraulic system. When connecting hydraulic hoses to the machine, use a clean rag or towel to thoroughly clean all couplers (both machine and attachment) before making connections. Contamination of hydraulic oil may cause motor failure.
All shields and screens should be opened up regularly and the entire machine should be cleaned out periodically. Airborne debris can accumulate in the engine compartment can cause overheating and is a potential fire hazard. Likewise, the windshields and side windows should be cleaned of all debris to keep visibility high.
Pay close attention to debris in critical areas. Any time you remove the disc teeth, remember to thoroughly clean the disc and deck with a scraper or clean the area with compressed air or a pressure washer. Any debris left between the surfaces could keep bolts from torquing properly and holding teeth in place.
EXCESSIVE VIBRATION
If excessive vibration becomes present, there could be loose hardware, missing/damaged teeth or debris stuck on the mulching disc. Debris stuck on the mulching disc may be removed by processing another tree. If vibration persists, stop and inspect the mulcher for a possible cause. Before exiting the machine, lower the mulcher attachment to the ground, turn off the machine's engine and remove the key.
OTHER SAFETY TIPS
To minimize the risk of overheating, continuous rotation of the disc is recommended. If the disc stalls, disengage hydraulics and remove disc from material before restarting.
Be sure to engage hydraulics at an idle. When the disc is rotating smoothly, bring the loader to engine operating rpm. Don't engage disc into material until the disc is running smoothly at engine operating rpm.
INJURY PREVENTION
Disc mulchers will throw most of the material from the front and throw it further than brush cutter or drum mulcher. Keep this in mind if you're planning on mulching near buildings, homes, utility lines and busy roads. It will be dangerous for bystanders within 300' of operation so keep people away from the work site.
Survey the land before mulching and constantly check visibility all around the machine (360°) as often as possible. Also, look for rocks, fence wire or other potential damaging items. Land clearing often involves uneven terrain that can catch you by surprise.
Debris, rocks and chips will ricochet toward the operator. For operator safety, all mulcher manufacturers require installing shatterproof cab windows and some advise using a falling object protection system (FOPS) for operator safety.
KEEP IT LOW AND SLOW
When using a forestry disc mulcher attachment, never raise it more a few feet off the ground without extreme caution. Cutting tree branches with the mulcher in the elevated position could result in serious injury if the skid steer becomes unstable. If you can see the bottom of the disc, the back of the mulcher is raised too high and should be lowered to avoid debris being thrown back at the skid steer and operator.
Travel at a safe speed to avoid losing control of the attachment. Reduce your speed when driving over rough terrain, on a slope or turning to avoid overturning the mulcher.
SAFETY FIRST MINDSET
You being here means you're likely putting safety first. Respect and maintain the mulcher and it'll treat you well. Happy mulching and stay safe out there.
Before mulching, read this article to learn the different cutting methods and operating tips.