When design engineers develop and test new pieces of heavy equipment, it's easy to imagine that they focus on things like function, manufacturability, durability, and overall performance, and you'd be right. But that's not all. In many ways, design engineers are problem solvers. They see what needs to be done, and they develop a way to get it done using the materials and resources at their disposal.
One area of problem-solving that's of particular interest to me, and Virnig Manufacturing as a whole, is waste reduction. Here's a look at how we use technology to reduce waste.
Eliminating Waste with Technology
A few years ago, we purchased and began using structure analysis software that allows us to effectively calculate stress and determine how an attachment's design will perform under different load scenarios. We've found that the software we use does a very good job simulating real-world applications. Before we even consider building and field testing a prototype, we put a design through many tests by properly utilizing the software.
Determine Material needs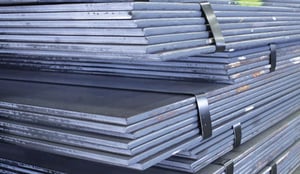 Before utilizing structural analysis software, we would pick material grade and thickness of new product designs mainly from experience gained from existing attachments. With this approach, we would err on the side of overbuilding when it came to factors like steel grade and thickness. To us, overbuilding meant we weren't at risk of creating an attachment with structural weakness.
Now, we use software to determine the exact grade as a guide to help determine the required grade and thickness of steel the attachment's parts require. This way, we know that the steel we use on each attachment is supporting it and adding to its performance. Not only is this process valuable for new designs, it has proven very effective in updating existing designs as well..
Design to Reduce Scrap
We make many of the component parts for our attachments from steel plate, using laser cutting technology. Again, we use software to cut as many parts as possible from each steel plate. By using the proper software as a tool, and being vigilant while using the software, we're able to optimize every steel plate and continually reduce how much ends up as scrap. Even when we're designing new skid steer attachments, we're thinking about how all the individual parts will fit together on plates of steel.
Why Streamline Processes and Eliminate Waste?
Steel is an expensive commodity, especially the high-grade, high-strength steel that goes into Virnig attachments. With the reality of rising steel prices, it just makes sense to be more intentional with our resources – even reducing steel waste by a small fraction adds up to a lot over time.
Technology has come a long way in making it possible to thoroughly vet and analyze designs before building any prototypes for real-world testing. Many times changes we make may not be dramatic, but improving processes and increasing material utilization does have an impact; they allow us to keep costs down without compromising quality.