Like a lot of attachments, skid steer pallet forks make quick work out of what would otherwise be heavy, time-consuming labor. And let me tell you, getting a loaded pallet from point A to point B is a lot easier when you have the right equipment to do it. A skid loader outfitted with a pallet fork attachment can be just the thing you need.
Pallet Fork Attachments Require Practice
Even though these attachments can bring a lot of ease, there is a learning curve. Even those of us who've been on a tractor for what seems like our whole lives will need some patience and practice to master front-end loader forks.
Directionally speaking, these are pretty simple attachments, but there are a few tips and tricks that'll help you get off on the right foot.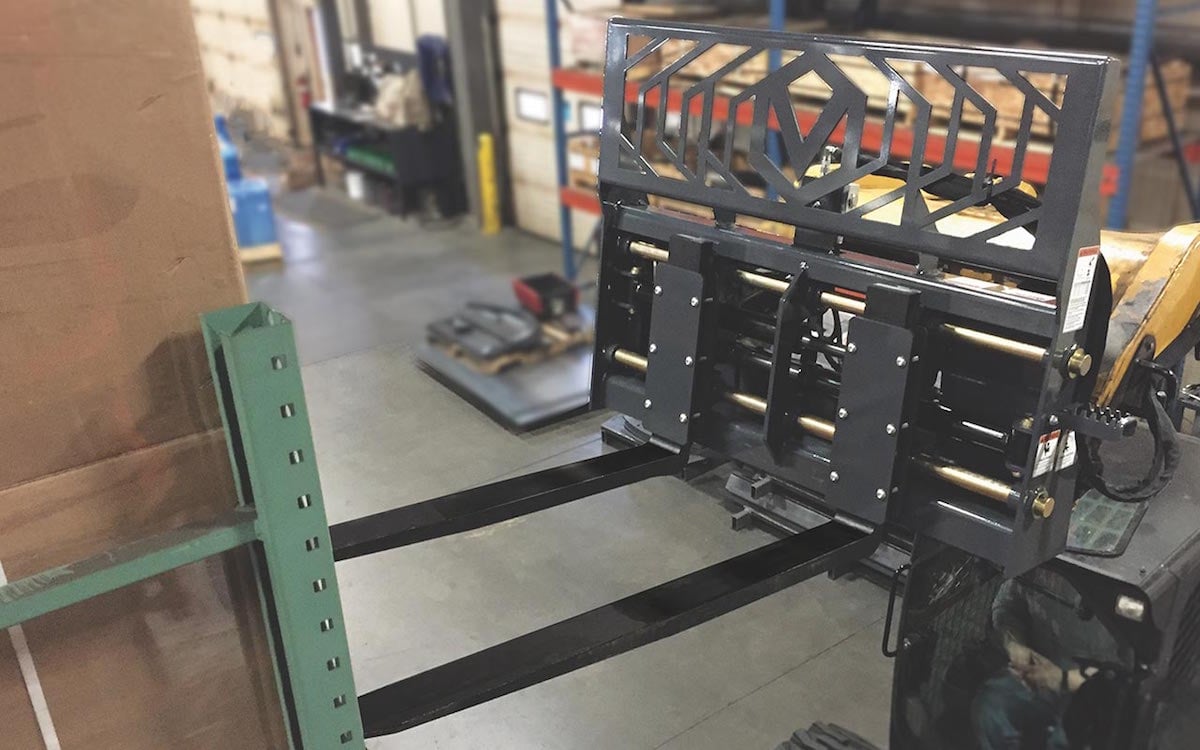 Tips and Tricks for Pallet Fork Attachments
When they're just starting out, operators stand to benefit from reviewing the basics of skid steer pallet fork operation. After some time spent practicing, you'll develop a real feel for what it takes to operate a pallet fork attachment. Until then, it may require a little extra effort and attention to get the results you seek. When starting out on a pallet fork, consider the following tips:
Read the attachment's operator's manual
Understand and commit to the attachment's maintenance schedule
Perform a visual inspection prior to use
Keep loads low to the ground while transporting
Ensure load weight is distributed to both forks
Avoid using the pallet fork to transport things it's not designed for
By following these tips, you'll develop a strong foundation to safely and effectively operate a skid steer pallet fork.
Whether you're looking to add ease and efficiency to everyday warehouse operations, or to optimize visibility, safety, and load stability, we have pallet fork attachments of various sizes and capabilities to help you get the job done.
The Virnig Line of Pallet Fork Attachments
Here at Virnig, we design and manufacture durable and long-lasting pallet fork attachments for skid loaders. Virnig pallet forks are designed with operators in mind.
Easy-to-see-through frames enable better visibility for safer loading and transferring. Heavy-duty, reinforced components mean better durability for the most demanding job sites. All of our pallet fork attachments are optimized for skid loader use.
Click on an individual attachment to learn more about it, including its product specs:
Here's a quick look at the Hydraulic Adjust Pallet Fork in action:
Find the Right Skid Steer Pallet Fork Attachment for Your Needs
Within the Virnig line, we have pallet fork attachments to serve a wide variety of needs and uses. If you'd like to see our pallet forks in person and find out which one fits best with your loader and your workload, we recommend getting in touch with your local Virnig dealer. Find a dealer near you using our Dealer Finder.