We are excited to announce the new Stump Bucket Grapple attachment built for skid steers and track loaders. Here is a short summary of what this grapple attachment is all about.
Stump Bucket Grapple Common Applications
The Virnig Stump Bucket Grapple is ideal for quick, efficient and cost effective removal of tree stumps and roots. This versatile grapple attachment has a jaw which opens to 39" and secures debris for easy transport. The grapple can also be used to dig trenches and place rocks to build retaining walls.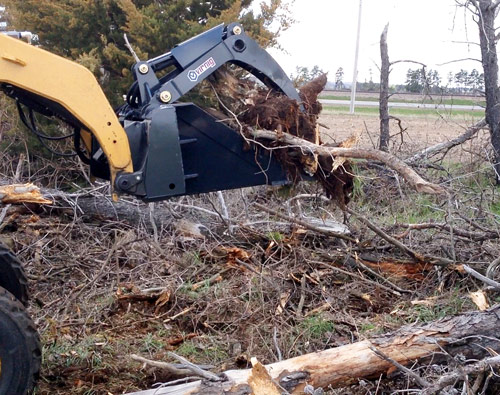 Features and Spec Information
The grapple is built with tall sides to provide capacity and the compact depth provides optimal leverage to pry under stumps and rocks. The strength of the grapple is significantly increased with three large gusset plates on each side of the bucket.
The grapple measures 45.6" long and features a ¼" laser-cut steel bucket with three, replaceable Series 23 cast steel teeth that dig deep under roots. It also features a corrosion, dent, and flake resistant NitroSteel® cylinder rod and standard cylinder guard to protect the cylinder from damage.
See the new Stump Bucket Grapple Spec Sheet .