New innovations coming for Virnig's mulchers and brush cutters! We've been hard at work on new features for our attachments, and first up is our Tree Disc Mulcher.
Read on to learn more about the TDM's new bent-axis piston motor option, and the optional pressure gauge that helps monitor hydraulic pressure.
If you'd rather read than watch, here's the video script:
Hi everyone! Zach here with Virnig Manufacturing.
I'm excited to talk to you guys about some of the new innovations coming for Virnig's mulchers and brush cutters. You may have heard, at the end of July 2023 we introduced our brand new Drum Mulcher. You can check out all the ways it stomps the competition in this video.

THIS video we want to show you guys what we've been working on with our V70 Tree Disc Mulcher. Virnig's V70 TDM now utilizes a 160cc OR the new 180cc bent-axis piston motor. A piston motor provides quicker spin up, faster recovery, and higher overall productivity. We added an even more powerful 50 GPM motor option to help really get the most out of your equipment.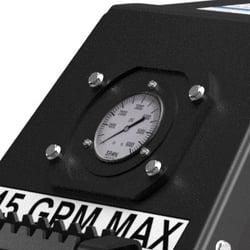 Another exciting change is the optional pressure gauge we added to monitor hydraulic pressure. With this gauge, an operator can see when the disc is ready to mulch or grind, and also when operation should be slowed to avoid stalling. You'll get optimal productivity by knowing exactly when the attachment spins up to prime performance.
Stick around, exciting news about our Open Front Brush Cutters coming soon!
---
Subscribe to our YouTube channel so you don't miss breaking news, attachments in action, and detailed walkaround videos that show all the little details that make up the Virnig difference.
Designed to perform. Built to last. And ALWAYS cutting a path forward. Thanks for reading, friends. We'll be back soon with big news!