We recently made changes to the Virnig website. We've worked hard to find better ways to assist you and make our products easier to find online.
If you know exactly what you are looking for, don't let me waste anymore of your time and go to the site to see the skid steer attachments.
New Features
Three clickable buttons (shown below) are located throughout virnigmfg.com.
1. Request a Quote Button - To request a quote for a product, click the maroon button and complete the two-step form. We will respond within one business day. If you have a more urgent request, please call us at 800.648.2408 for immediate assistance.

2. Find a Dealer Button - Click this button and enter your address to find a Virnig dealer near you.
3. Become a Dealer Button - If interested you can fill out a simple form to become a Virnig Dealer. After an application is submitted it will go through a review process and you will be contacted by a Virnig representative.
4. Search Bar - Now you can quickly search a product by entering an attachment name or model# in the search bar.
I searched "Snow Bucket" and found exactly what I was looking for...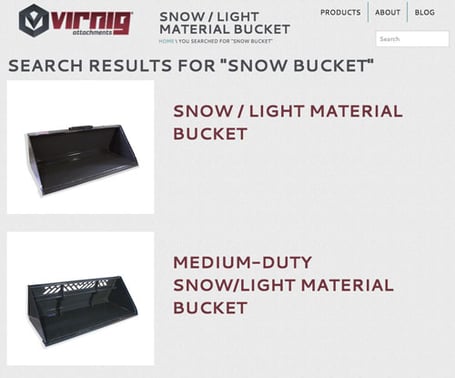 5. Image and Video Sliders - Now you can click on the images beneath a featured image to view larger pictures of product. Some of the attachments also have an action video. In the future we will be adding more pictures and videos of the skid steer attachments.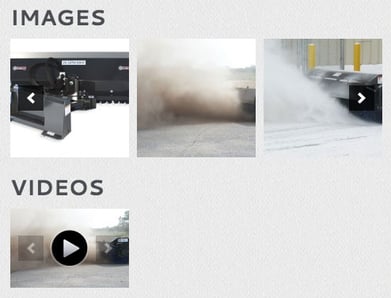 6. Downloads Tabs - To download a printable Spec Sheet PDF for a product click on the "Downloads" Tab, then click the "Download Spec Sheet (PDF)" link.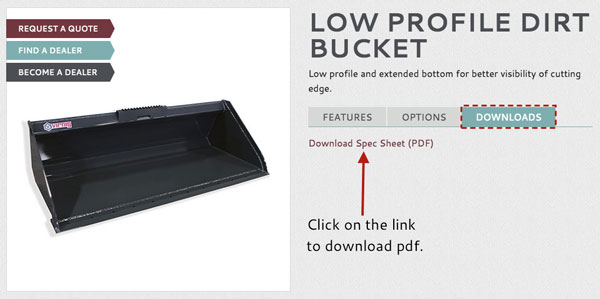 7. FAQ Tabs - The frequently Asked Questions tabs are on every page and the FAQs will be ready by the end of March. If you have more questions, do not hesitate to call our friendly staff at 800.648.2408. We love to help!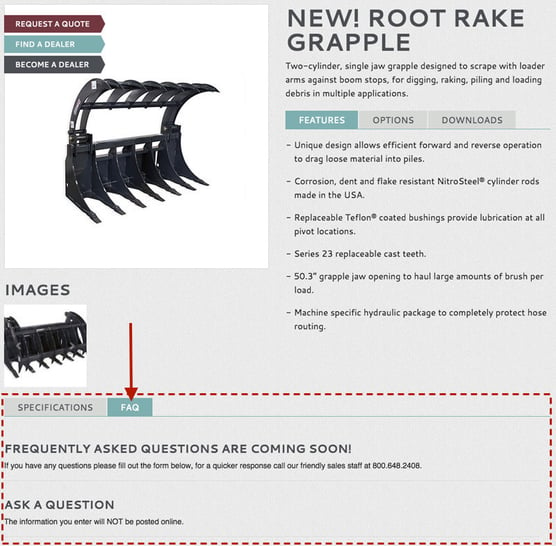 8. Blog - The new blog will provide simple, in-depth guides to help solve some of your aggravating problems. We want to educate and help you any way we can.
Here is what you can expect from the Virnig Blog:
In depth advice and how-to-guides on what works best.
Productivity tricks and tips and strategies that will make you more efficient.
To be here to help you and provide you with fantastic support with prompt responses.
To listen, to care, to appreciate and to go above and beyond.
To be friendly and to value your time.
9. Privacy Policy - We have created a privacy policy to demonstrate our firm commitment to your privacy and the protection of your information. We will never sell your information or SPAM you.
We always value your time and we sincerely hope these updates quickly help you find exactly what you are looking for.