Whether you're looking to remove roots and debris from a worksite, or you're a do-it-yourselfer looking to clear your hobby farm, we have a root rake grapple for any skid steer or compact tractor on the market today.
When to Use a Root Rake Grapple
A root rake grapple, also known as a brush rake grapple, does exactly what the name implies. Clearing land often means removing hard-to-handle materials such as brush, logs, tree stumps, loose hay, and rocks. When it comes to removing roots, our grapples take the lead.
See our Root Rake Grapple in action:
5 Advantages of Virnig Root Rake Grapples
Compared to other similar attachments available today, our root rake grapples offer five unique advantages.
1. Replaceable Teeth
Virnig Root Rake Grapples are built with cast steel teeth that cut deep into and underneath stubborn roots and debris. Because the bottom tines of these attachments are bound to wear down with use, we offer replacement teeth for all root rake grapples V40 and higher. This helps lengthen your attachment's life and ensures optimal performance.
For our V30 model, which is compatible with most compact tractors, we utilize AR400 steel to strengthen the attachment to compensate for regular wear and tear.
2. Unparalleled Strength
When shopping for an attachment, you'll find that many manufacturers use A36 steel (36,000 pounds per square inch [PSI] minimum yield strength), which is some of the cheapest steel on the market.
At minimum, we use Grade 50 steel (50,000 PSI minimum yield strength) for all of our root rake grapples. For our largest grapples, which require extra strength, we use Grade 80 steel (80,000 PSI minimum yield strength). And for some of our compact tractor attachments, which require strength without added weight, we use AR400 plate steel (150,000 PSI minimum yield strength).
While you can't tell just by looking at our attachments, this difference in steel quality will prove itself time and time again. And ultimately, our choice in quality steel will extend the lifespan of your attachment.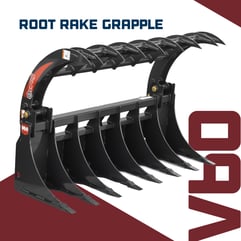 3. Cylinder Guards
When raking up roots and other debris, there's always the chance that debris will climb up the back of your grapple and interfere with your cylinders. We've protected our root rake grapples by making cylinder guards standard on most models so that you can work with the peace of mind that your attachment is protected.
4. NitroSteel® Cylinder Rods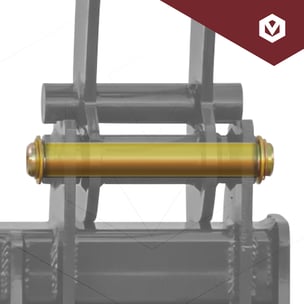 We use NitroSteel® cylinder rods and replaceable Teflon® coated bushings to keep your attachment fully functional.
Compared with chrome-plated cylinder rods, which can flake or pit and destroy the seals or other internal components of your attachments, our pins are designed with a unique access point to apply grease to reach the center of the pin. This small detail increases the life of your attachment and helps ensure that your attachment won't seize up as you work.
The pins used to secure your root rake grapple jaws can make or break its performance. Our pins span across the entire hinge (versus having a pin on each side of the hinge) to make sure that your attachment stays steady and secure every time you use it.
5. Two-Cylinder Open Jaw Design
All of our root rake grapples V40 and higher are built with our open jaw design, which helps you gather large piles of brush and debris. The locked clamp position helps make sure that you don't lose any debris on the way to your discard pile. And optimal tine spacing allows you to grab only the debris you want while leaving dirt and smaller debris behind.
Virnig Root Rake Grapples feature a two-cylinder jaw design to support back-dragging, allowing you to rake brush and material into piles for easy hauling. Our V60 Root Rake Grapple is also equipped with two-position hard stops (full open and closed position), which prevent stress and damage to the cylinders when back-dragging or clamping on a load.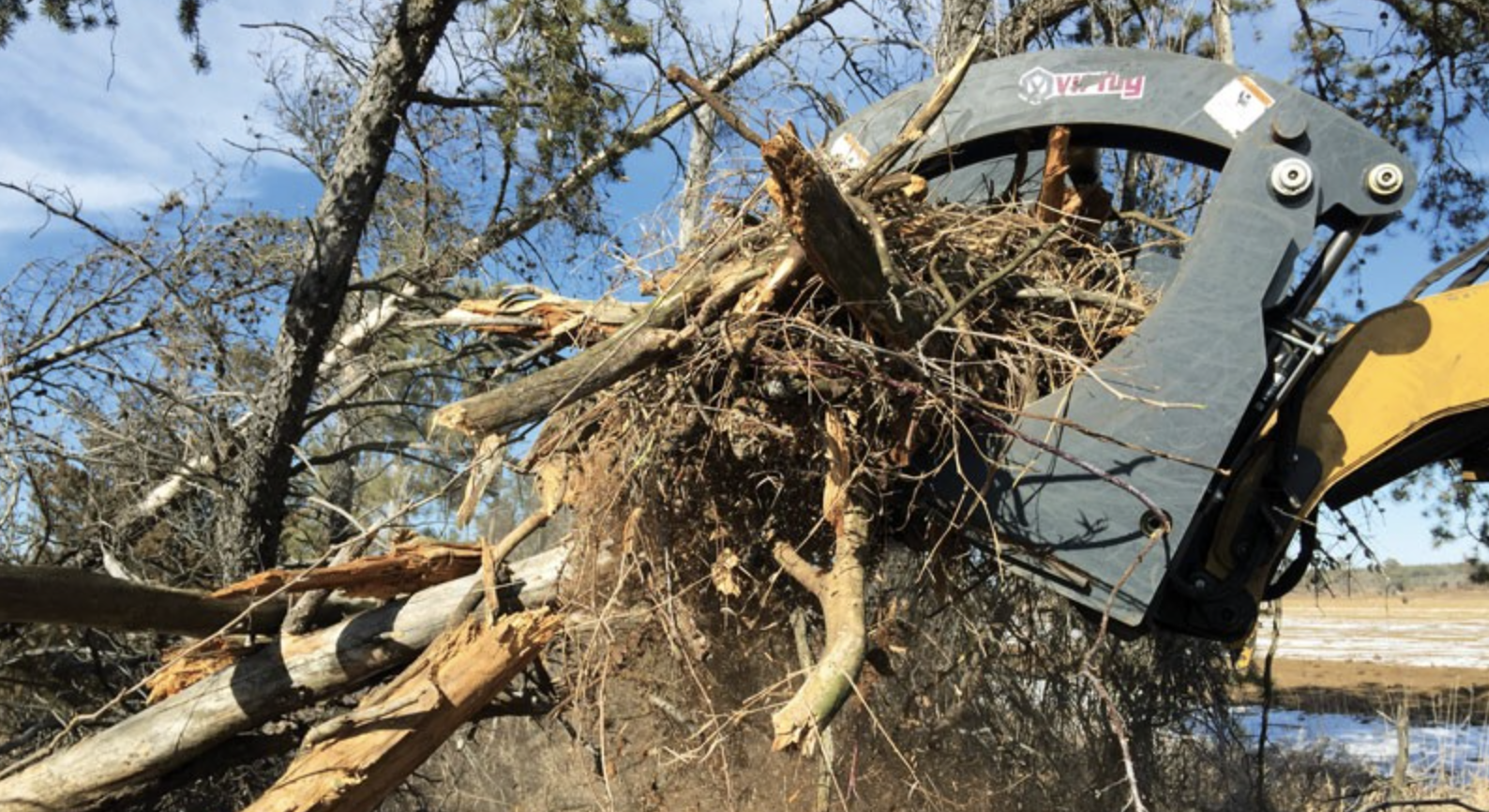 Choosing the Right Root Rake/Brush Rake Grapple
At a quick glance, we have a grapple for whatever project you're looking to tackle:
V30 Compact Tractor Root Rake Grapple — For compact tractors with less than 1,500 lb operating capacity
V40 Root Rake Grapple — A great entry-level grapple for smaller skid steers
V50 Root Rake Grapple — Features aggressive teeth for piercing thick piles of debris
V60 Root Rake Grapple — Features thicker tines for heavy-duty lifting
Our easy comparison chart can help you select the right root rake grapple for your machine and project. Remember that your load capacity includes the weight of the attachment, plus the weight of the load you are looking to carry.
Overall Width
(Inches)

Overall
Depth
(Inches)

Tine Spacing (Inches)

Recommended Load Capacity (Pounds)

Jaw Opening (Inches)

V30 Compact Tractor

54

60

66

16.66

4.8/10.5

4.8/9.8

4.8/9.1

< 1,500

35.5

V40

60

66

72

22.1

5.0/10.9

5.0/12.4

5.0/11.1

< 2,200

44.1

V50

66

72

78

22.1

8.8

11.1

10.1

< 2,400

44.0

V60

72

78

84

31.6

10.5

11.7

10.7

> 2,400

53.7
Still not sure which grapple is the right choice? Check out our Ultimate Guide to Skid Steer and Compact Tractor Grapple Attachments, or contact a local Virnig dealer to help you determine the best attachment for your job.