How can you identify the best skid steer pick-up broom on the market?
There are a number of factors to consider, especially in regards to performance and structural strength. You'll get what you pay for when it comes to quality, and a high quality Pick-Up Broom will outlast the competition for many years to come.
PRO TIP: If you're more of a visual person, here's the Virnig Pick-Up Broom Walkaround video that this post is based on:

CHAPTERS (click to quickly jump to a section)
Eaton® Motor
Pressure Relief Valves
2" Bearing
Pin Adjust vs. Nuts & Bolts
Dirt Bucket
Hinge Design
Broom Bristles
Wafer Replacement
Gutter Brush
Low Profile Water Tank
Pick-Up Broom with Internal Water Tank
Shop Now

In this post, we'll dive into the key differentiators that distinguish Virnig Manufacturing's Pick-Up Broom as the best in the industry. We challenge industry standards on every level, from design and innovation, to materials and components, to robotics and USA-based manufacturing. Our Pick-Up Brooms will sweep you off your feet!


Premium Quality Eaton

® Motor
Our skid steer brooms use direct drive Eaton® motors, which offer superior performance and longevity. Direct drive systems have less replaceable wear parts, and are more powerful than other drive systems. They're also safer than mechanical systems. There are no belt or chain pinch points, and no stored energy if hydraulic pressure is properly relieved.
Our motor is bi-directional, which allows you to sweep in either direction. In normal operation the broom should pick up material and pull it over the bristles into the bucket.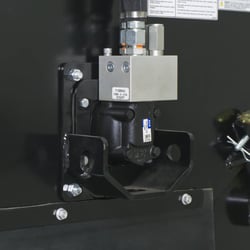 The motor is the most expensive component on a broom, so it's important to know where it's made and how it's protected. Other motors are completely exposed on the outside of the frame, and may not be guarded. Virnig's Pick-Up Broom motor is recessed into the frame about 4", which makes it less likely to run into obstructions. It's also guarded on the sides and bottom with ¼" steel. The main wear point is the bottom, so you can sweep as close to curbs as possible without worrying about damaging the motor.


Easy-Access Pressure Relief
Pressure relief valves protect the motor and the loader's hydraulic system from damaging pressure spikes. When the maximum pressure point is reached, the valves open to prevent further rising pressure.
Virnig's pressure relief valves are easy to access, located just above the motor assembly. These valves help provide cushion in the hydraulic system when operators are constantly switching the rotation of the wafers. They prevent seals and other components from getting damaged.


Heavy-Duty Bearing
Virnig's Pick-Up Broom features a 2" diameter bearing, built to withstand heavy use. It's bigger than most others on the market, and you're going to get a lot more production out of it versus other smaller bearings.


Easy Hood Height Adjustment
A debilitating cause of wear and tear on a skid steer pick-up broom is improper broom head adjustment. You can quickly degrade bucket edges by not properly engaging the surfaces, so it's critical to have an easy adjustment system.
A common issue we see with other brooms is the use of a bolt and nut adjustment system. They're a huge pain because they can strip and seize over time, they're difficult to adjust evenly on both sides, and you need tools to adjust them in the field.
The Virnig pin adjustment system allows the operator to quickly set hood height up or down, depending on the bristle engagement needed. Simply elevate the head of the broom from the bucket, remove the holding pin, and set the adjustment shaft.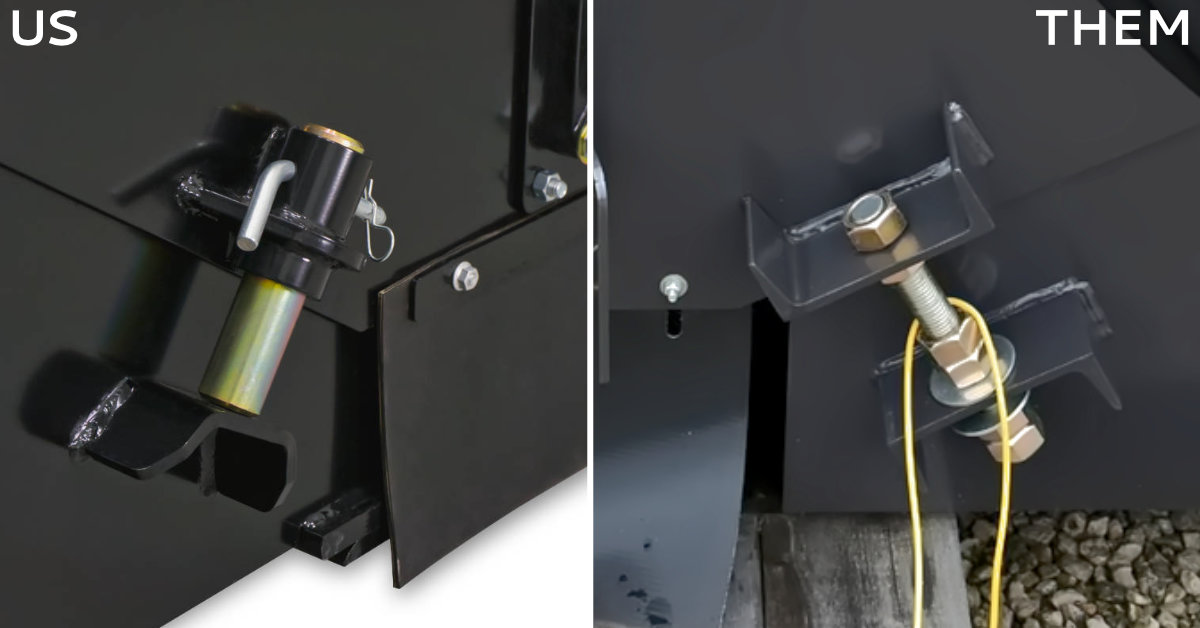 Heavily Built Dirt Bucket
Our Pick-Up Broom uses a bucket similar to our heavy-duty V50 Dirt Bucket.
Others use a lightweight bucket, built with lower grade steel. Virnig's Pick-Up Broom Bucket utilizes Grade 50 steel, with wear bars and reinforced edges. There's a weld-on edge as well as a bolt-on edge to double its life.



Super-Strength Hinges
A strong hinge design is essential, because operators will need to dump the bucket over and over and over again. When dumping, Virnig's hard stops will hit the formed edge on top of the bucket. This is much stronger than competitor broom hinge designs where the impact goes to the hood instead of the bucket.


Bristle Options
The broom is equipped with alternating poly and wire wafers, which are the best all-around option for most jobs. The wire is used to "cut" through debris, and the poly is used to lift the material. We also offer all-poly options, and replacement wafer kits may be purchased through your nearest Virnig dealership.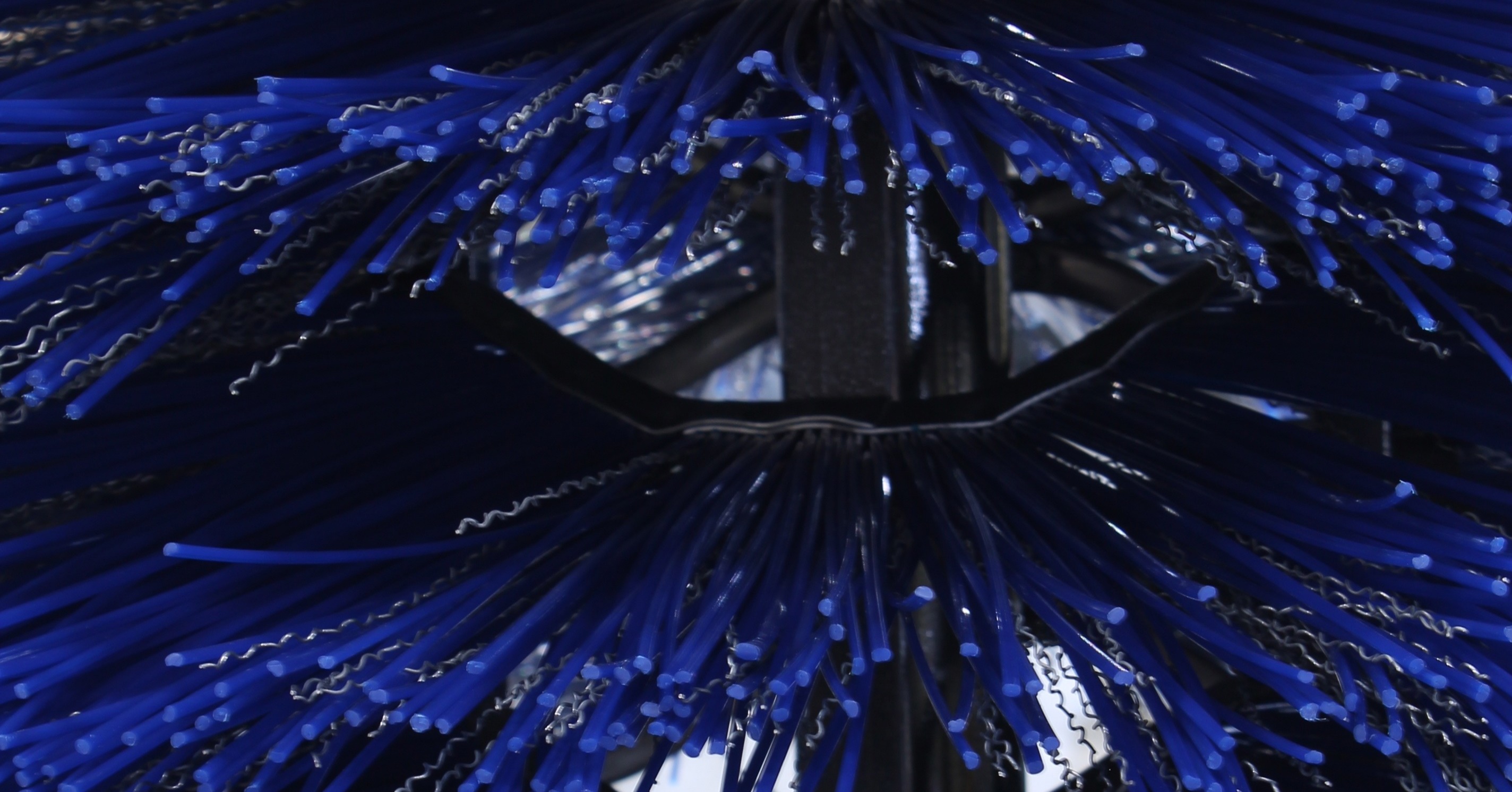 Replacement Broom Bristles
Bristles can be replaced quickly and easily without disconnecting the hydraulics. To remove the bristle core, simply unbolt and remove the hydraulic motor assembly, then unbolt and remove the bearing assembly on the other side. There are 4 bolts on each side, 8 total. You can now free the bristle core from the brush head, stand it on end, and replace the wafers. See the product manual or this blog post How to Replace Wafers for step-by-step instructions,


Gutter Brush Option
The gutter brush option increases cleaning width by 12" and allows you to sweep next to curbs, buildings, and other obstacles. It can be installed on either side, and stored up and out of the way when not in use.
Here's a video highlighting the gutter brush and low profile water tank options.

Low Profile Water Tank for Pick-Up Broom
We designed a bolt-on low profile water tank kit for the Virnig Pick-Up Broom with many intuitive features. Most importantly, a low profile tank gives operators maximum visibility of the work area.
The 40-gallon tank provides 25 minutes of continuous runtime. Because it's translucent, you'll be able to see exactly how much water is leftover. You can't see through some competitor tanks, making it difficult to know when you need to refill.
There's space between the tank and the hood to allow safer hose routing. Competitor brooms have to route hoses around the tank, and they may fall off the broom hood.
The space also allows us to utilize full tank capacity since our tank can drain from the bottom. Competitor water tanks lay flat on the broom hood, making it difficult to completely drain the tank and utilize the full tank capacity.
The water tank comes with a pressurized pump system with an adjustable regulator to control the water pressure coming from the nozzles.
The low profile tank can retrofit older 72" and 84" Virnig Pick-Up Brooms. 60" models are not compatible; they require a standard tank.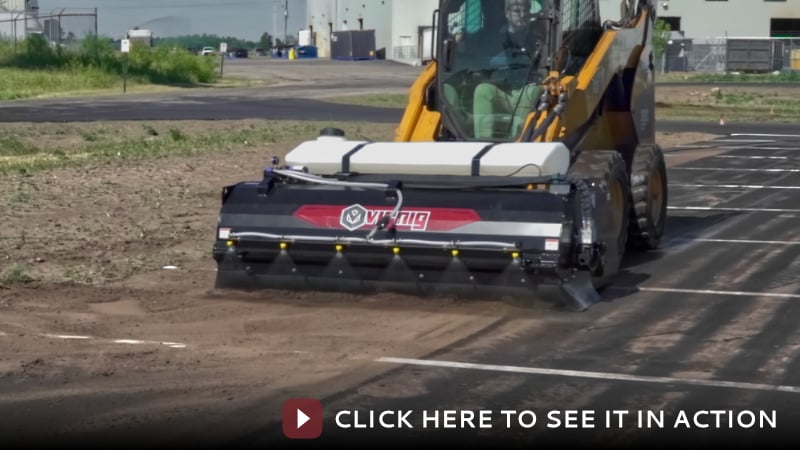 Pick-Up Broom with Internal Water Tank
Virnig's Pick-Up Broom with Internal Water Tank features a 55-gallon internal tank with capacity indicators. Our first-ever walkaround video highlights this attachment. All of the information in this article applies to both our Pick-Up Broom and Pick-Up Broom with Internal Tank attachments, but you can learn more about the Pick-Up Broom with Internal Water Tank and see it in action here:

Shop Now
Set your sights on unbeatable quality. If you're ready to control dust without compromise, invest in Virnig. We make the best skid steer Pick-Up Broom on the market.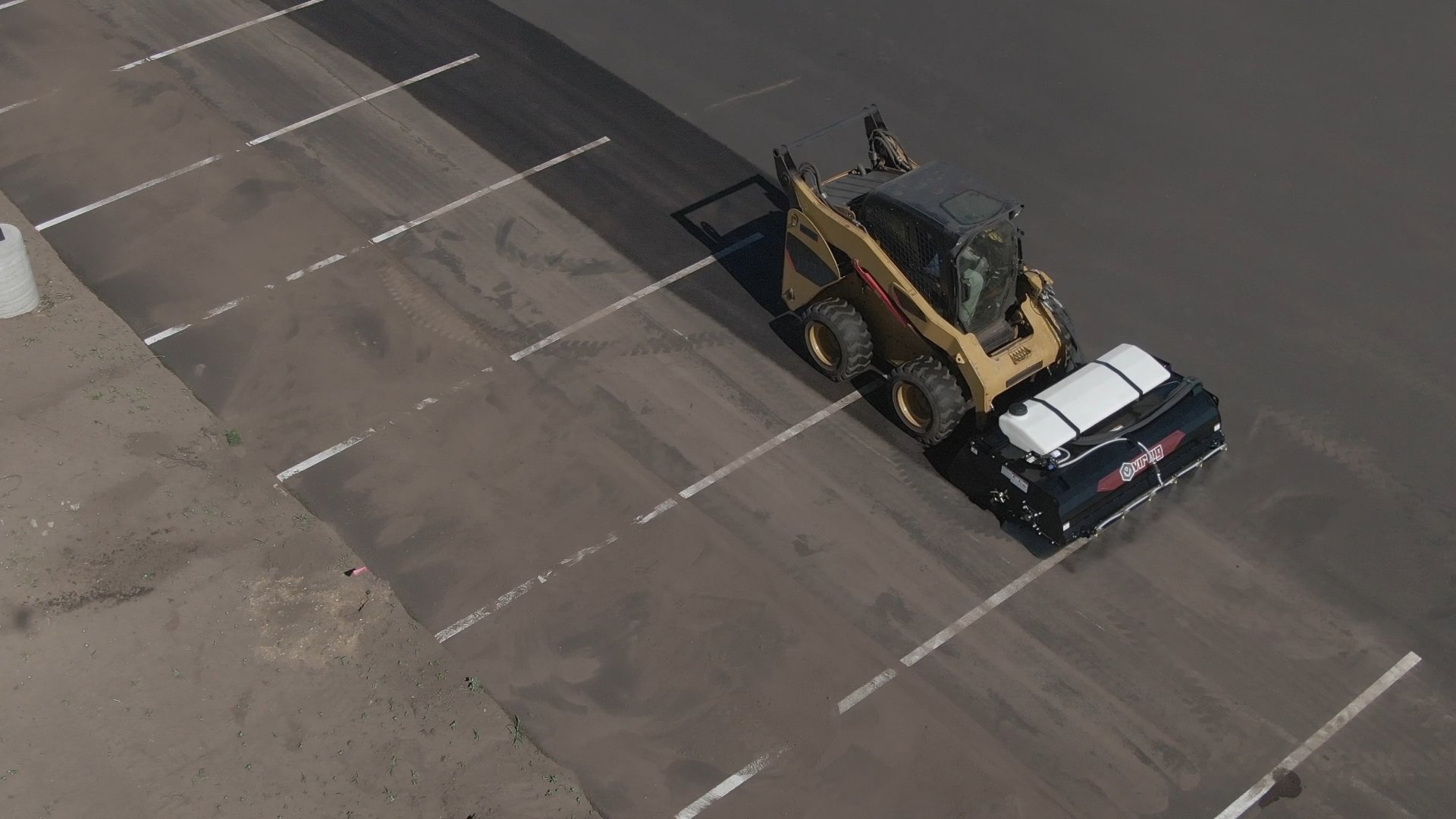 We recommend our Dealer Finder to locate your nearest Virnig dealership. If you're having trouble finding a dealer near you, or one that stocks the Pick-Up Broom and/or options you're interested in, then we're happy to help via our Quote Request Form.
If you have any questions or aren't sure what type of broom will be best for your jobsite, please email us  or  give us a call  to speak with our dedicated and experienced customer service team. We'll answer any questions you may have, and can help connect you to a nearby dealer who stocks the attachment you're interested in.