A V-Snow Blade skid steer attachment can be a dark horse in your lineup of snow removal tools — but only when you know what to look for when you're making your investment.
Let's take a look at some of the features you'll want to consider when shopping for a V-Snow Blade attachment.
1. Trip Edge vs. Full Blade Trip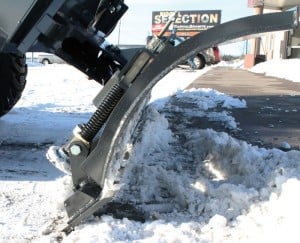 When hitting a short obstacle with a full blade trip, like a manhole cover, the entire blade will roll over. Hitting these small objects causes the skid steer to slow down and make plowing more disruptive.
If you're always hitting curbs, the full blade trip might make more sense. But constantly hitting curbs on a regular basis leads to other serious problems.
A trip edge has three key advantages over a full blade trip:
When an object activates the trip edge, very little energy is transmitted to the skid steer or operator.
A trip edge allows for more aggressive scraping.
When it trips, you don't lose as much snow as a full blade trip.
Virnig uses trip edges with a rigid moldboard to minimize these plowing interruptions and provide safety. The trip edge allows the load to continue moving, especially when heavy snow is present. Additionally, Virnig V-Snow Blades are designed to trip in all five positions.
2. Electric vs. Hydraulic Controls
Some plows have electric controls so that you can pick which wing to move. This allows more control, but it's also more expensive. Electric controls in snow and ice are not as reliable as hydraulic connections, due to electric wires being more delicate than thick, heavy hydraulic hoses and couplers.
At Virnig, we stick to hydraulic controls to keep your attachment dependable and ensure that it will survive even the longest winters.
3. Picking the Right Edge
Our V-Snow Blades come with either a steel or poly cutting edge. Each edge type has advantages in specific environments. Note that each blade type includes trip edge protection to protect both you and your equipment.
Steel Cutting Edges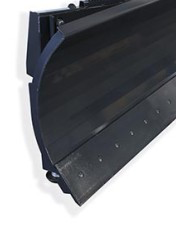 Steel cutting edges offer the best scraping ability. Steel is the most commonly used cutting edge in the U.S., and for good reason. The rigidity of steel gives you the ability to scrape away ice and hardpack snow. If you experience these types of plowing conditions, steel is for you.
Keep in mind the use of steel edges can wear down the sealant on driveways or leave surface marks.
Poly Cutting Edges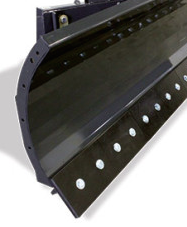 Poly has a better scrape than rubber. It's a great option when you do not want to leave any marks on the surface. It won't scrape as well as steel, but it's better than rubber on hardpack.
Not all poly cutting edges are created equal. Some of the toughest poly edges are made from reprocessed UHMW (Ultra High Molecular Weight) Polyethylene.
Depending on the situation, you could choose to have a steel and poly cutting edge available. With a little effort, the edge can be changed or reversed.
Cutting Edge Specs
| | | | | | |
| --- | --- | --- | --- | --- | --- |
| | Size | Total Wear | Reversible | Replaceable | Trip Edge Protection |
| Steel | 5/8" x 8" | 5.5" | Yes | Yes | Yes |
| Poly | 1" x 7 3/4" | 5.25" | Yes | Yes | Yes |

Is a V-Shaped Blade the Right Choice For You?
Snow removal can be exhausting, but having the right equipment will make the job easier. If you have several snow removal jobs ahead that require breaking up, moving, and stacking snow, a skid steer V-Snow Blade could be your new best friend.
If you're interested in a new snow removal attachment, check out what we have to offer.