The Virnig line offers a wide variety of skid steer bucket attachments.
High dump buckets? Check.
Skeleton rock buckets? Check.
Low-profile dirt buckets? Check.
Utility buckets, concrete buckets, and light material buckets? Check, check, and check.
There's a bucket available for nearly every job you need to tackle. But what if you need a bucket that can do more than one type of job?
Then our 4-in-1 bucket might be right for you.
What'S a 4-in-1 Bucket?
A 4-in-1 bucket, also referred to as a multi-purpose bucket, is capable of performing multiple functions. Because of its design, the bottom and sides of the bucket can separate from the back.
Why Is It Called a 4-In-1-Bucket?
A 4-in-1 bucket is best known for its uses on projects that require:
Excavation
Loading/unloading
Leveling
Flattening
With this attachment, operators are able to doze, dig, load, carry and dump material. Plus, the attachment can grip debris (like a grapple) and grade and level dirt.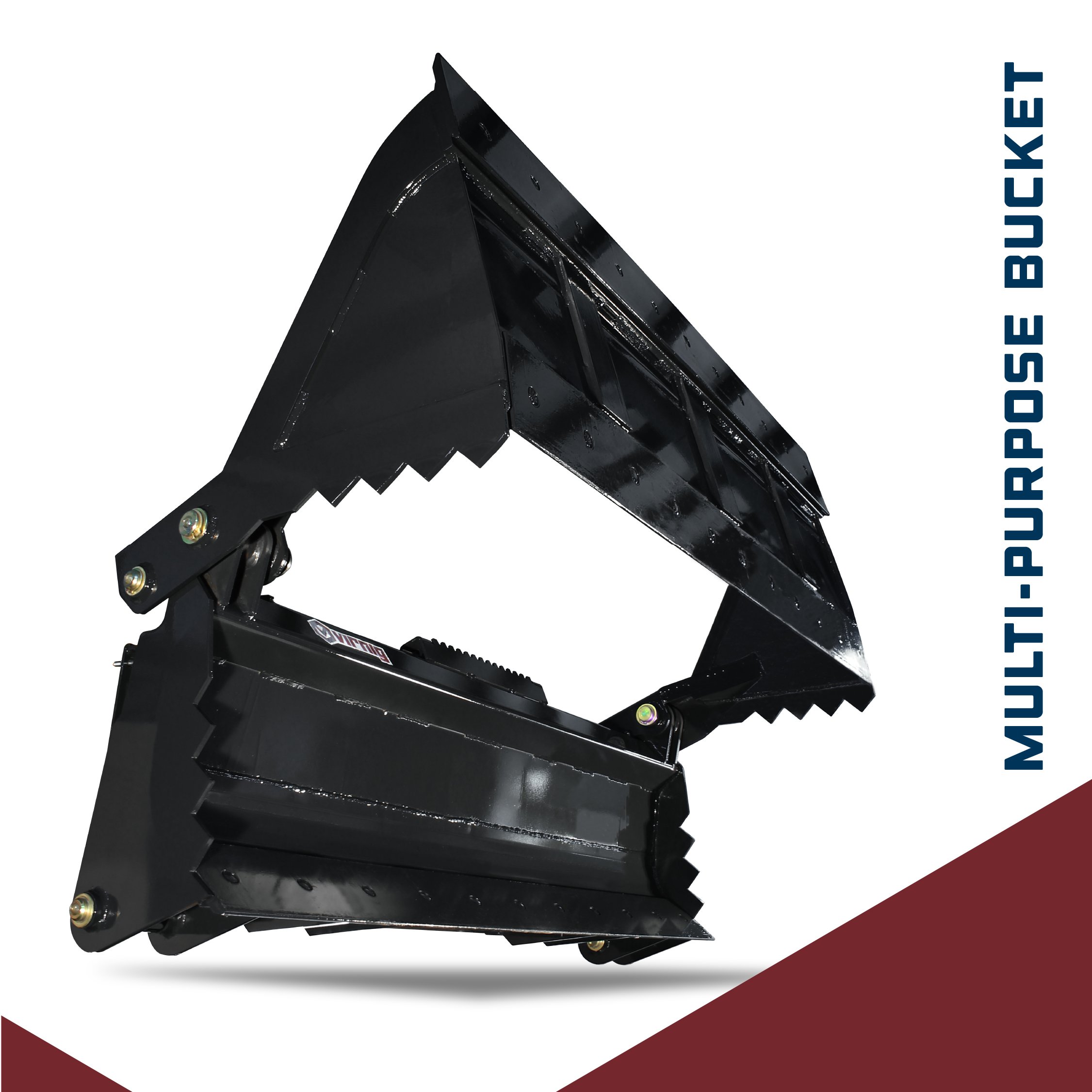 How to use the Skid Steer Multi-Purpose Bucket
Because the 4-in-1 bucket is so versatile, let's walk through how it can be utilized while in both the closed and open position.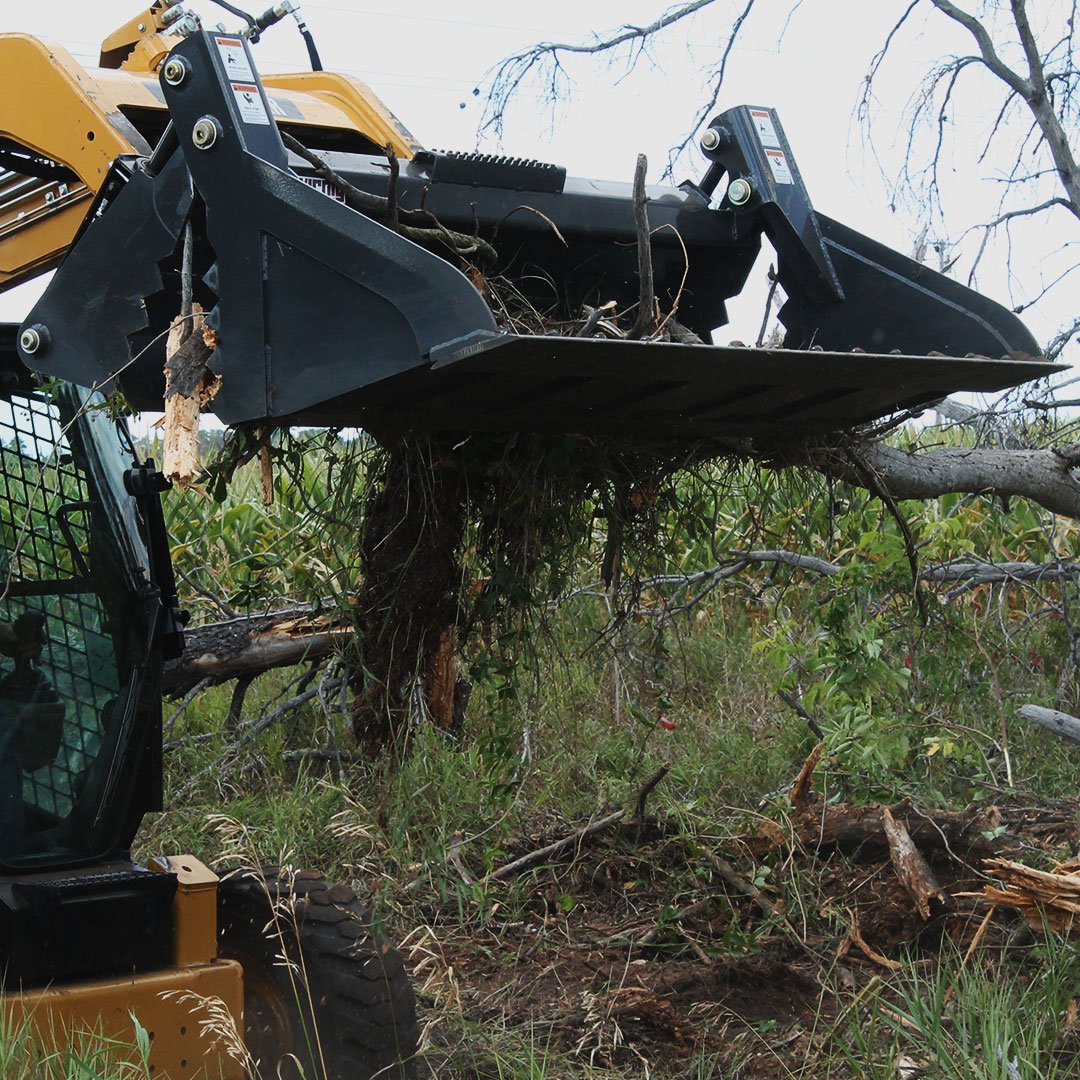 Closed Position
When closed, the 4-in-1 skid steer bucket operates like a standard bucket, with the added advantage of being able to dump at maximum height. This is due to the bucket's ability to open at the bottom to spill out material (something that cannot be accomplished with a standard bucket). This "bottom dumping" capability allows the attachment to function as a high-dump bucket, as well. Operators can also spread dirt by opening the bottom of the bucket while grading/moving.
Open Position
When opened, the back of the bucket can serve as a dozer. The clam-style design allows the 4-in-1 bucket to function as a grapple, picking up materials that couldn't be handled with a standard bucket. The open position can be also used to quickly clean up or "pinch" the last of any dirt piles instead of shoveling.
Considerations before buying a 4-in-1 Bucket
While multi-purpose buckets offer many advantages, there are also a few considerations to keep in mind before you invest in one for your skid steer.
Extra weight means less Carrying capacity
The added weight of the cutting edges and hydraulics decrease the total material weight the bucket can carry.
For example, the Virnig 72-inch V60 Low Profile Dirt Bucket weighs 720 lbs, while the Virnig 72-inch V50 4-in-1 Bucket weighs 960 lbs. If you're looking to carry heavy loads, you may wish to have the lighter attachment — so long as you can sacrifice the versatility that the 4-in-1 bucket offers.
More capabilities, higher cost
Similar-sized dirt buckets will be lower in price, but they will lack the versatility and functionality of a multi-purpose bucket. Take time to assess how valuable the attachment's extra features are to you.
Virnig's Multi-Purpose Buckets
Virnig offers two 4-in-1 skid steer buckets:

Like all Virnig attachments, our multi-purpose buckets are made with high-strength steel and high-quality wear parts. Our NitroSteel® cylinder rods are corrosion, dent, and flake resistant. When you choose Virnig, you're choosing attachments that are designed to perform and built to last.