Virnig Manufacturing might be one of many skid steer attachment manufacturers operating today, but we don't think of ourselves as just another manufacturer. In fact, we see our company, and the attachments we manufacture, as being different. Here's a look at 10 reasons why.
1. We Use High-Grade Steel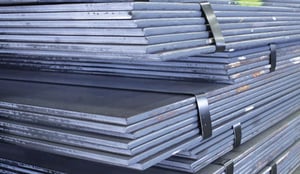 Choosing the steel that goes into their products is a big decision for skid steer attachment manufacturers. While an attachment made with Grade 50 steel might not look much different from an attachment made with A36 steel, lesser steel guarantees weaker attachments. At the minimum, Virnig attachments are made with Grade 50 steel, with Grade 80 plate steel used for high-stress areas.
2. …And Premium Components
By selecting loader-specific hydraulic motor configurations, we ensure optimum attachment performance and longevity. Additionally, by using correctly-sized hoses based on each system's hydraulic flow, we allow those motors to run more efficiently. Improperly sized hoses lead to resistance, pressure loss, and the generation of unwanted heat.
3. Products Are Designed In-House
Virnig attachments are designed in-house by our design engineers. Each original design is developed using 3D modeling software, and structural analysis software allows us to determine and alleviate high-stress areas.
We can effectively determine where and how to apply various grades and thicknesses of steel to ensure attachments are strong and durable without overloading them with unnecessary material that adds weight and increases overall costs.
4. …And We Have In-House Manufacturing Too
Because Virnig attachments are designed and manufactured in-house, we can provide a greater assurance of overall product quality. In-house manufacturing leads to:
Less margin for error
More effective monitoring
A smoother approach to product upgrades
Improved production flow
Open communication between design and production
Additionally, our experienced, professional manufacturing staff are part of the Virnig brand. They know our values and our commitments, and they bring an unmatched level of expertise to the work they do.
5. We Powder Coat Our Attachments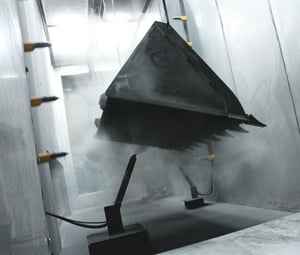 Since completing the install of our powder coat finishing system in 2014, we've been thankful for this popular alternative to liquid painting. Powder coat finishing leaves Virnig attachments with an attractive and durable finish that is resistant to corrosion, scratching, and fading. This, combined with faster drying time and less environmental impact than liquid painting, helps us manufacture a better product.
6. …And Effectively Coat Cylinders and Wear Parts
While other manufacturers use a basic chrome plating on their cylinders, all Virnig cylinder rods are coated with NitroSteel®. NitroSteel® prevents denting and flaking while resisting corrosion. Additionally, Virnig wear parts and pins are zinc-coated (as opposed to just being painted). This offers pins and wear parts greater protection and keeps them from rusting.
7. We Serve Our Customers
Our interest in helping customers doesn't end at the point of sale. At Virnig Manufacturing, we place a premium on customer service. Instead of outsourcing our customer service, we staff former mechanics, welders who used to work our manufacturing line, and other individuals who are experienced, knowledgeable, and ready to help our customers.
8. …And Focus on Education
We want the owners and operators of Virnig attachments to get the most out of their purchase for years to come. And we've put together numerous blogs and free downloadable guides with the purpose of helping owners and operators do just that.
9. We Are a Family-Owned Business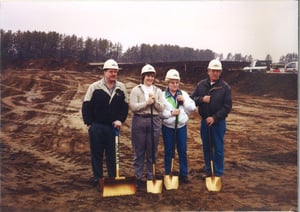 From those very first days in 1989 to today, Virnig Manufacturing has remained a family-owned business. Founded upon the principles of superior service and quality work, our company has continued to grow.
And while we've come a long way to become the premium skid steer attachment manufacturer we are today, we haven't forgotten our roots.
10. …And We Aren't Slowing Down
As fun as it can be to remember the past, we realize the value in looking toward the future, too. Whether we're designing stronger attachments without overbuilding them or adding deck steps and spindle guards to brush cutter attachments, our focus on innovation is a never-ending process.
There can be pressure among skid steer attachment manufacturers to see who can make the biggest and baddest attachments, but we understand the importance of innovating in ways that also support what owners and operators actually want and need. That's the Virnig Difference.