How do you know if the skid steer broom you're considering has the structural strength, performance capabilities, and quality components you need? A truly heavy-duty, high-quality skid steer broom will remain operational and sweep surfaces clean for years to come.
In this article, we cover a handful of features that'll help you identify the high-quality skid steer broom you need.
Direct Drive System
When you're comparing skid steer broom systems, the first thing you'll notice about the direct drive is that they have fewer replaceable wear parts, which means less maintenance than a gearbox, chain-driven system. With chain drive, there are more potential issues such as sprockets misaligning or the chain derailing, stretching, or breaking. The chain system is cheaper upfront but will cost the operator more time and labor later than a direct drive system.
In addition, direct drive power broom attachments are safer than mechanical systems because they do away with the pinch points that come with having belts and chains. Plus, there's no stored energy if you happen to slip up while releasing the hydraulic pressure.
All Virnig brooms utilize direct drive systems. They use fewer moving parts which leads to less wear, less maintenance, less downtime, and a longer lifespan.
Pressure Relief Valves
Pressure relief valves protect the motor and the loader's hydraulic system from pressure spikes. When the broom hits an object, the relief valve pops into action, opening up to relieve the pressure inside. This prevents seals or other internal components from getting damaged due to excessive pressure.
Virnig skid steer pick-up brooms come standard with relief valves so you won't have to worry about hazardous pressure spikes.
A Guarded, USA MADE Motor
The motor is the most expensive component on a broom, so it's important to understand how it's protected. Our Eaton®, USA made motors are reliable and long-lasting, and while most manufacturers won't take a second glance at motor guards, it's a crucial feature for protecting the motor from curbs and other obstacles on the job site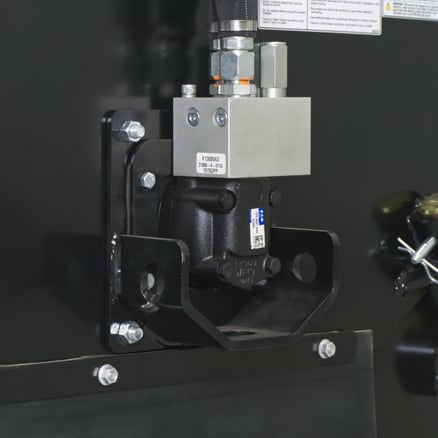 Look at how the motor is safe from harm but still accessible for maintenance. Virnig skid steer broom motors are top-notch, with a ¼-inch plate protecting them from the top, front, and bottom. Additionally, the motor on the broom is sunk four inches into the side, which makes it less likely to run into obstructions during a sweep.
Wafer and bearing Replacement
Nothing lasts forever, which unfortunately means you'll need to replace your wafers somewhere down the line, so ease of access and replacement cost are important to consider. Check the cost of replacement wafer kits before buying, and ask about how to replace them. Some may not be easily accessible and will take a great deal of time to replace.
With Virnig skid steer angle brooms, you can replace the bristles in a snap without even disconnecting the hydraulics. To remove the bristle core, simply unbolt and remove the hydraulic motor assembly, then unbolt and remove the shaft assembly and bearing to free the bristle core from the brush head.
If you end up needing to replace your bearings, you could find yourself spending over $300 per bearing to get your skid steer broom working like new. But with all Virnig brooms, 2" bearings are standard. It takes years upon years of everyday wear and tear to break down a Virnig broom.
Broom Head Adjustment System
A major cause of wear on skid steer brooms is improper broom head adjustment. Many brooms utilize a bolt and nut adjustment. These systems can break or freeze in place when you expose them to the elements. They can also be difficult to adjust evenly.
The Virnig adjustment system even allows the operator to set bristle height with minimal downtime. Simply elevate the head of the broom from the bucket, remove the holding pin, and set the adjustment shaft.
Overall Attachment Weight
Look through the specs to find the overall weight of your broom. A heavier broom usually means it's heavier duty since the weight usually means that there's thicker steel and additional bracing. Specifically, look at the hood and find the thickness and overall steel grade.
Virnig pick-up brooms weigh upwards of 1,200 lbs while other manufacturers' brooms range between 800-1,000 lbs. So where does the extra weight come from? It's from the skid steer broom attachments including thicker steel throughout the broom and a heavier hopper bucket.
Identify the Highest Quality Sweeper Available
Using these details, you'll be ready to walk into any skid steer attachment dealer and pinpoint the highest quality sweeper they have available.
If you'd like more information on broom attachments for skid steers—like detailed explanations of different types of brooms, bristle options, operating tips, and maintenance tips—get a copy of The Ultimate Guide to Skid Steer Brooms.