For some prospective buyers, the first visit to a skid steer attachment dealer can be a bit overwhelming. But it's important to remember that you don't need to know everything before you show up. Dealers work with skid steer owners and operators each and every day, and they're very good at helping customers find the best attachment for their application.
If you're the type of person who likes to prepare before visiting a dealer (I know I am), you might find this FAQ helpful.
What Should I Know Before I Walk in the Door?
Project Details
Before visiting a skid steer attachment dealership, you'll want to have a good idea of what you're hoping to accomplish. If you'll be cutting brush, take note of the brush density, whether the ground is level or not, and any other details specific to your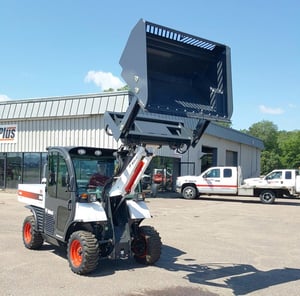 project. Of course, project details will vary widely based on which type of attachment you'll be looking at. We've put together a few guides for our attachment styles that will help you think through each one in detail:
Skid Loader Specs
Matching an attachment to your skid loader has a massive impact on performance. You'll want to come to the dealership knowing make, model, rated operating capacity, and more. We put together this helpful checklist detailing the loader specs that impact your attachment options.
Most Important Factors
All owners and operators seem to have an idea of what's most important to them when it comes to heavy equipment purchases.
Are you looking for something that'll get the job done at the lowest price point?
Are you looking for an attachment that will get the job done the fastest and the most efficiently?
Do you want an attachment that's durable and able to hold up under extreme conditions?
Are you planning to use it for a lighter application where time and efficiency aren't as important?
Is there a specific brand you prefer to purchase from?
All of these things will impact which attachment is best for you and your application.
What Will a Dealer be able to Help Me With?
Dealers will be able to find the attachment that best fits your needs. What they do is listen to what you need, what you want, and what's most important to you. Then, they take that information and use it to help narrow your options. Dealers have customers who have used many different attachments, and often, they have a direct line of communication with the OEM manufacturers. They'll be able to share their insight and expertise with you.
How Do I Determine a High-Quality Skid Steer Attachment?
It's not always clear when you're looking at an attachment whether or not its quality is high enough. Here are some questions you can ask a dealer to determine quality:
What grade of steel is the attachment made of?
What is the overall weight of the attachment?
Is the attachment painted or powder coated?
How easy/accessible is it to replace wear parts?
These questions will help you get a good idea of overall product quality.
What If the Dealer Doesn't Stock What I Want?
If you're interested in a product that a dealer doesn't regularly stock or have on hand, look to see if they carry the brand you're interested in. As long as they carry that specific brand, there's a good chance that they can get it for you. And depending on the manufacturer, they might be able to source it pretty quickly. At the very least, they could contact the manufacturer to find out the attachment's availability.
If you're interested in visiting a dealership that stocks Virnig products, we have a Dealer Finder that will show you where your closest Virnig dealer is. Try it out.