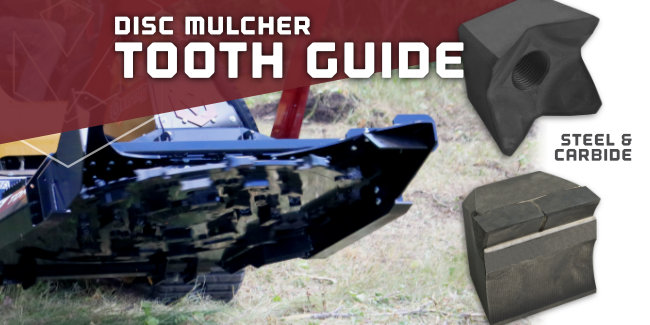 YOUR Guide FOR STEEL & CARBIDE MULCHING TEETH
In this post, we'll explain the advantages and key differences between steel and carbide teeth. We'll provide a mulcher tooth comparison chart, call out competitor weaknesses, and recommend where carbide teeth should be installed on the mulching disc. We'll also answer some frequently asked questions about steel and carbide mulcher teeth, including sharpening and replacement.
Virnig's V70 Tree Disc Mulcher (TDM) will mulch 6-8" diameter trees and cut up to 14" diameter trees with ease. This powerful forestry mulcher attachment includes 44 Quadco® four-point steel teeth. Four-point steel teeth are the most popular option for most land clearing operations, but carbide teeth are becoming the preferred choice in rocky or sandy environments.
Quadco

®

Steel Teeth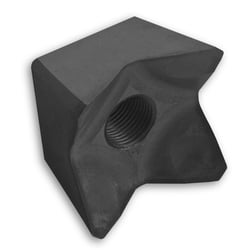 Quadco® Steel Teeth are made from high-grade alloy steel, and are hardened and heat-treated for maximum impact toughness. The bolt-on design makes it easy to rotate or replace teeth onsite to maintain mulching efficiency. 
Steel teeth have four razor-sharp points to quickly slice through trees and help pick material from the ground. They offer unmatched aggressiveness and productivity, but they do need to be sharpened and rotated regularly to maintain performance. Rotating teeth on the holder and around the mulcher disc will increase wear life and reduce operating costs.
Quadco

®

Carbide Teeth

Virnig also offers carbide teeth which have a sharp, aggressive cutting angle for productive mulching. Since carbide is harder than steel, it will provide better durability in rocky and sandy environments where abrasion quickly dulls steel.
A huge advantage of our carbide teeth is you can install them on the top, bottom, or perimeter of the disc. Others only recommend installing carbide on the bottom. 
Operators like carbide because they're low maintenance and don't require any sharpening. You can get the best of both worlds by installing carbide teeth strategically on the disc to provide wear resistance where needed, but still have steel teeth to efficiently process material.
Competitor Mulcher Teeth
Other mulchers may use fewer teeth on top which will result in lower overall productivity. Others use non-branded, potentially foreign teeth which will dull a lot quicker and decrease your mulching performance. 
Some competitor carbide teeth have a dull, blunt edge which hammers material instead of slicing through it. This results in poor cutting performance and won't produce as fine of a finish.
Another downfall with competitor mulching discs is that some weld the tooth mounts onto the disc, which is more time-consuming and frustrating for the operator when compared to Virnig's bolt-on mounts.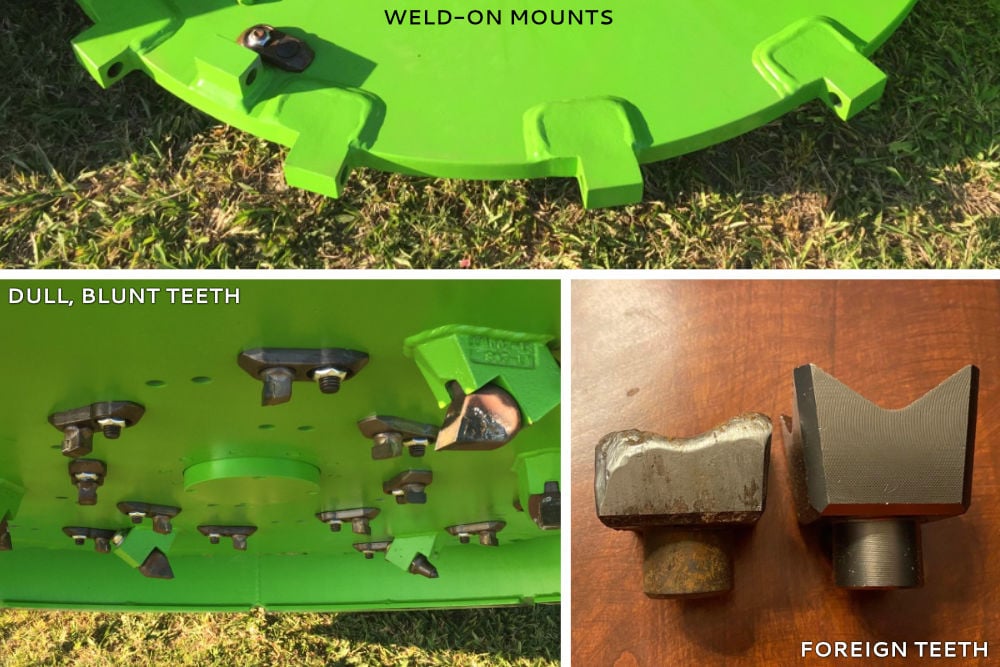 Where Should I Install Carbide Teeth on the Disc?
Tooth placement is largely based on personal preference, and carbide teeth can be installed anywhere on the disc as long as they're installed in pairs across from each other. Also, you can use carbide and steel on the disc together at the same time. Here are Virnig's carbide tooth installation recommendations:
| | |
| --- | --- |
| Bottom Outside: | Outer Edge: |
| Top Outside: | Entire Bottom: |
Bolt-On Tooth Mounts
All the tooth mounts are bolted on to the mulcher disc for easy replacement. 
Other mulchers will weld the mounts to the disc which will take significant time and effort to replace and may create balancing issues.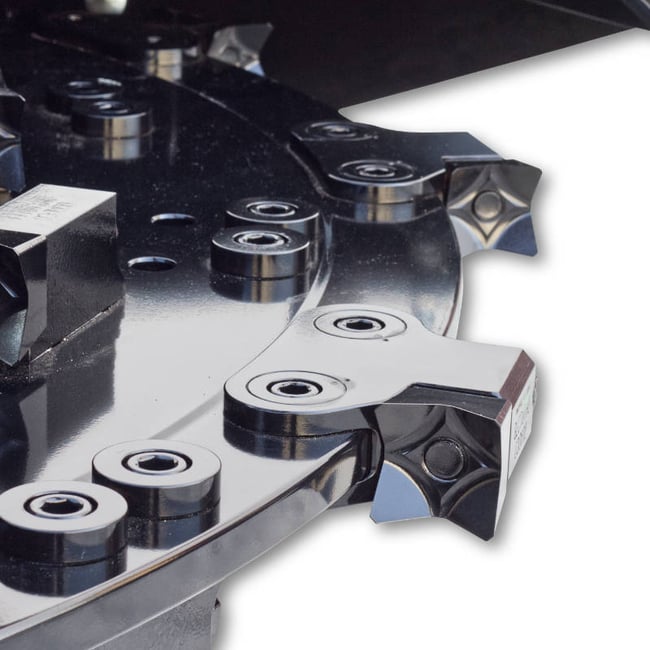 Deck Mounted Teeth
There are three teeth mounted to the top deck, and those in combination with a recutter bar improve mulching and produce a finished look. They keep chip size consistent and help ensure the mulcher won't throw material long distances.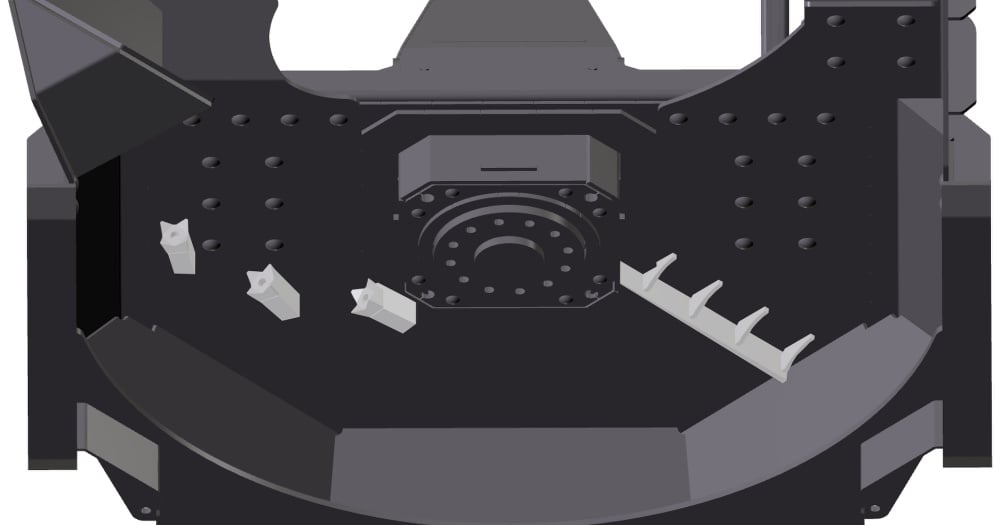 Tooth Comparison Chart
| | | | | | |
| --- | --- | --- | --- | --- | --- |
| TOOTH | MAINT. | EFFIC. | DURAB. | FINISH | PRICE |
| STEEL | High | High | Medium | Best | Low |
| CARBIDE | Low | Medium | High | Good | High |
Frequently Asked Questions About Mulcher Teeth
Why does Virnig use Quadco

®

teeth?
Virnig partnered with Quadco® because of their proven performance, reliability, and quality. They've been a leader in the forestry industry for over 30 years.
Like Virnig, Quadco® stands behind their products and guarantees durability and long-lasting quality.
How Long do Virnig Carbide Teeth Last?
Carbide teeth can last approximately 3-6x longer than steel but longevity depends on tooth location on the disc, how often they're rotated around the disc, soil conditions, and ground engagement.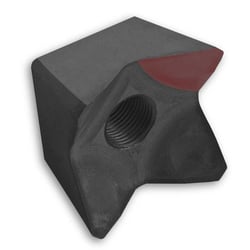 How Do I Sharpen My STEEL Mulcher Teeth?
If the edges are dull or the points are worn down, use an angle grinder on the inside edges of the tooth to regain sharpness of the edges and tips. You'll know when it's time to replace the teeth because eventually you won't be able to regain sharp tips.
Virnig recommends removing the teeth from the disc before you sharpen them, but you can sharpen them on the disc, onsite, if necessary. Safety first – check that the key is not in the ignition!
When Should I Sharpen or Replace Virnig Mulcher Teeth?
Check steel teeth daily! If the cutting edges are wearing down, you can rotate the tooth 180° and/or rotate the position of the tooth on the disc before sharpening. Try to keep consistent wear across all teeth before you replace them. The teeth on the bottom of the disc will wear down more quickly than perimeter and top teeth, so shifting tooth location will help extend the overall life of the teeth.
If you strike a rock or hard material, stop and check the teeth for damage and looseness. If the teeth are damaged or aren't firmly in place, replace or tighten them immediately. A compromised tooth can cause damage to the mount and the mulcher head, and can break free and become a dangerous projectile.
When you can no longer achieve a sharp tip on your steel teeth, it's time to replace. Virnig recommends new teeth to be placed on the top of the disc, and the teeth that were on the top to be moved to the perimeter or bottom. Try to keep the wear consistent across each area.
Excessive vibration, hydraulic temperature increase, or a performance drop are potential signs teeth need to be replaced. When replacing teeth, make sure to thoroughly clean the disc bolt holes so bolts torque properly. If there's any debris the bolts may not torque correctly, which means teeth may loosen and fly off the disc.
Can I Sharpen Carbide Mulcher Teeth?
No. Carbide teeth are designed to be low maintenance, and require no sharpening. They'll last much longer than steel teeth, but when they do wear down to the steel casing they'll need to be replaced.
Where Do I Buy Replacement Mulcher Teeth?
Your local Virnig dealer will either carry replacement parts on-hand, or they can order replacement teeth from Virnig and you'll receive the order within a few business days. We offer individual replacement teeth that fit the bottom or top of the disc, with all required hardware. We also carry perimeter edge teeth kits or full replacement kits for all 44 teeth and hardware.
| | | |
| --- | --- | --- |
| Steel Top/Bottom Kit | Steel Perimeter Kit | Full 44 Steel Teeth Kit |
| Carbide Perimeter Kit | 12 pc. Carbide Top/Bottom | 12 pc. Carbide Perimeter |
About Virnig's Tree Disc Mulcher
If you're looking for a premium mulcher designed to conquer the most demanding forestry jobs, the V70 Tree Disc Mulcher is unmatched in quality and performance.
Features:
160cc Bent-Axis Piston Motor with Relief Valves

Standard Motor Guard & Spindle Guard

60" Fully Machined, Perfectly Balanced Quadco

® Disc

Bolt-On Tooth Mounts with 4-Sided Rotatable & Replaceable Steel Teeth

3 Deck Mounted Teeth & Recutter Bar For A Finer Finish

3/8" Grade 80 Interior Deck Weldment

Replaceable Push Bar, Chute, and Deflector

2 Chute Styles; Standard or Open
To read more about how to operate your skid steer disc mulcher safely and effectively, check out this post on tips and general maintenance.
For a printable Disc Mulcher Tooth Guide, please click here.
Do you have questions about Virnig's V70 TDM, steel teeth, or optional carbide teeth? Please email us or give us a call to speak with our dedicated and experienced customer service team.  
If you're ready to purchase your brand new, high quality disc mulcher, find a dealer near you to check pricing and availability.