Even though there are many different skid steer attachments out on the market today, there's probably only a handful that fit the needs of a particular project. There are many variables that affect which attachment is best suited for an application. We've put together a SlideShare to outline just how easy it is to narrow down your options.
Check it out:
Choosing a SKID STEER ATTACHMENT SLIDESHARE:
Now, you may have noticed that the SlideShare didn't mention price. I know price is often a factor when it comes to purchasing skid loader attachments, but I also know you've heard the old saying, "you get what you pay for." And I have to admit, it rings true even today. If you want quality, you're probably going to have to pay for it. Although there's always going to be someone out there who can make something cheaper, those low prices come with downsides.
Typically, a less expensive product means that less money went into designing and manufacturing it. From what I've seen, this definitely holds true for heavy equipment, like skid steer attachments.
INEXPENSIVE SKID STEER ATTACHMENTS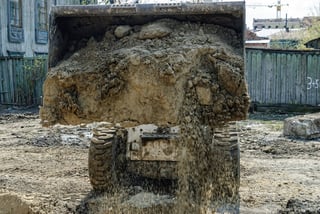 A less expensive attachment might look the same, but you have to consider what decisions made that low sticker price possible. Was it made with low-quality steel? Are the wear parts painted instead of plated? Does it have a cheap, foreign motor that doesn't match the attachment's flow rating?
The corners that get cut in order to manufacture an inexpensive attachment might not be visible in a catalog or even in a showroom, but they are noticeable out in the field. Purchasing a cheap attachment that underperforms or breaks down when you put it to work is always going to cost you more in the long run.
Any heavy equipment purchase is a large-scale decision. It's not something you buy once a week, month or year. A single skid steer attachment purchase is meant to last for a long time. So instead of getting what you pay for, consider paying for what you want.
HIGH-QUALITY SKID STEER ATTACHMENTS
Creating high-quality skid steer attachments requires a lot of time, effort and resources. You need skilled and experienced individuals, high-quality materials and a dedication to performance standards.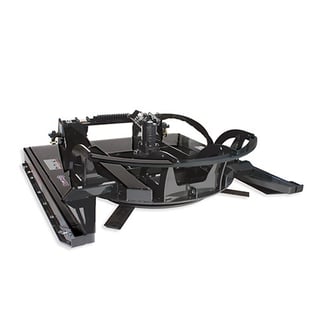 In heavy equipment manufacturing, there are just as many opportunities to cut corners as there are opportunities to build something that performs at the top of its class. Each material, each component and every step in the production process can be decided based on any number of factors.
While some manufacturers make decisions based on price, Virnig focuses on quality, durability and performance. We're using high-strength steel, laser cutting technology and premium components. We construct our attachments to have superior resistance to corrosion, scratching and fading. And when we uncover an opportunity to do better, we seize it.
Questions for Narrowing Down Your Options
As you saw in the SlideShare, there are four basic questions that will help you narrow down which attachment is right for you:
What will you use the attachment for?

What environment will you use the attachment in?

What skid steer (or tractor) will you be using?

Will the attachment be for personal use or commercial use?
If you walk into a dealer that carries attachments for skid steers with the answers to these questions, you won't end up overwhelmed by options. Instead, you'll have a couple - possibly a handful - of attachments to choose from that are going to be well-suited to your needs.