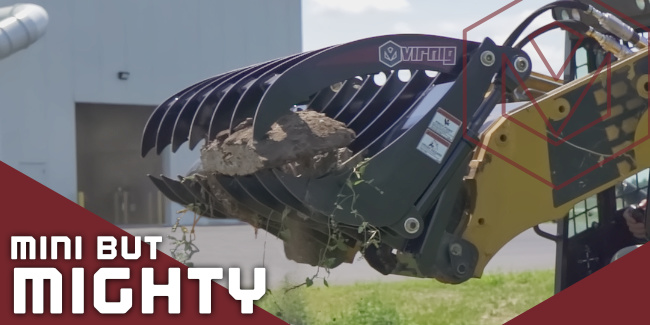 Virnig mini grapples were created for hauling brush, logs, stumps, mulch, concrete, rocks, loose and bulky debris with ease. They're compatible with top mini loader brands like ASV, Bobcat, Ditch Witch, Toro, Vermeer, Wacker-Neuson, Kubota, and more! We offer three custom mount styles to choose from: Mini Universal (Toro), Bobcat, and ASV. Each grapple is available in three widths: 36", 42", and 48".

Our new line of mini skid steer grapples was designed specifically with construction, demolition, and landscaping jobsites in mind. Mini skid steers are flexible machines that are able to access areas too small or too tight for compact tractors and skid steers. These stand-on skid steers benefit from versatile attachments which expand their capacity and boost efficiency, maneuverability, and reliability. Less downtime means work gets done quickly and safely, and often with less labor involved.
A mini grapple makes land clearing, site prep, and demolition debris clean-up a breeze. Securely clamp and transport all types of material, but keep in mind any grapple's design has a major effect on its functionality, capacity, and durability. Read on for specific uses of our four new mini skid steer grapples.
TABLE OF CONTENTS (click to skip to any section)
V20 Mini Skeleton Grapple
V20 Mini Skeleton Rock Grapple
V20 Mini Scrap Grapple
V20 Mini Root Rake Grapple
Competitor Mini Grapple Weaknesses
Why choose Virnig Mini Skid Steer Grapples?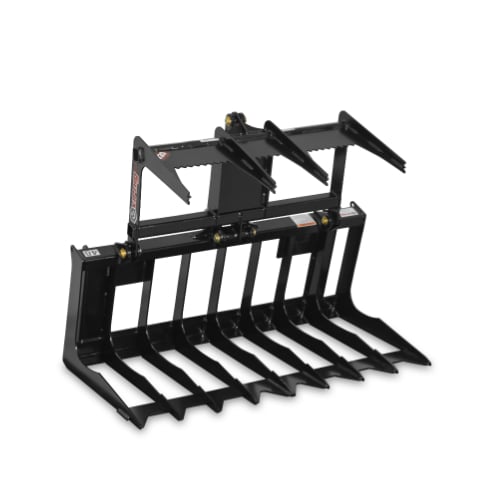 The Virnig V20 Mini Skid Steer Skeleton Grapple is one of the most popular grapples. It features an open-sided design ideal for hauling brush and logs. The open bottom allows dirt to fall through while securing wide objects like logs. With wider tine spacing and every tine made from one piece of steel for maximum rigidity, you'll get great visibility and max durability.
The Virnig V20 Mini Skid Steer Skeleton Rock Grapple is our Skeleton Rock Bucket with a grapple. Closed sides, narrow tine spacing, rock dam and notch near tine tips hold rocks securely. The tine tips can be used to help break up dirt and prepare seedbeds. Every tine is made from one piece of steel for maximum rigidity.
The Virnig V20 Mini Skid Steer Scrap Grapple, also called a solid bottom grapple, is excellent for hauling loose and bulky debris. With the option for a bolt-on edge you can extend the bucket edge life. The one-cylinder jaw design means simple operation, lowered cost and it's easier to clamp objects in the grapple's center.
The Virnig V20 Mini Skid Steer Root Rake Grapple challenges the industry standard by being the ONLY grapple on the market to use premium AR400 steel tines. Quickly dig, rake, pile, and load brush with this light but tough root rake grapple. The strong clamping force from the two cylinders is also great for rocks and boulders. See it in action here!
Competitor Mini Grapple Weaknesses
"Mini but mighty" Virnig attachments repeatedly outperform and outlast competitors. Why? We'll go into more detail below, but most competitor lines were designed in the early 2000's and are made for light loaders with 500-600lb operating capacity. Virnig mini skid steer attachments are designed for 1,000lb+ operating capacity, which makes them tougher and guarantees future performance. As mini skid steers grow larger, more powerful, and more popular, they'll benefit from Virnig's properly sized, high performing mini attachments.
Many mini skid steer attachment manufacturers claim they have the "best quality" which makes it difficult to determine who actually does.
Pro tip: Choose a grapple attachment based on the quality of materials AND how it's constructed. Tine yield strength, steel type, reinforcement, wear parts, cylinder rods, cylinder pins, and laser cutting are all important factors to consider.
For more information on how to choose the right grapple attachment, click here.
Here are many other weaknesses we discovered while researching the mini skid steer grapples currently in circulation today. We intentionally built our new mini attachments to combat the following pain points and issues.
Some mini grapples on the market only have a 20" jaw opening. The Virnig Mini Grapple's jaw opening is 30", larger than most mini grapples on the market. Operators will appreciate that extra wide opening to haul more debris per load and get jobs done quicker.




Competitors use bolts and nuts instead of machined pins on the grapple hinges. They aren't easy to grease and will rust and seize together, making them difficult to service. Virnig pins can be greased since they have grease zerks. They're also recessed in the pin which protects them from getting destroyed. Also, Virnig uses snap rings to retain pins instead of nuts. They're easier to remove and service on the jobsite where time is money.

In this close-up of a competitor grapple you'll notice bolts and nuts on the hinge with an unprotected grease zerk.



On skeleton grapple attachments, strength is determined by the design of the tines. Competitors cut costs by welding two steel pieces to the bottom tube, which is significantly weaker than Virnig's strategy to utilize one piece of steel from the tine tip to the top brace.


The steel tines on this competitor mini grapple are two pieces of steel, which is weaker than one continuous piece of steel.



Competitor root rake grapples with one-cylinder will have less clamping force than Virnig's two cylinder design.




For root rake grapple tines, competitors use A36 steel (36,000 PSI yield strength) while Virnig uses AR400 steel (150,000 PSI yield strength) for strength and to help minimize overall weight. Yield strength is the amount of pressure the steel can take before it bends permanently. The Virnig V20 Mini Skid Steer Root Rake Grapple is the only root rake grapple in the mini attachment industry to use AR400.




Why choose Virnig Mini Skid Steer Grapples?
Virnig mini attachments are fabricated with the same premium quality materials and craftsmanship as the skid steer and compact tractor attachment lines. These mini attachments are built for those who make a living on them and are well worth the initial investment. These mini attachments were thoughtfully crafted from computer modeling to live action. Not only was special care invested in initially crafting these attachments, a lot of work goes into improving the designs as well.
First, 3D modeling software is used to do stress tests to ensure proper fit and durability. Next, a prototype is built and and tested internally. Then, prototypes are released for further testing by dealers and heavy use customers who make a living on attachments. Finally, Virnig sells attachments to dealers who sell to the public, but it doesn't end there! Your direct feedback also improves Virnig's designs. The greatest benefit of designing and manufacturing all in-house is Virnig can rapidly update and upgrade every single attachment to stay on top of industry advancements.
---
Need help choosing the right mini grapple for your jobsite? Please email us or give us a call to speak with our dedicated and experienced customer service team.
Know exactly what you'd like? Find a dealer near you to check pricing and availability.