A skid steer grapple attachment is excellent when you need a more efficient way to carry awkward materials like rocks, logs, or piles of concrete. And while bucket attachments are also used to carry objects, they don't perform as well as a skid steer grapple attachment.
WHY USE A SKID STEER GRAPPLE?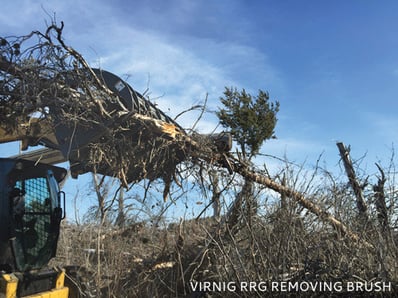 Grapples are a unique type of skid steer attachment with a wide variety of uses. They're perfect for landscaping, farming, construction, logging, road construction, and recycling applications. The best part is, a skid steer grapple can work with almost any type of material.
The lower half of a skid steer grapple attachment can easily scoop up loose debris like dirt or sand, making cleanup a cinch. Plus, the large tines along the upper jaw effortlessly grip large objects like railroad ties and large rocks.
WHICH SKID STEER GRAPPLE ATTACHMENT IS RIGHT FOR YOU?
Choosing a skid steer grapple attachment that suits your needs is no easy task. There are hundreds of attachment manufacturers and thousands of different grapple models to choose from. To help with this buying process, use the following six steps to help narrow your options.
IMPORTANT TIP: Make sure a grapple's price includes cylinders, fittings, hoses, and couplers. Some manufacturers don't include these in the price and you will end up spending more money than you originally thought.
1. DETERMINe your SPECIFIC NEEDS
There are many different grapples designed for different applications. The attachment suited for your application should always be considered before purchase. Here are some questions to consider:
What's your application?
What materials (brush, trees, logs, manure, asphalt, concrete, scrap, recycling, etc.) will you need your grapple to remove?
What is the capacity of your skid steer?
Operators working in scrapyards need a different grapple than people working in forests. Remember that any grapple's design has a major effect on its functions, efficiency, and capacity.
Important Tip: For more detailed information on grapple attachments, check out The Ultimate Guide to Skid Steer Grapple Attachments.
2. Learn How to identify a quality GRAPPLE attachment
Grapples need to take on a lot of stress, so they're constructed from strong and durable materials in order to last a long time. Most skid steer attachment manufacturers say they have the "best quality," which makes it difficult to determine who actually provides the most high-quality products.
IMPORTANT TIP: Choose an attachment based on the quality of materials it's made from and how it's constructed. Every attachment manufacturer or dealer should know exactly what goes into every attachment they sell.
Here are some specific things to look out for when you're determining the quality of your skid steer grapple attachment.
Tine Yield Strength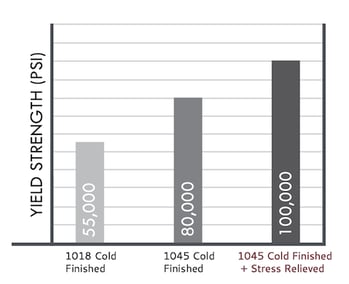 Yield strength measures the stress that steel can handle before it deforms permanently. Look for a minimum yield strength of 50,000 PSI. Anything less than that, and you risk the grapple tines bending or breaking under high-stress loads. The higher the yield strength the better.
Yield strength has more of an impact on quality than tine diameter. A larger diameter might sound like a winner, but it's not the only thing you should look out for.
For example, a 2" thick 1018 cold finished round stock (55,000 PSI) won't be as strong as a 2" thick 1045 Cold Finished round stock (80,000 PSI).
Reinforcements and Steel Type
When it comes to solid bottom grapples, look for extra reinforcement inside the bucket. On skeleton-style grapples, look for gussets at tine tips.
If the tines don't have gussets, look for thicker steel and an inverted "T" shape tine on skeleton styles like this. For round shaft style tines, refer to the PSI rating and the diameter.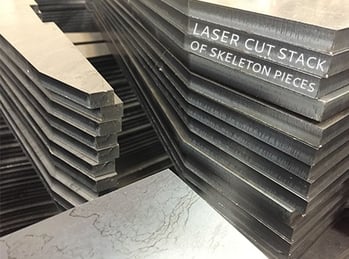 Laser Cut Steel
Laser technology offers advanced cutting abilities compared to plasma. More specifically, laser cutting is more accurate for parts with tighter tolerances, which means better quality and less wear.
Overall, laser-cut parts are more consistent and precise, ensuring snug joints and smoother moving parts.
Cylinder Pins, Cylinder Rods, and Wear Parts
Even though these parts make up a small part of the machine, they're extremely important. Look for parts that you can grease up easily and replace when you need to. These are wear parts, and over time you'll need to service and replace them, so save yourself a future headache and make sure they're easy to get to.
Chrome Plated vs. NitroSteel® Cylinder Rods
Many attachment manufacturers use cylinder rods with chrome plating. While these aren't the worst choice, there are better and longer-lasting rods available for skid steer grapple attachments.
IMPORTANT TIP: NitroSteel® rods feature a dent and flake proof protective layer that's chemically bonded with the steel. The finish is extremely hard and is an environmentally friendly and superior performing alternative to chrome plating.
3. LEARN THE DIFFERENCE BETWEEN "SKELETON" BOTTOM AND SOLID BOTTOM GRAPPLE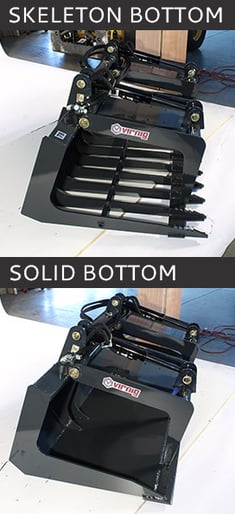 OPEN BOTTOM Vs Solid Bottom
An open "skeleton" bottom grapple lets small, unwanted material fall through between the tines. Brush grapples and rock grapples will have an open bottom that sifts dirt and unwanted debris out.
With a solid bottom grapple, there is no space for debris to fall through. That's what makes these types of attachments a great choice for recycling and scrap yard applications. They capture material for complete removal.
Also, many skeleton grapples have a cross member (or front comb) at the tine tips. A cross member is a piece of metal that overlaps the bottom tines of a skeleton bucket to increase its overall strength.
Grapples without cross members at the tine tips will allow material to go through more easily than grapples with these cross members. This means that the tines on a grapple with no cross member should have a thicker, higher grade of steel since there's less structural support overall.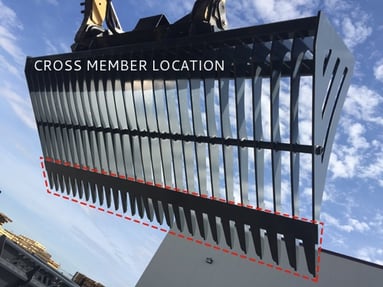 The Industrial Skeleton Tine Grapple and the Root Rake Grapple are some specific examples of attachments without a cross member at the tine tips. Again, notice the inverted "T" shape of the tines.
4. FIND THE RIGHT grapple SIZE

If you choose a grapple attachment that's too small, you'll have to take more trips, which leads to higher operating costs. But keep in mind that bigger is not always better. The grapple should be big enough for what you need to do but not too big that the machine can't effectively use the attachment (see #5 below).
IMPORTANT TIP: Your project will go faster if you select the right size of grapple for your required load. Choose something large enough to optimize the number of trips needed, without overloading your skid steer.
5. consider your machine's loader capacity

In order to find a suitable attachment, you have to know the loader's capacity. Some grapples will be too big or too small for certain skid steers. Fitting the grapple to the machine keeps the loader from taking on too much weight.
For example, the Virnig Root Rake Grapple is too big for a Bobcat® S185 to handle.
The loader capacity for an S185 is 1,850 pounds and the recommended loader capacity for the RRG is greater than 2,400 lbs. But a Root Rake Grapple on a CAT® 262C (operating capacity of 2,700 pounds) would be a great combination.
If you don't know your skid steer's loader capacity, click here to find out. And if you can't find it there, contact us to consult an expert.
6. CHOOSE A DEPENDABLE DEALER AND MANUFACTURER FOR SUPPORT
Choosing the right dealer can be as crucial as selecting the right attachment. Certain parts on the grapple will eventually wear down or need a replacement. Even if you can fix attachments yourself, you'll still need to get the replacement parts from a reliable manufacturer.
It's important to work with a dealer and manufacturer with the experience to quickly give you the parts you need and answer any questions you might have.
GRAPPLES MAKE WORK EASIER
From raking and clearing brush to landscaping and site cleanup, your operations can be simple with the right skid steer grapple attachment. With a bit of basic info and expert advice, finding a proper skid steer grapple doesn't have to be stressful.
Have further questions about finding the right skid steer grapple attachment for your loader? Contact the experts at Virnig today.