Introducing the X30 42" Mini-Ex Rotary Brush Cutter - Virnig's FIRST Mini Excavator Attachment! WITH VIDEO
At Virnig, we are proud to introduce our latest innovation: the 42" X30 Mini Excavator Rotary Brush Cutter. This is our first ever Mini Excavator Attachment, and we believe it will be a game-changer in the mini excavator attachment industry.
Land clearing can be a challenging and time-consuming task, especially if you're working with limited space, obstacles, or difficult terrain. That's where the Virnig Mini Excavator Brush Cutter comes in. This powerful attachment is designed to make quick work of brush, small trees, and other vegetation, allowing you to prepare land for construction, farming, or other uses like fence clearing with ease.
In this comprehensive guide, we'll take a closer look at the Virnig X30 Mini Excavator Brush Cutter and explore its many features, applications, and benefits. If you're more of a visual person, here's the X30 Mini Excavator Brush Cutter Walkaround video.


Chapters (click to jump to any section)
Mini-Ex Brush Cutter – Specs & Features
Key Differentiators
Applications of Mini-Ex Cutters
Contact Our Team
FAQs on Virnig Mini-Ex Brush Cutters

Mini Excavator Brush Cutter – Specs & Features
Specifications
• 4" cut capacity
• 42" cut width
• Greater than 8,900lb recommended mini-ex weight
• 15-25 GPM recommended auxiliary flow rate
• 145lb flywheel weight
• 700lb overall weight / 830lb weight with sides
Features
• No case drain required! Direct drive Eaton® motor with relief valve protection.
• Unique bolt-on front deck. Remove for 270° blade engagement.
• Bolt-on mounting interface for quickly changing hanger brackets.
• Rounded flywheel with 3 double-sided blades bounces off stumps.
• Serrated rear deck for back dragging brush & grabbing stumps.
• Standard motor guard & spindle guard.
• Many hanger bracket options available.

Key Differentiators of Virnig's Mini Excavator Brush Cutters
Here are just a few reasons why we believe this Virnig attachment is a must-have for anyone in the industry of land clearing, construction, and/or landscaping:
VERSATILITY
The X30 Mini Excavator Brush Cutter is incredibly versatile, allowing for easy and efficient cutting of brush, tall grass, trees, and other vegetation. It also features a serrated rear deck for back dragging brush and for grubbing stumps. Its compact size and design make it perfect for use in tight spaces, such as around buildings, fences, and trees. Additionally, the attachment can be angled up to 90 degrees, allowing for cutting on uneven terrain and hillsides.
In an industry-first innovative move, Virnig offers a unique bolt-on front deck. Remove this deck for epic 270° blade engagement. If the front deck is removed, serrations help guide where trees fall.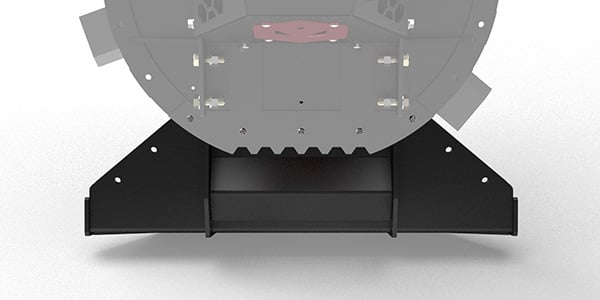 In contrast, if you need to control and contain flying debris, we've designed optional left and right heavy-duty side curtains. One side curtain is typically installed on the left to protect the operator and machine, and adding a right side curtain provides the best material containment for added safety when operating near roadsides and homes.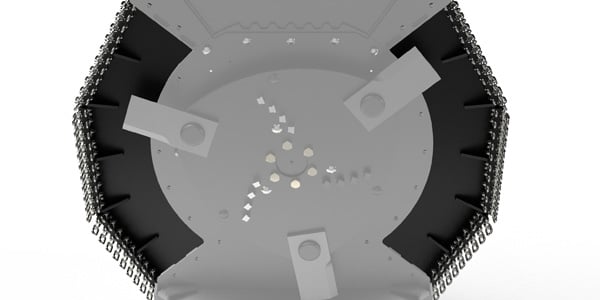 DURABILITY
At Virnig, we understand the importance of having equipment that is built to last. The X30 Mini Excavator Brush Cutter is constructed using premium quality materials, ensuring that it can withstand the rigors of daily use in tough conditions. Virnig's mini-ex brush cutter attachment features a durable .25" thick steel deck, made with Grade 50 Plate (50,000 PSI minimum yield strength). It comes standard with a motor guard and spindle guard, which help protect against damage from falling branches, debris, and wire wrap.

The motor is the heart of any cutter, and this one utilizes a USA-made Eaton® Geroler motor which doesn't need a case drain line. Some competitor cutters require a case drain line, which is expensive and time-consuming to retrofit on an excavator. The Eaton® motor is much more effective than competitors' angle gearbox systems, which suffer lower torque, higher maintenance, require more parts, and have a higher likelihood of failure.
A hydraulic pressure relief valve prevents damage and downtime caused from hydraulic pressure spikes.

EFFECTIVENESS
With a cutting width of 42 inches and the ability to cut trees up to 4 inches in diameter, the X30 Mini Excavator Brush Cutter is incredibly effective. Its high-speed, heavy-duty Eaton® motor allows for quick and efficient cutting, making it ideal for use on projects where time is of the essence. Additionally, the attachment is lighter and more agile than mulchers, which makes it a clear choice in residential areas where space may be limited or obstacles like fences may be a barrier for a skid steer.
NOTE: If operating primarily in residential areas, we highly recommend purchasing both side curtains (optional). This will completely enclose the cutter for max debris containment.
Although cutters may appear similar at first glance, a closer inspection beneath the deck reveals a significant difference in weight and build quality. 
The Virnig cutter's flywheel has three double-sided blades and weighs 145lbs to power through trees and thick brush. Many competitors use two blades mounted to a lighter flywheel to cut cost, resulting in reduced cutting performance.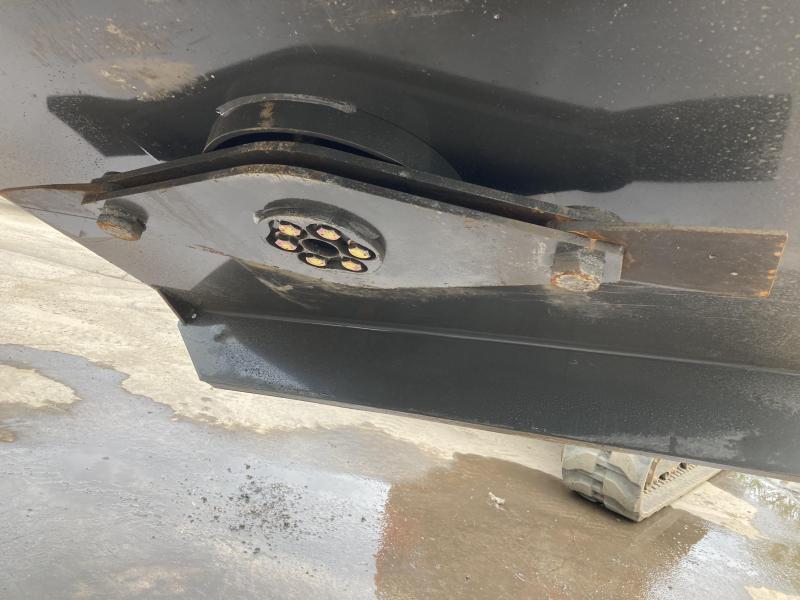 In this image of a competitor mini excavator brush cutter, note the light flywheel, welded-on bolts, and two blades.
We use a circular flywheel design to help jump over stumps and debris when cutting along the ground, and also offer optional carbide teeth to help shred material for a better finish.
The 5/8" thick by 5" wide blades are USA-made with 5160 spring steel, and are forged and heat-treated for maximum strength. The bolts are also USA-made, and are 100% cold formed for max strength and wear resistance. Keep reading to learn how we made installing new blades as easy as possible.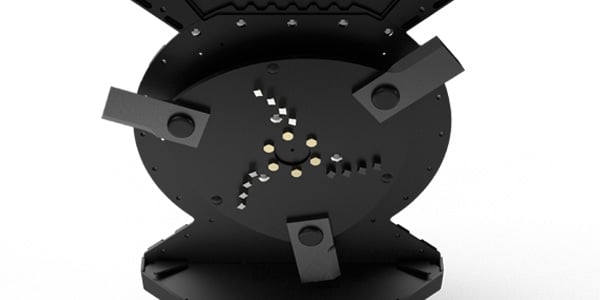 Easy Use and Maintenance
Downtime is costly, which is why we designed the X30 Mini Excavator Brush Cutter to be easy to use and maintain. The attachment comes with couplers and 90" hoses, simply choose the hanger bracket compatible with your mini excavator. We also offer 120" hoses for longer arms.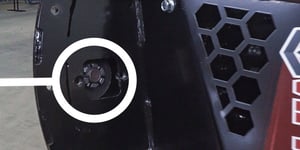 Routine maintenance can be performed quickly and easily. Bolt-on blades, for example, are easily accessed via a top panel. Some competitor cutters weld the blade bolts to the flywheel, which creates a hassle when it's time to replace the blades. Their replacement process requires cutting welds around the bolt head without cutting into the flywheel, hammering out the bolt, grinding away old weld beads, and then welding new bolts back onto the flywheel. Virnig's way? Remove the cover to get to the blade nuts for removal.
To ensure compatibility across mini excavator types and brands, we offer many different hanger brackets and pins to match almost any coupler on the market.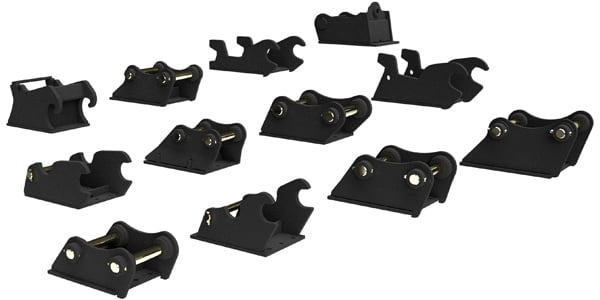 Applications of Mini Excavator Cutters
Land Clearing Near Water
Clearing land near water can be challenging and dangerous, but a mini excavator brush cutter makes the task much easier and safer. With its long reach, you can clear branches and vegetation from the banks of lakes, rivers, and ponds without getting too close to the water's edge. This is especially useful for erosion control and maintaining the health of aquatic ecosystems.
Land Clearing in Difficult or Uneven Terrain
Mini excavator brush cutters are versatile mowers that can be used in a wide range of terrains, including steep ditches, hillsides, and uneven or unsafe ground. By positioning your mini excavator on the road or on level land, you can then extend the arm and brush cutter to clear vegetation in hard-to-reach areas. This is particularly useful for maintaining hiking and biking trails, clearing dense brush from road shoulders, and maintaining drainage ditches.
Land Clearing Near Hazards
Traditional skid steers may struggle when it comes to clearing brush and trees around obstacles like fences, guardrails, and electrical lines. Here's where the mini excavator shines, with the ability to maneuver around these barriers with ease. They're particularly useful for clearing brush and trees near power lines, highways, and other areas where access is limited. Virnig's MiniEx Rotary Cutter can make quick work around obstacles that would hold a skid steer cutter back.
Dense Brush
Ultimately, a brush cutter is designed to cut brush! The X30 MiniEx Brush Cutter is ideal for clearing overgrown areas that have become choked with vegetation. By thinning out brush, you can help prevent wildfires, improve access for wildlife, and make the area more aesthetically pleasing. You can also help reduce the spread of invasive species, which can harm native plants and wildlife.
Fire Prevention
In areas prone to wildfires, brush clearing is essential for preventing the spread of flames. A mini excavator brush cutter can quickly clear large circular swaths, and Virnig's is specifically designed to not bog down in thick brush or difficult terrain. By creating firebreaks and clearing vegetation around homes and buildings, you can help create defensible space around homes and other structures.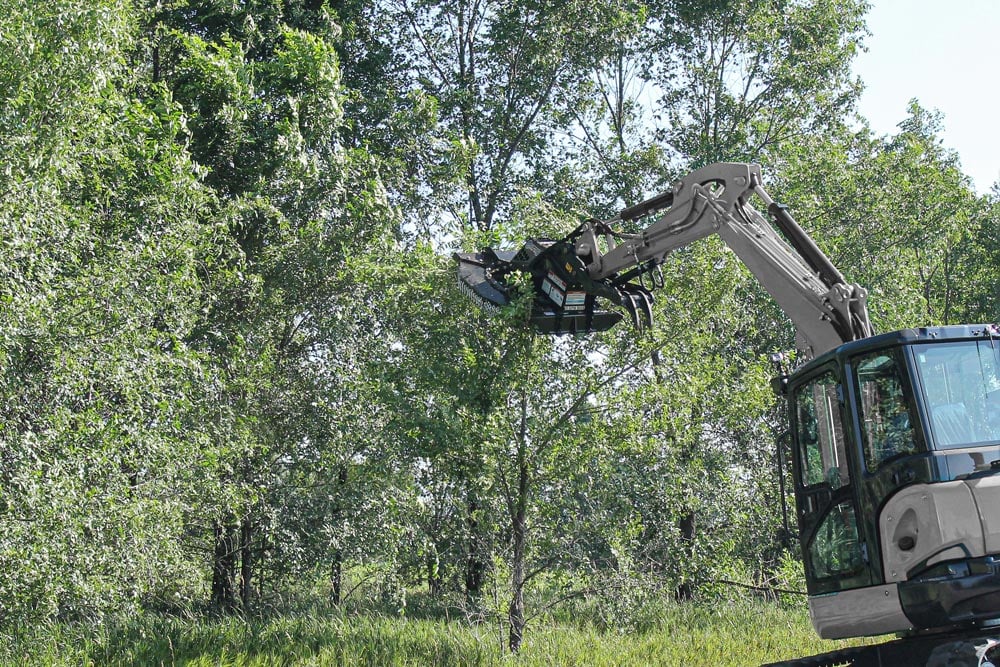 Conclusion
The Virnig X30 Mini Excavator Brush Cutter is a powerful, versatile tool that can be used in a wide variety of applications. By understanding the features and capabilities of this attachment, and following proper safety procedures and maintenance guidelines, you'll make the most of your investment and tackle any land clearing challenge that comes your way.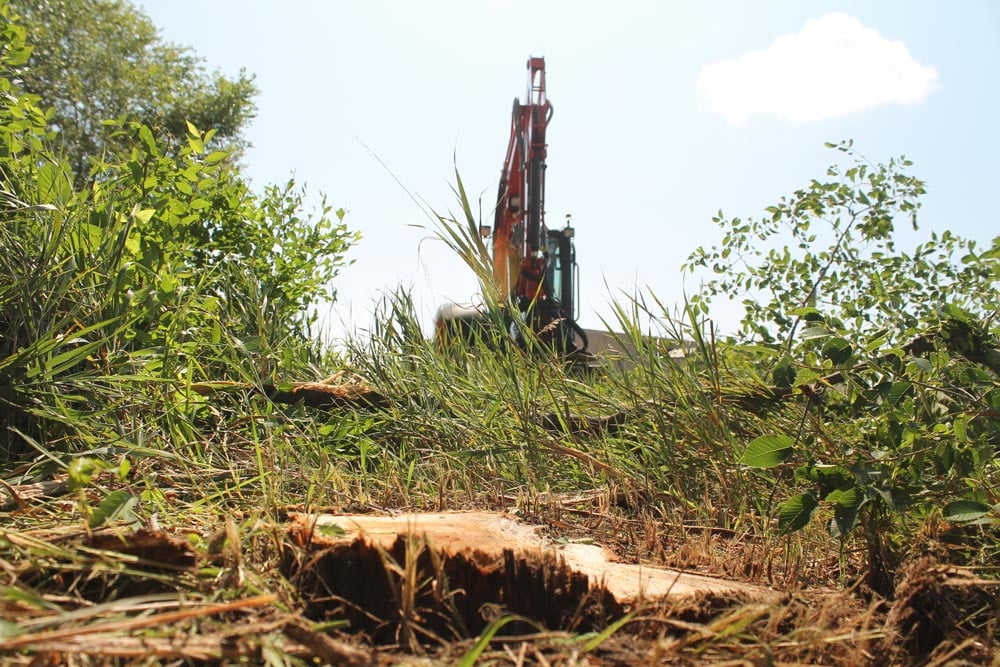 Ready for Your Very Own Virnig Mini Ex Brush Cutter?
If you are interested in learning more about the X30 Mini Excavator Brush Cutter or any of our other quality attachments, please visit our website. We offer a wide range of attachments for skid steers, compact tractors, mini skid steers, and now mini excavators.
To find your nearest Virnig dealer, please click here.
To request a quote, please click here.
If you're unsure of the best fit for your machine or your business, our expert team would love to chat with you! To connect with our inside sales team, please email attachments@virnigmfg.com or call 320-818-4040.
Thank you for considering Virnig for all of your attachment needs!


---

Frequently Asked Questions on Virnig Mini Excavator Brush Cutters

Q: Does the Mini Excavator Brush Cutter have a piston motor?
A: The X30 Mini Excavator Brush Cutter utilizes an Eaton® Geroler motor which is made in the USA. These motors have a proven track record of delivering superior performance and longevity. Geroler motors are less susceptible to contamination and cavitation compared to piston motors, making them more durable. Furthermore, they are more cost-effective to replace than their piston counterparts.
Also, piston motors require a case drain line which is expensive and time consuming to add to an excavator. The X30 Mini Excavator Brush Cutter doesn't require a case drain line. The relief valve in the manifold relieves excessive pressure.


Q: WHAT'S THE MAX OPERATING PRESSURE the Mini Excavator Brush Cutter CAN HANDLE?
A: The max operating pressure is 3500 psi.


Q: Do you recommend none, one, or both of the optional side curtains?
A: It depends on the material and where you're cutting.
Here's what Virnig recommends:
Using both bolt-on sides provides the best material containment and is intended for cutting small brush and grass.
Using only one side installed on the left, cuts larger material easier on the open side while reducing ejected material coming toward the operator. Most material discharges from the front left of the cutter deck.
Not having any side curtains works well for larger diameter material and hedge trimming.

The front cutter deck frame with can also be removed if both cutter sides are detached. The cutter will be the most aggressive with all three bolt-on items removed. The completely open configuration is not intended to be used for cutting close to the ground as it will be very difficult to keep the blades out of the dirt and they'll dull quickly.

Q: WHAT excavator size class is the Mini Excavator Brush Cutter Compatible with?
A: The X30 Mini Excavator Brush Cutter is compatible with many of the 40, 50 and 60 class size excavators. The mini excavator must weigh more than 8,900 pounds to operate the X30 Mini-Ex Brush Cutter safely. Also, the excavator must be rated with enough lift capacity to safely maneuver the cutter at full reach. Consult excavator manual or dealer for reference.
The X30 Mini-Ex Brush Cutter doesn't have a max excavator weight rating since cutter motor flow rate goes up to 25 GPM and most of the mini and standard size excavators are above 25 GPM. It probably isn't the optimal cutter for a standard size excavator since they have a lot more hydraulic horsepower and lift capacity to use a larger cutter.


Q: Can I cut brush bi-directionally with Virnig's Mini Excavator Brush Cutter?
A: The X30 Mini Excavator Brush Cutter is specifically designed to spin and cut in the counter-clockwise direction. Attempting to run the cutter flywheel in the opposite direction (clockwise), will result in subpar performance. The cutter will have difficulty sustaining operation, with a higher likelihood of stalling and torque will be reduced by about 75% compared to operating it in the counter-clockwise direction.
It's crucial to use the X30 Mini Excavator Brush Cutter correctly to ensure optimal results and avoid potential damage.


Q: WHAT'S THE flow rate range of the Mini-Ex Brush Cutter?
A: The X30 Mini Excavator Brush Cutter motor is compatible with excavators with an auxiliary flow rate of 15-25 GPM. Not to be confused with the total flow rate of the excavator pumps, auxiliary hydraulic flow is the flow rate output down the boom and arm to the primary hydraulic circuit which powers the attachment.


Q: WHAT bolt pattern do virnig hanger brackets have?
A: All Virnig hanger brackets have an Epiroc Hammer bolt pattern with six holes. It's one of the more common hole patterns in the excavator industry.


Q: WHich Mini-Ex hanger bracket mounts does Virnig offer?
A: Virnig has various pin grabber and wedge style hanger brackets available to fit most mini excavator brands – like Kubota®, John Deere®, Bobcat®, CAT® and more. Hanger brackets can be ordered with or without machined pins.


Q: How do you replace the carbide teeth on the flywheel?
A: To access the teeth for replacement, remove 6 bolts on the bottom of the flywheel and take off the flywheel. Please note, the flywheel weighs 145lbs. Flywheel removal instructions can be found in the operators manual. It may be faster to leave the flywheel installed and use a crowfoot wrench if only a couple teeth need to be replaced.


Q: WHAT protects the hydraulic system from pressure spikes?
A: A pressure relief valve protects the motor and the loader's hydraulic system from damaging pressure spikes. When the maximum pressure point is reached, the valve opens to prevent pressure from rising any further. This prevents seals or other internal components from failing due to excessive pressure.


Q: Can I use the mini excavator brush cutter on a standard size excavator?
A: It's highly unlikely the X30 Mini-Excavator Brush Cutter motor, with a max capacity of 25 GPM, can handle the auxiliary flow output of any standard size excavator. Virnig motors have a zero tolerance for overflow, and using attachments at higher-than-rated flow rates can lead to catastrophic motor failure and additional stress on the bearing spindle.


Q: How important is a quality spindle?
A: The spindle is the most expensive performance component on an excavator brush cutter. It is responsible for smoothly transferring power from the hydraulic motor to the flywheel and absorbing impact that could damage the hydraulic motor.
High-performance skid steer brush cutters require heavy-duty spindles to ensure reliability and productivity. X30 Mini Excavator Brush Cutters are equipped with USA-made bearing spindles.


Q: How easy is it to install or remove side curtains?
A: It's relatively easy. A side curtain can be detached by removing eleven nuts and bolts. Each side weighs 65 lbs.


Q: Does this Virnig mini excavator brush cutter have hydraulic braking?
A: No, the cutter flywheel will spin for up to a minute before it comes to a complete stop. Never exit the cab until the flywheel comes to a complete stop.


Q: Does my Mini Excavator Require two-way auxiliary hydraulics?
A: Yes, a mini excavator does need two-way auxiliary hydraulics to operate the X30 Brush Cutter. Most current excavators come standard with two-way auxiliary hydraulics from the manufacturer.


Q: WHAT do I need to measure on my pin grabber style excavator coupler to get the correct hanger bracket from Virnig?
A: To provide the correct hanger bracket, Virnig needs the excavator make and model and these four measurements from the excavator bucket:
A: Distance between bushings
B: Distance between bushings
C: Distance between the centers of the pins (Measure from the front edge of the first hole to the front edge of the 2nd hole).
D: Pin diameter (Measured in inches then converted to metric since most pins use metric system). Common sizes for mini excavators are (~1.5-2.0" diameter) 38, 40, 45, and 50mm.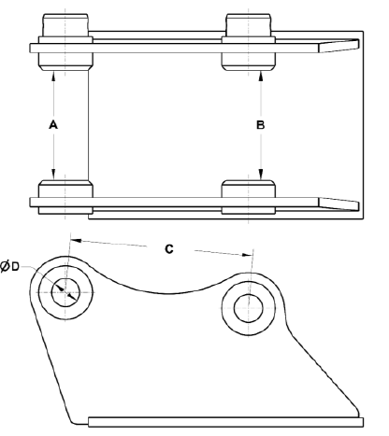 Q: Does the Mini Excavator Brush Cutter Come ready to use off the pallet?
A: Provided there's a hanger bracket suitable for the excavator it will be mounted on, the cutter is ready to use. The cutter includes 90" hoses and ½" couplers. However, if it's being attached to a long arm excavator, the standard 90" hose length may be too short to reach the excavator's auxiliary hydraulic circuit.


Q: WHAt can I expect for cutting performance?
A: The X30 Mini Excavator Brush Cutter is using a high torque Eaton® motor and heavy flywheel system with three blades for more rotational energy to power through thick brush and 4" diameter trees. Virnig cut capacity is what diameter material an operator can efficiently cut without getting frustrated with performance & durability.
The Virnig X30 Mini Excavator Cutter was the preferred choice over many of the major brands on the market during testing, largely due to higher performance, deck configuration options and not needing a case drain line.
All excavators share flow with the other excavator functions to some degree and it differs depending on machine. All brands respond differently when operating attachments, based on operating pressure, flow rate, number of pumps and pump type. Some mini excavators utilize a single hydraulic pump, which means any multifunctioning while using a powered attachment (raising/lowering boom, traveling) is likely going to slow production.
The mini excavator's powered attachment and movement rely on the same hydraulic oil coming from the pump(s), which can limit performance. When a bucket is in use, the undercarriage and boom can utilize full hydraulic flow, ensuring the excavator's movements are not compromised. However, when operating a powered attachment, like a brush cutter, the extra hydraulic oil needed to run the cutter may decrease excavator ground speed and cycle time when booming up or down. Booming up is usually more impacted than booming down.
Mini excavators usually lack the hydraulic flow and horsepower of a skid steer, until the standard (10-ton) excavator size range. Even with the mini excavator at rest, the primary auxiliary circuit often cannot produce hydraulic flow rates exceeding 25 GPM. Consequently, cutting performance is unlikely to match that of a skid steer.