Renting skid steer attachments is a smart move for your dealership.
There are so many attachments for skid steers, compact tractors, and mini skid steers that it's impossible to own them all. Often, business owners weigh their options heavily to determine what attachments make the most sense to purchase within budget and for their customers.
If someone doesn't have the right attachment for a job, they're faced with a few options.
Should they

subcontract

the work?

That's likely not cost-effective and can be a hassle to coordinate. They're also then relying on that contractor to represent their own business professionally and promptly. When planning a project, timing is critical. Any delay can impact profitability and productivity.





Should they try to use an attachment they already own, but It's

not meant for

that job?




They could damage their equipment and void the warranty.

If an attachment isn't used the way it's meant to, it can break or degrade quickly. The job won't be done to the proper standard and they'll waste a lot of time on something that could have been done much faster with the right equipment. Forcing a skid steer attachment to do something it's not built for can be much more expensive than just renting what they need.





Should they

purchase

the required attachment?


What if they only need it for that one job, or for limited use? Financially it won't make sense, plus they'll have to store it somewhere. Lead times are long for specialized equipment and it's wasted money in the equipment fleet if it's not being utilized often.





Should they

rent

the right attachment for the job?


Ahhhh. This gives them a chance to try new equipment, incorporate new jobs that would otherwise be out of scope, and safely provide a service within reasonable budget.
Starting to see the value in rental equipment from the consumer's side? Good. Here are five excellent reasons why you as a skid steer attachment dealer should be incorporating rental equipment into your fleet.
Click to quickly jump to a section:
1. EXPANDED BUSINESS
2. PROFIT
3. PAID DEMO
4. FLEXIBILITY
5. ACCESSIBILITY
1. Expand your Business!
Don't think of rentals as an expense. Think of rentals as a business entity. To best set yourself up for success, treat this rental commitment as a standalone business. It should turn a profit and generate revenue for you from the beginning!
One incredible benefit of a rental fleet is Section 179 of the IRS Tax Code. Section 179 allows businesses to write off the full purchase price of any qualifying piece of equipment placed into service in the year it was purchased or financed. As the rental industry continues to grow, revenue will grow. By utilizing Section 179, you can expand your fleet or replace attachments and the cost could be as low as zero!
Make sure you have an experienced rental manager to oversee the operation. This person will have a background in rentals and will help determine what to rent vs what to sell. They'll keep meticulous track of profit and expense. They'll schedule rentals, deliveries, drop-offs, and maintenance and they'll understand the importance of this timing. Ultimately, they'll funnel interested parties to your sales team and promote the purchase of both new and used equipment.
By offering rentals, you're attracting customers who aren't in the market to buy new yet. Those customers who choose to rent rather than purchase will more than likely continue to rent from you in the future. And they'll keep on renting until the point they're able to purchase. When they do purchase, who do you think they're going to choose? That's right. YOU.
2. Financially
a rental fleet
makes sense
One goal should be to improve the financial utilization of your fleet and increase revenue. Choose a utilization level you're comfortable with and you'll find a balance between the cashflow of rental and the expense of maintenance and repairs. You'll bank off rental income as attachments are rented, and the cash potential once you're ready to sell can be a ridiculously profitable move.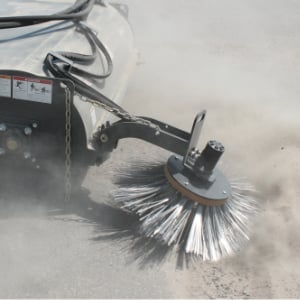 Think of extras and add-ons that also increase profits. You can add a la carte charges for transportation and insurance. Charge a fee for pick-up and drop-off. Charge hourly, daily, or weekly and add late charges if a customer doesn't return the equipment in time. Include options for "bumper-to-bumper" coverage, dents, wear and tear packages, and more. Provide add-ons to customize their experience, like adding a low-profile water tank and/or gutter brush to a Pick-Up Broom.
When you're ready, put a purchase price on your rental equipment. You'll expand your customer base to people who maybe couldn't afford a new attachment, but see the value in purchasing used. This lets you flip your inventory while providing much-needed resources to small businesses in your area. You can also sell rental equipment online, and those lower price tags will entice shoppers from all over the country.
Another option is to allow rental equipment to be sold at any time. Include a hang tag with a price. Customers who understand the equipment they're renting is also for sale may consider a purchase while they take advantage of the rental.
You'll see profit in both the rentals, and later in selling the used equipment. More often than not, you can actually make MORE money by renting then selling vs. selling brand new. When you consider additional charges, extended warranties, and stocking or easy ordering of replacement parts, the profits continue to rise.
3. Paid
Demo
When new product lines come on the market, with a rental fleet you're now utilizing paid demos. The best way to sell an attachment is to get the buyer using it!
By opening your dealership to rental possibilities, you're exposing products to prospective customers who may be considering one attachment or another. Most dealers don't allow try-before-you-buy, so if an attachment isn't what a customer was expecting this may create friction in the relationship. Instead, let them test each model and decide for themselves what will work best for their needs.
Alternately, another reason your customers may choose to rent is that they're considering buying that particular attachment. It's not always immediately clear what all the subtle benefits to owning a Virnig attachment are, but the more a customer uses one the more they fall in love. If they're used to a sub-par attachment that doesn't perform well or is constantly breaking down, sometimes all it takes is exposure to a superior brand. The more time they spend with a Virnig, the better then chance they'll realize this is the perfect attachment for their needs.
4. Attachment Rental Provides Flexibility
From unplanned emergencies and natural disasters, to seasonal work or one-off projects, rental equipment provides flexible options to customers who aren't quite ready to purchase. You'll benefit by providing choices for equipment that fit the needs of your clients, while simultaneously increasing revenue during the rental period and at the point of sale.
If their attachment is suddenly and unexpectedly out of commission, you're rescuing them from lost profits because of jobs they've already committed to.
It's all too common for operators to work seasonally, during hot summers or cold winters. If you provide an easy means for them to expand their business model, you're almost guaranteeing a sale down the line.
Many people prefer to rent attachments until they're sure they can get enough use out of them. A good rule of thumb is that if someone is renting an attachment from you 3-4 weeks out of the year, you'll probably be able to convince them to purchase. They're getting enough use out of the attachment to make money, and by owning it they'll save themselves the hassle of pick-up, drop-off, scheduling, and filling out paperwork each time they need to use it.
Rental Case Study #1:
Consider a landscaper who already owns a power rake, a grapple, and a bucket. Their summers are full and busy, but that equipment probably isn't getting much use in the winter. Now, imagine a customer asks if they can help plow their driveway. They think of you, their local rental equipment company, and say yes without pause. Maybe they don't have the business to purchase a pusher or blower quite yet, but they can build that up while they test rental attachments and decide whether they want to work through the winters, too.
Rental Case Study #2: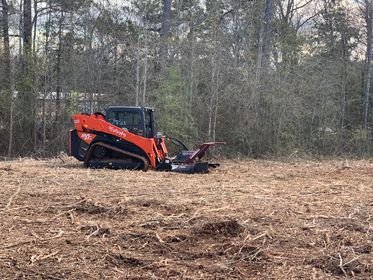 Another example is a project that's already underway. Say a company has already committed to clearing a lot, and once there they discover that their mower isn't going to cut it. Literally. You can provide them with the temporary cutter or mulcher they need to get the job done. And maybe while they're using that equipment, they realize it's time to upgrade their mower to a more versatile brush cutter or mulcher.
Photo by CM Clearing and Excavating, using a V70 Tree Disc Mulcher
5. Attachment Rental Provides Accessibility
Renting allows your customers to access the latest and greatest innovations in the attachment market. With such a wide variety of options for skid steer attachments, it makes sense that people would want to try before they buy. And by providing that service and being the best source possible, you're expanding their capabilities on jobsites. Whether it's commercial, residential, municipal, or industrial, you can fill all your customers' needs by offering a diverse selection of rental products.
Try-before-you-buy is especially impactful for high quality, specialized attachments. Example: Renting a Virnig Pick-Up Broom even for a few hours gives someone the opportunity to test quality and performance without committing to purchase. We can explain all the key features and differentiators that separate us from the competition, but it's not until someone actually experiences the innovation and craftsmanship of a Virnig that it starts to make sense. We can show them the pin-adjust system in a sales lot, but that tiny beautiful detail truly comes to life on the job when an operator realizes they don't have to fiddle with nuts and bolts to set the hood height. You never know what one key feature can be the ultimate selling point.
Perhaps a customer isn't ready to buy new today, but by providing the ability for them to offer new services to their customers, as they discover new revenue sources you may be earning a sale down the road. If not, you're still making money off the rentals.
Ready to Rent?
More and more dealerships recognize the value of renting skid steer attachments. The growth potential is enormous. By catering to the rental crowd, you'll make more money renting attachments and attract more customers to your dealership.
To get started, contact your area sales representative or give our inside sales team a call. We can chat about whether renting skid steer attachments is a good idea for your dealership. Chances are, it most definitely is.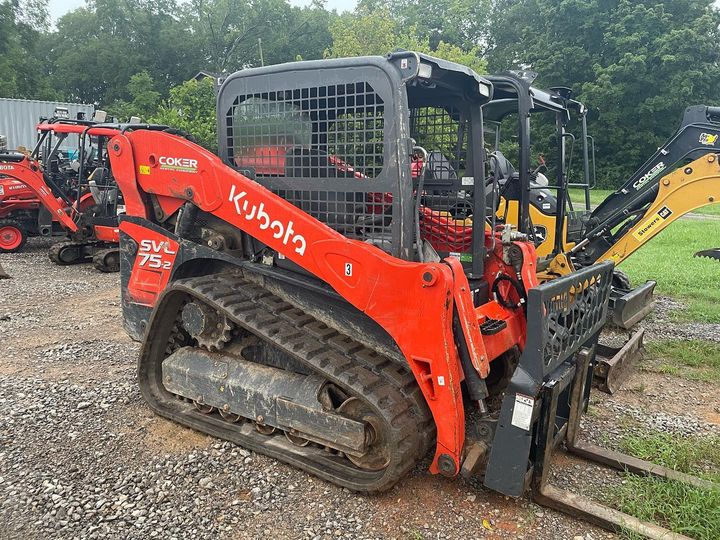 Image courtesy Coker Rental Company