Knowing when it's right to buy heavy equipment and when it's right to just rent it isn't always obvious. Both renting and buying come with their own set of benefits and costs, so how do you come out on top? Consider these factors ...
Buying Vs. Renting Skid Steer Attachments
When making the decision to buy or rent skid steer attachments, it's important to review your project needs, attachment versatility, and capital resources.
Projects & Frequency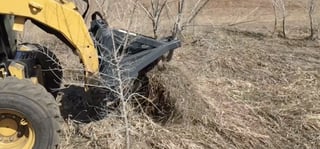 One-off jobs or short-term projects can be ideal skid steer attachment rental opportunities. Renting attachments is popular when you need the equipment for a few days.
But, you do want to look at it on a larger scale too. If your one-off jobs are becoming more and more frequent, buying might be the right option.
For a rule of thumb, if you're going to need an attachment for three or four weeks out of the year, buying the equipment might be the smarter move. Then you always have the equipment on-hand - you don't need to pick it up, drop it off, or fill out paperwork each time you need to use it.
Versatility Needs
While some attachments are versatile, others are not - I've heard of people using a pallet fork to put up rock walls or dig out trees. This may work, but damage to the attachment probably won't be covered under warranty. Forcing a skid steer attachment to do something it's not built for can be much more expensive than just renting what you need.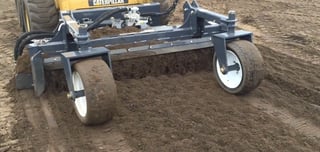 When an attachment is used in a way it's not built to, it can break or degrade very quickly. Besides damage to the equipment, a lot of time will be wasted on a job that could've been done very quickly with the right equipment. Skid steer attachment rental is a great way to use a more versatile attachment without investing in the full purchase price.
Capital Resources
A lot of people rent attachments until they have enough capital and they're sure it's the right attachment for them. This is especially true for small businesses and people buying attachments for personal use.
Plus, renting a skid steer attachment is a great way to try the equipment before you buy it. If you're looking at one of the high-end Virnig attachments, renting it for a few days gives you the opportunity to test the quality and performance without making the commitment to purchase. Once you know it's a good fit for your application, you're ready to keep an eye out for skid steer attachments for sale in the future.
Where to Rent Skid Steer Attachments
If you have an upcoming project that you'd like to rent a skid steer attachment for, the best place to start is by contacting your local skid steer attachment dealers. Whether you're looking to rent a rock bucket, trencher, grapple, tree puller or fork, our new dealer finder makes it easy to search using city, state, or zip code. Click below to find your nearest dealer: