You may or may not have noticed, but Virnig attachments don't have names like "Medium Duty," "Heavy Duty," "Extreme Duty," and the like. Instead, we have the V-Series: V30, V40, V50, V60. While our naming system is a bit different when you first come across it, it really makes understanding the product line much simpler.
Why We Went with V-Series
The V-Series naming system was created because we wanted to make it easier for end users to understand and compare attachments. After all, a big part of deciding which attachment to buy is comparing what's out there and choosing the best equipment for your application.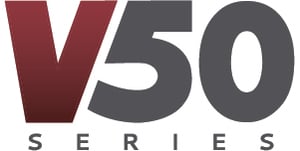 It's common in the industry to call skid steer attachments "Medium Duty" or "Heavy Duty" as a way to separate one from the other, but it didn't really translate when people would compare one brand to another. As manufacturers continued to grow their product lines and offer more and more attachments, the naming system became more and more confusing.
The V-Series is Simple
Any manufacturer can slap words like "heavy" or "super" on their products without providing a clear understanding of how one is different from the other. The V-Series is different. And it works the same across our entire product line.
V20 Series
Mini skid steer attachments designed for peak performance and crafted to be the toughest in the market. Small but powerful, they embody Virnig quality.
V30 Series
Ideal for compact tractors and small skid steers with less than a 1,500-lb. operating capacity.
V40 Series
Lighter-duty attachments with minimal options. They're designed for small to medium frame skid steers, and they work well for homeowners and DIYers.
V50 Series
Built for medium to large frame skid steers. V50 attachments are known as Virnig Manufacturing's standard-duty line, but note that V50 Series often outperforms the heaviest skid steer attachments put out by other brands.
V60 Series
Ideal for heavy usage and commercial applications, these are the biggest, heaviest, and most capable attachments. They are constructed for the most demanding applications and the largest skid steers available.
V70 Series
Virnig's newest attachment class with the best durability and performance. This category solely contains the Tree Disc Mulcher. As loaders increase in size and jobs become more demanding, Virnig will continue to add to the V70 line-up.
Using the V-Series
When you move up or down Virnig Manufacturing's V-Series, you can get a clear understanding of how one attachment differs from the others. To have a higher rank in the V-Series, you're going to find differences in things like steel thickness, overall weight, overall size, availability of options, and greater capabilities. And those differences will help you decide which attachment will work best with your machine and for your application.
Example: Root Rake Grapple Comparison
Despite similarities, there are a variety of differences between the V50 Root Rake Grapple (URG) and the V60 Root Rake Grapple (RRG). The RRG has thicker steel and is made for larger skid steers. It also features a hard stop, which prevents excess stress and damage to the cylinders.
Here's a side-by-side spec comparison of a 72-inch URG and RRG:
| | | |
| --- | --- | --- |
| MODEL | V50 Root Rake Grapple (URG72) | V60 Root Rake Grapple (RRG72) |
| Depth (Inches) | 22.1 | 31.6 |
| Height (Inches) | 25.3 | 29.7 |
| Jaw Thickness (Inches) | 0.375 | 0.5 |
| Rake Tine Thichness (Inches) | 0.375 | 0.5 |
| Jaw Opening (Inches) | 40.0 | 50.3 |
| Weight (Pounds) | 845 | 1175 |
| Recommended Loader Capacity | Less than 2400 pounds | Greater than 2400 pounds |
Keep in mind that "Recommended Loader Capacity" is a key spec to look for when trying to properly match an attachment to your machine. If questioning whether a product is suitable for a particular loader or application, it's still important to check the specs or contact a dealer. You can view the spec chart for any of our attachments by viewing their product pages.