Here at Virnig, we concept, design, prototype, test, and manufacture a wide array of high-quality skid steer attachments. But do you know what we don't do? We don't sell our attachments directly to customers. Instead, we partner with skid steer attachment dealers, who then sell directly to customers. We place a high level of importance on our dealer relationships, putting time and effort into ways to support them. Here is a look at some of the ways we support dealers.
Our Website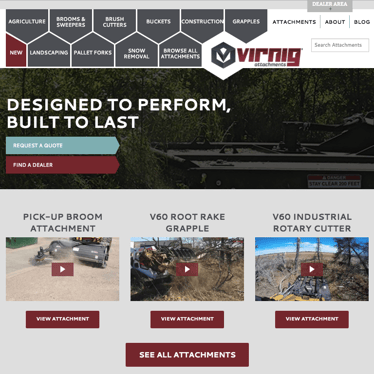 We've designed our website so that dealers and customers alike can find answers to their questions. It's easy to navigate and details a lot of information about what goes into our products and our manufacturing process. Dealers appreciate our straightforward approach and willingness to communicate openly and honestly.
Anyone who visits our website can easily view our attachments, spec charts, comparison charts, videos of our attachments in action, and pictures of our products and production process. Dealers regularly use our website to help customers find the best attachment based on their needs. We also have a password-protected dealer area on our website, and our dealers appreciate having information laid out for them that's easily accessible.
Day-to-Day Customer Service
Whether it's our customers or dealers who are in need of assistance or information, they are more than welcome to call us directly for assistance (toll-free). Our employees who take customer service calls know our products and understand how they work. We have engineers and even a welder who used to build our attachments answering questions and helping whoever calls in.
Dealers definitely appreciate being able to call in and trust that they're getting the correct answers for their customers. Our customer service employees are great at giving out information and doing the necessary research. Plus, dealers know that their customers' post-purchase needs will be met by professional and helpful individuals.
Solving Problems Big and Small
We make an effort to provide our dealers with supportive materials that will help them meet the needs of their customers. And when we notice something is missing, we work to fix it. Here's an example: a little while ago, we realized that ordering spare and replacement parts was more difficult than it needed to be. As a result, we developed supportive materials that detailed our spare parts offerings.
This included making a booklet that lays out all the various internal parts someone might need. But we didn't stop there. The booklet also details how to order replacement parts and includes directions for how to rebuild various components. With this booklet, both our dealers and our customers can easily access the information and materials they need.
We're Here for Our Dealers
Any of our regional sales representatives, myself included, are available when our dealers need us. If they need a custom quote delivered or an answer to a customer's question, we're going to be right there to help.
Our dealers know that we provide high-quality, durable products at prices that are fair and competitive within the market. We always come in at or under our lead times, and if we say we're going to do something, we're going to do it. That's our commitment to our dealers.
Interested in becoming a Virnig dealer? Click here to get started.