Every Virnig skid steer attachment is built to deliver superior, long-lasting performance. To ensure years of trouble-free service, we do ask one thing of our customers: Please give the same care to your attachments as you give to your skid steer. Attachments give skid steers the capabilities to move earth, clear brush, build fences, plow snow and much more. So, every auger, bucket, grapple, cutter, trencher, and tiller deserves the same attention as your machine.
Keep Downtime Down
Whether you own a simple bale spear or a sophisticated snowblower attachment, proper maintenance is essential to protecting your investment. This is of critical importance when you consider the impact that equipment downtime can have on your farm, business or personal-use projects. Every minute an attachment is down, it chips away at productivity and profitability. So, keep those attachments ship-shape with this six-step checklist, and you'll be one happy camper.
1. Read Your Manual
When you bring your Virnig attachment home, pour yourself a cup of coffee and sit down with your new manual. Read it, cover to cover. It'll put all those important maintenance tips in your mind and prepare you for productive workdays. Keep the manual in a safe place so if you run into any issues, you can quickly consult it for the answers you need. Finally, perform ALL recommended maintenance according to schedule–it'll save you headaches down the road.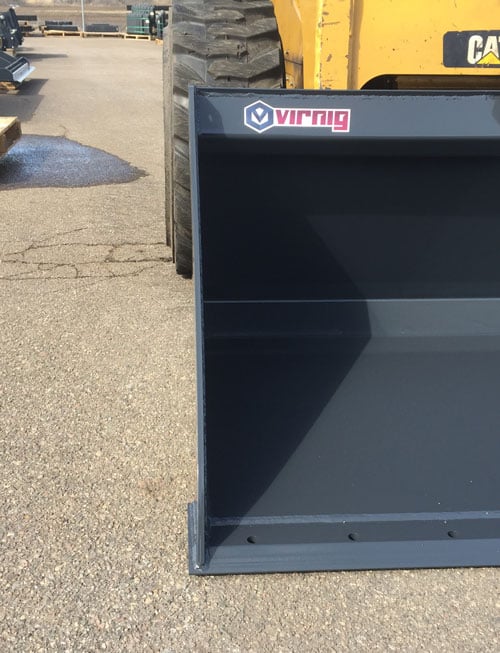 2. Lubricate Liberally
Grease is cheap, repairs aren't. Keep your attachments generously greased and remember, too much is always better than too little. Depending on your attachment and chores, here are three grease categories that'll keep you covered:
Multi-purpose #2
Developed for normal applications to provide lubrication, prevent rust and corrosion, and deliver protection under heavy and shock loads.
Heavy-duty
Contains moly for better adherence to all surfaces. It offers water resistance, extreme pressure capability, pumpability in cold temperatures and good seal compatibility.
High-performance
Formulated to provide high-temperature performance in severe operating conditions. It's intended for lube points with sliding and pivoting movements.
3. Inspect Thoroughly
Always do a walk-around of your skid steer and attachments before putting them to work. Pay close attention to all hydraulic hoses to make sure there are no pinhole leaks. A leak can become a very dangerous situation for workers and can lead to costly repairs.
Visually inspect your pins and bushings to ensure they're not worn. They take on a lot of stress and the last thing you want is a busted pin or bushing while on the job. During your walk-around, look for noticeably loose bolts, cap screws, and fittings, and confirm that all your safety shields are securely in place. If you're using a chain-driven or bladed attachment, check your chain tension and assess any tooth or blade wear.
4. Keep Clean
You can better avoid overlooking worn or damaged components if your attachment is clean of all dirt and debris. At the end of a long day's work, hit the attachment with a power washer, and remember to keep all the safety decals clean and legible.
5. Store Wisely
Machines and attachments are often left outside where they're exposed to the harsh elements. Sometimes an operator has no choice. But, if you have the capabilities, make a habit of storing your equipment in a cool, dry, protected place to maximize its lifespan.
6. Stay Safe
More than anything, we want every Virnig customer to be safe. Rule #1, if you're performing any maintenance beyond daily inspections, always relieve the hydraulic pressure before you disconnect hoses or start wrenching. It'll help prevent injury, downtime and added expense. In addition, follow these tips to keep yourself and others protected on the job site or in the shop.
Keep others 50 feet away when working or repairing
Check for debris in the mounting area before each hook-up
Make sure the attachment is properly mounted before operating
Route hydraulic hoses properly between the lift arms and attachment to avoid hose pinch
Never hit or pound couplers
Secure all equipment before transporting
Always wear proper safety equipment
If you have any specific questions about maintaining or using your Virnig attachments, call 320-393-7080, and we'll be happy to help.