Learn which skid steer bucket edge option is right for you.
You've narrowed your bucket edge selection to these four options: bolt-on, weld-on teeth, toothbar, and serrated edge, but are unsure which one is right for you. If that's your case, you're not alone. While there isn't a one-size-fits-all answer to which option is better, there are some significant differences between these skid steer bucket edge options.

Skid Steer Bucket Edge Options
Bolt-On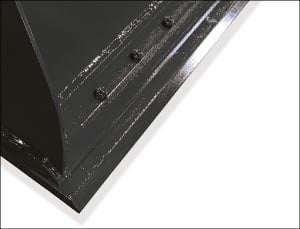 The most common and inexpensive bucket edge option. Bolt-on edges protect and add strength to the front end of the bucket. They prevent the lead edge (lip) of the bucket from wearing.
The bolt-on edge is replaceable, reversible and beveled on both sides. It can be reversed before it wears back into the bucket. Once both sides wear completely, it can easily be replaced in minutes.
Toothbar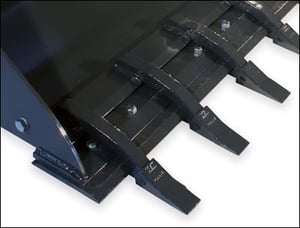 Adding a toothbar to a skid steer bucket will drastically increase the digging ability. It will help cut into rocky soil, scoop loose dirt, and dig out roots.
The toothbar is removable and easy to repair or replace. Since the toothbar is removable, the bucket will be more versatile. The toothbar's versatility does come at a cost. This edge option is more expensive than the weld-on teeth.
The toothbar's versatility is worth it for operators who are going to use it. For example, you probably wouldn't want a toothbar (or any teeth on the bucket) when clearing snow or back dragging. Having the ability to remove the toothbar keeps your options open and gives you the ability to go either way. But if you are 100 percent positive that you will never need to remove the toothbar then weld-on teeth may be the wiser choice.
Weld-on Teeth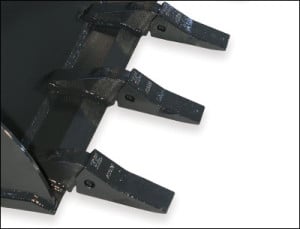 Like toothbars, weld-on teeth excel at breaking up compacted soil, catching rocks, and removing roots, but these teeth are permanent. Since the teeth are welded directly to the bucket, they are stronger than a toothbar. The added strength enables the attachment to perform better in tough soil (like clay).
If you are back dragging, grading, or plowing snow then non-removable (weld-on) teeth may cause problems. Also, weld-on teeth cannot be paired with a standard bolt-on edge, but a toothbar can.
Don't choose weld-on teeth simply because they are less expensive than a toothbar. You may end up paying for it in the long run with the lack of versatility. Instead, consider how you will use the attachment before making your choice.
Serrated Edge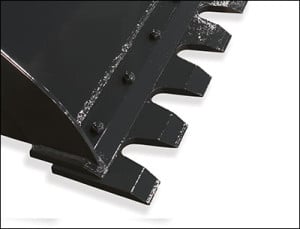 Another option to consider is the serrated edge. Serrated Edges are designed to loosen hard-to-penetrate materials such as packed gravel. These bucket edges excel in breaking up frozen ground. Because this edge is bolted on to the bottom lip of a bucket, it is easy to remove or replace, like a toothbar.
With a serrated edge, you will never have to worry about breaking a tooth or shank. They are strong like a standard bolt-on edge because when the edge meets the ground the force is exerted across the entire edge. Also, the serrated edge limits the bucket lip from wearing out, which minimizes repair costs and time spent in the shop.
If you primarily need to smooth out or scrape roadways, then the serrated edge is a great option to help cut through tough compact gravel or ice. You can always take it off later if necessary.
Finding Your Edge
Each bucket edge option offers its own unique set of qualities. Know what they are to have a better feel for which type of edge will work best for your operation. To learn more about about skid steer bucket attachments, get your copy of The Ultimate Guide to Skid Steer Bucket Attachments below.