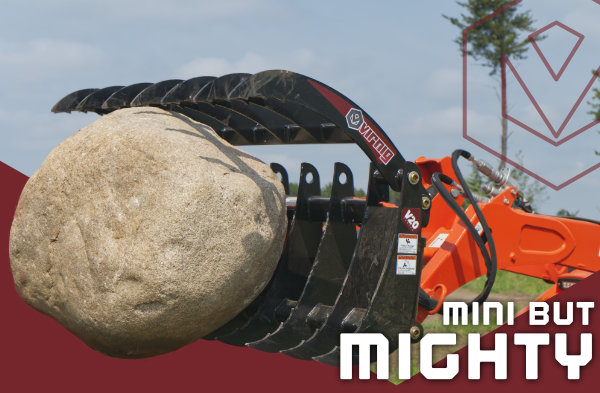 A mini skid steer is an ideal machine for small jobs around a yard or job site. Its compact size makes it easy to maneuver and transport, and mini skid steers are able to get into small areas too large for traditional equipment. But how do you get the most out of your walk behind skid steer? With mini skid steer attachments, of course!

You might be surprised by the number of options for mini skid steer attachments available. We designed our new V20 mini attachments with construction, landscaping, and forestry work in mind. Some are designed for specific applications, while others are versatile enough to handle many tasks.
TABLE OF CONTENTS (click to skip to any section)
Introduction/Summary
Product Line-Up: V20 Mini Skid Steer Attachments
Product Overview: Design & Special Features
Why Choose Virnig Mini Skid Steer Attachments?
Competitor Mini Attachment Weaknesses
How to Get the Most Out of Your Money with Your Mini Attachment
SUMMARY
In this article, we'll introduce you to our new V20 line of mini skid steer attachments, including an angle broom, brush cutters, buckets, grapples, pallet forks, and a power rake. We'll discuss designs and special features, such as mount styles and how we "future-proof" our new attachments. We'll provide information on The Virnig Difference: our family values, our premium manufacturing process, our rigorous attention to detail, and ways in which we outperform our competitors.
You'll learn what to look for when buying a brand new mini skid steer attachment, and how to get the most out of your investment. This is the first of a series of posts we'll write about our "mini but mighty" line of attachments. Stay tuned for upcoming in-depth posts about each mini attachment, their ideal use, and creative alternate ways to use them.
Product Line-Up: V20 Mini Skid Steer Attachments
There are several different types of available attachments for mini skid steers. You'll get the most out of your money by understanding which mini skid attachment is the best for your specific needs.
Construction & Landscaping
V20 Mini Skid Steer Angle Broom With a direct drive Eaton® motor and exclusive self-centering swing linkage system, get optimal sweeping with this mini broom.

V20 Mini Skid Steer Power Rake
You can angle the rake 25 degrees left or right, and the floating design means a smooth finish even on tricky terrain.

V20 Mini Skid Steer Open Front Rotary Brush Cutter
This open front mini brush cutter cuts up to 3" diameter trees. Exposed blades allow faster cutting to clear brush and tall grass in one pass.

V20 Mini Skid Steer Closed Front Rotary Brush Cutter
This mini but mighty brush cutter cuts up to 3" diameter trees and clears grass and brush in one pass with ease.
PALLET FORKS
V20 Mini Skid Steer Rail Pallet Fork


A brickguard flush with tines helps stabilize loads, and adjustable ITA Class II forged tines allow excellent maneuverability in tight spaces.

V20 Mini Wide Rail Pallet Fork


A wider rail for better stability, and a brickguard flush with tines helps stabilize loads. Did we mention adjustable ITA Class II forged tines?
GRAPPLES
BUCKETS

V20 Mini Low Profile Dirt Bucket


With a low back, extended bottom, and a cutting edge visible from the platform, you'll have excellent visibility on jobsites.

V20 Mini High Capacity Dirt Bucket


The tall back design of this bucket increases capacity, with a grading bend for optimal reverse grading.

V20 Snow/Light Material Bucket


Designed for light materials but high volume loads, this bucket features visibility windows with a solid back option for those who need better containment.

V20 Mini Skid Skeleton Rock Bucket

Pick up rocks and leave dirt behind with our mini skeleton bucket. Every tine on this beast is made from one piece of steel for maximum rigidity.
Product Overview: Design & Special Features
MOUNT STYLES
Our mini skid steer attachments were purpose-built with three different options for mount styles. Note: Model weights may vary depending on the mount.‌ See specific product pages for approximate weight fluctuations.

Mini Universal Mount


The mini universal mount is compatible with

Toro

,

Kubota

, Ditch Witch,

Vermeer

, and Wacker-Neuson mini skid steer machines.

Bobcat Mount


The Bobcat mount will work for

Bobcat

and Kubota mini skid steers.

ASV Mount


The ASV mount is compatible with

RT-25

and

RT-40

compact track loaders.
We chose to create tailor-made mounts instead of bolt-on mounts for one very important reason. Adding bolt-on mounts will extend the mini attachment further from the quick tach and lower the loader's operating capacity.‌
Mini skid steers already have very minimal operating capacity, some as low as 500lbs! This means moving the attachment even just a few inches further from the loader's quick tach will make a huge difference on the load center. It would decrease operating capacity significantly.‌
ATTACHMENT WIDTH
We took special care in naming our models so the overall width of the mini attachment does not exceed the number in the model name. For example, a CLPB36 (V20 Dirt Bucket) is 36.0" wide. This is to ensure it will fit through a 3' gate, doorway, or other narrow space with a mini skid steer.‌
FUTURE CONSIDERATIONS
Most competitor mini attachments were designed in the early 2000s and are made for lighter loaders with 500-600lb operating capacity, even though mini skid steers are getting larger, more powerful, and more popular. Virnig decided to design attachments for mini skid steers with 1,000lb+ operating capacity, which makes them tougher than the competition.
By targeting larger mini skid steers, we are thinking ahead to the capabilities of these machines currently as well as years down the road. We're "future-proofing" our mini attachments by guaranteeing performance ‌down the line.
During design, operating capacity was also kept in mind due to the limited lifting capacity of a mini skid steer. The Virnig mini skid steer attachment lineup has an operating capacity ranging from 500lbs. to 1,650lbs.
Fun fact: On our website, you'll find a bucket load calculator which takes all the guesswork out of whether or not a bucket attachment is a good fit for your intended purposes. You can find bucket heaped capacity and weight under "Specs" of the product page.
Why Choose Virnig Mini Skid Steer Attachments?
What sets us apart? From top to bottom, Virnig Manufacturing is different. Whether that's design and engineering, quality materials and components, in-house manufacturing, extensive product testing, or post-sale service, we are unmatched in the industry.
People Make The Difference
Every single employee here at Virnig Manufacturing knows they belong because we show it in our words and our actions. There's a high level of honesty and trust, which means we can speak freely and openly. When there are problems, we know to look for solutions rather than blame others. Our formula for success is employee longevity. Some employees have been here over 25 years, which isn't by accident!
We have two state-of-the-art manufacturing facilities, our original location in Rice, MN and a new location in Pikeville, TN, that opened in 2022. From engineering and cutting raw materials to machining, welding, and powder coating, Virnig attachments are made in-house.
Designs Make The Difference
We've built a reputation for quality, and we constantly innovate to design and manufacture the best attachments for our customers. This is important for many reasons. Innovation is as much about meeting the needs of our end users as it is about staying competitive in the attachment industry. As mini skid steers become bigger, faster, and stronger, our attachment designs need to adapt!
Because all of the work is done in-house, we are able to refine our designs based on direct customer feedback and strenuous product testing.
Materials Make The Difference
We only use materials that have a track record of withstanding wear and tear. We use high quality materials and premium components in everything.
Virnig mini attachments are built to last. By keeping it all in-house, we can keep a close eye on every step of the manufacturing process to ensure our attachments are up to our quality and durability standards. If there's a problem, we go straight to the source to redesign or reinforce.
Processes Make The Difference
We utilize modern manufacturing processes including high-precision laser cutting, robotic welding, and eco-friendly powder coating for unmatched quality and consistency. Over the years, we've found that this not only improves our product line, but our efficiency, quality, and consistency as well.
Competitor MINI SKID STEER ATTACHMENT Weaknesses
When building a new line, ‌it's important to take into consideration what's already on the market and how we can improve or solve any pain points our users experience. We already mentioned our attachments are tougher, built for 1,000lb+ mini skid steers. We took a deep dive into competitor research, and here's what else we found lacking in the mini skid steer attachments currently in circulation today. 
Mini Brooms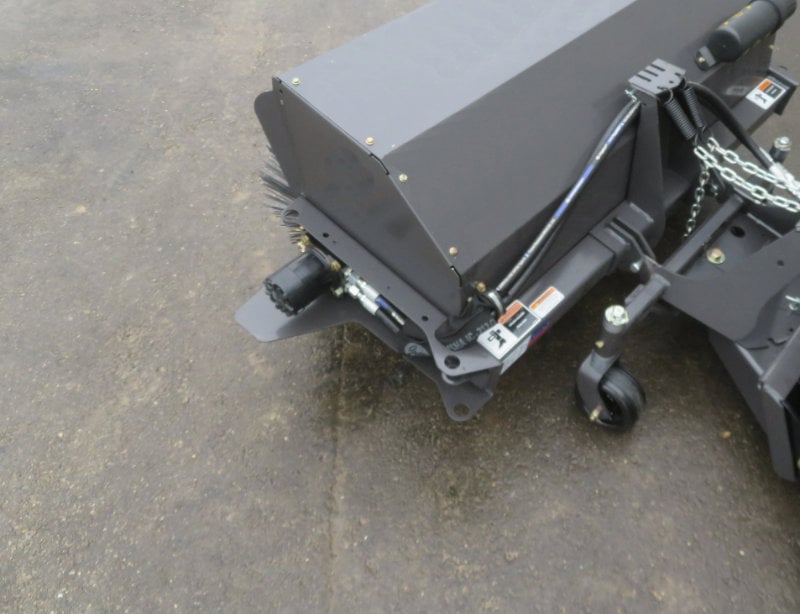 On this competitor broom you'll notice the entire motor is installed outside the broom.
Competitor brooms don't protect their most valuable asset, the motor. Virnig's Angle Broom motor is partially hidden in the broom frame, which makes it less likely to run into obstructions. It also has a motor guard to help defend the USA made motor against damage.
Some broom attachments use a chain drive system, which has potential issues such as sprockets or the chain misaligning. Our V20 Angle Broom was designed with a direct drive motor, which requires less maintenance, less wear parts, and less downtime. 
We also use a self-centering swing linkage system, which keeps the broom centered in front of the loader. This system helps keep both the broom and loader on the sidewalk when sweeping at an angle. This reduces damage to surfaces outside the desired cleaning area. When angling competitor brooms, the broom is rigid and doesn't stay centered on the loader. It can make sweeping sidewalks and other tight spaces difficult since one side of the broom will be hanging far outside of the loader's tracks when angled. 
Mini Power Rakes
The first component to call out is the tire. Most competitors don't have flat free tires, so we made a point to design starting with flat free tires which require no maintenance. 
Some rakes on the market do not float. The Virnig V20 Power Rake comes standard with a floating mount which can also be locked into a rigid mount. 
 Some competitor rakes only come with manual angle and don't have a hydraulic angle option. Virnig has both manual angle and a hydraulic angle option for operators to change the angle of the rake from their fingertips.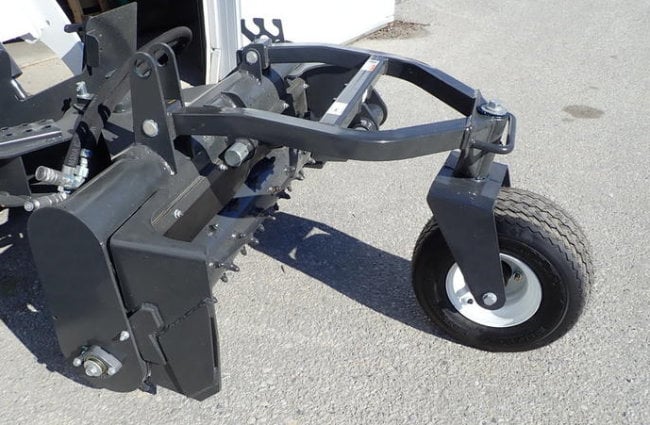 Competitor power rake which is manual angle only and has an air-filled tire.
Mini Grapples
Some mini grapples on the market only have a 20" jaw opening. The Virnig Mini Grapple's jaw opening is 30", larger than most mini grapples on the market. 
Competitors use bolts and nuts instead of machined pins on the grapple hinges. They aren't easy to grease and will rust and seize together, making them difficult to service. Virnig pins can be greased since they have grease zerks. They're also recessed in the pin which protects them from getting destroyed. Also, Virnig uses snap rings to retain pins instead of nuts. They're easier to remove and service on the jobsite. 
On skeleton grapple attachments, competitors will weld two steel pieces to the bottom tube, which is significantly weaker than Virnig's strategy to utilize one piece of steel from the tine tip to the top brace.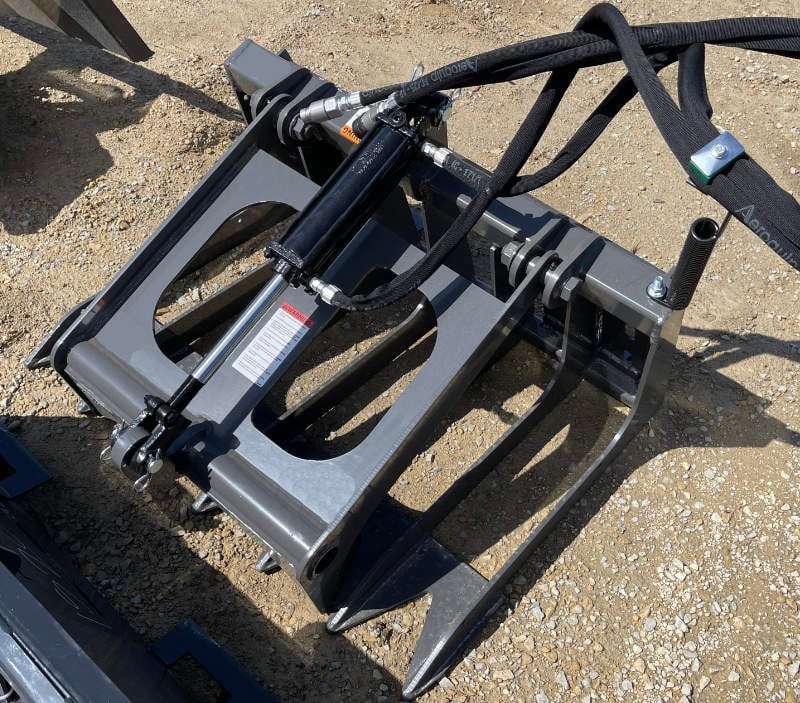 This competitor grapple uses nuts and bolts with unprotected grease zerks. The jaw opening is only 20".
Mini Buckets
Most competitors use 3/16" or thinner A36 steel (36,000 PSI). Virnig uses 1/4" & 3/16" Grade 50 steel (50,000 PSI) which is about 30% thicker to increase lifespan. If we used thinner material, we'd have to reinforce the shell with extra bracing and wear bars which add extra weight and cost.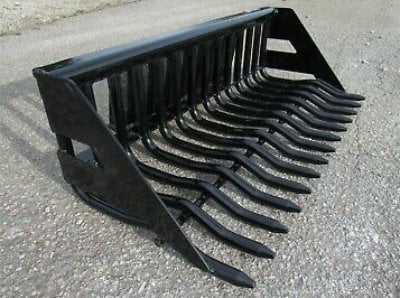 This competitor rock bucket is using an outdated rod tine design with minimal bracing and inferior A36 steel.
Mini Pallet Forks
The V20 Mini Pallet Forks have the strongest rail on the market. We use the same rail on the skid steer pallet fork attachments. These mini pallet forks are engineered to be stronger, thicker and higher quality than the competition. With 2,200lb tines, a high visibility brickguard, heavy rail system, and proper welding/gusseting, the Virnig Mini Pallet Fork provides longevity and reliability. 
Mini Brush Cutters
Lightweight competitor flywheels will bog down since there's less rotational energy to cut material. They're designed to cut grass. The heavyweight, 150lb flywheel on the 48" V20 Mini Skid Steer Brush Cutter is rated to cut up to 3" diameter trees. 
Virnig mini skid steer cutters feature spindle guards. The spindle is the most expensive cutter component and the most susceptible to damage and misuse. It's responsible for smoothly transferring power from the hydraulic motor to the flywheel and absorbing impact which could damage the motor. Competitors who don't have a guard are more prone to wrapping fence wire and damaging seals. This may cause the spindle to leak, run without oil, and fail.
... And So Much More.
Stay tuned! We'll cover more competitor weaknesses in upcoming posts when we discuss each specific mini attachment.
How to Get the Most Out of Your Money With Your Mini Attachment
Our commercial grade mini skid steer attachments are tough enough to handle even the most demanding jobs. You'll get the most out of your mini skid steer by investing in powerful mini attachments that were innovatively thought out from inception to release.
We put our new line of mini skid steer attachments through rigorous stress tests, both in computer programs and in real-life experience. Before we ever offer them to the public, all our attachments are tried and proven. Our 3D modeling software allows us to ensure proper fit, but more importantly we can stress test our attachments so that the final build has just the right level of durability. They're reinforced where they need to be, but also not overbuilt to be unnecessarily heavy or expensive.
We study every little detail to make sure that our attachments outperform and outlast the competition. We work hard because we know you do, too.
Get the job done faster and more efficiently with our innovative, industry-leading mini skid steer attachments. Boldly go where larger machines have not gone before (because they don't fit!) and trust that your mini attachment will keep you productive. Designed for the toughest applications, our premium mini attachments don't quit in the harshest environments. Less downtime means more work will be done in less time, allowing you a greater level of efficiency, reliability, and maneuverability.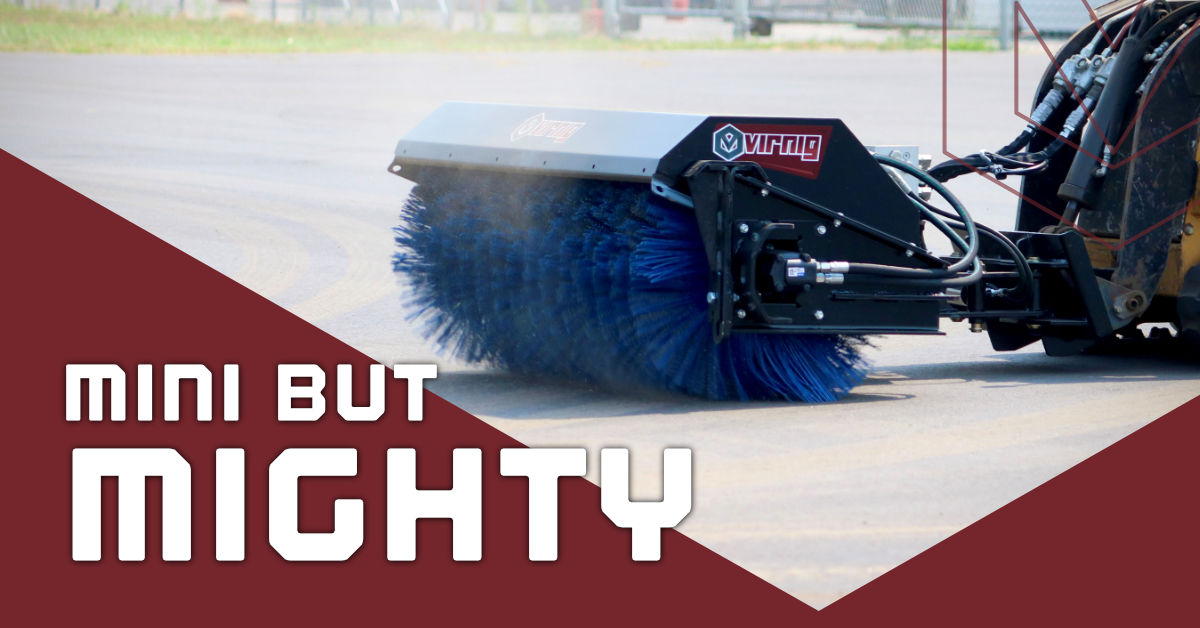 Get in touch!
Please email us or give us a call to speak with our dedicated and experienced customer service team. We'll help you choose the right mini attachments for the job, which reduces overall costs and maximizes your productivity.
If you know exactly what you'd like, click to request a quote or find a dealer!