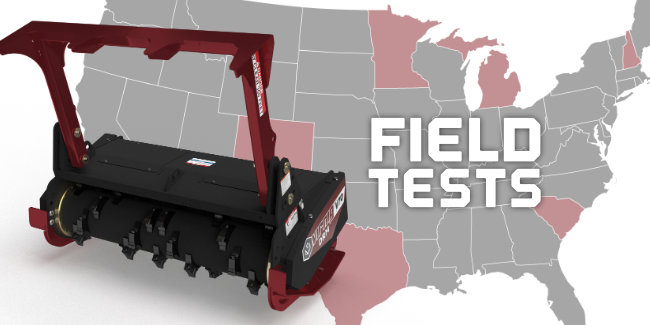 Virnig's new skid steer drum mulcher has been eagerly anticipated by those in the land clearing industry. Now, after extensive field testing in different terrains and environments, the results are in.
Find out what testers had to say about the drum mulcher's performance and how it could benefit your business.

Chapters (click to jump to a section)
Introduction to the V70 Drum Mulcher
Field Testing Feedback on the Drum Mulcher
Drum Mulcher Performance Highlights and Specs
• Features
• Specifications
• Options
Why Does Virnig Field Test?
When & How Can I Order a Virnig Drum Mulcher?
Introduction to the V70 Drum Mulcher
The V70 Drum Mulcher from Virnig is the latest addition to our most powerful V70 line. Designed for use in urban land clearing and forestry applications, this mulcher has been in testing and development for YEARS with one solid goal: to make THE BEST Skid Steer Drum Mulcher on the market.
With its heavy-duty construction, intuitive features, and variety of customization options, Virnig's V70 Drum Mulcher is sure to become a favorite among professionals in the industry. Read on to learn more about what real-life testers had to say about our drum mulcher vs. all those other guys.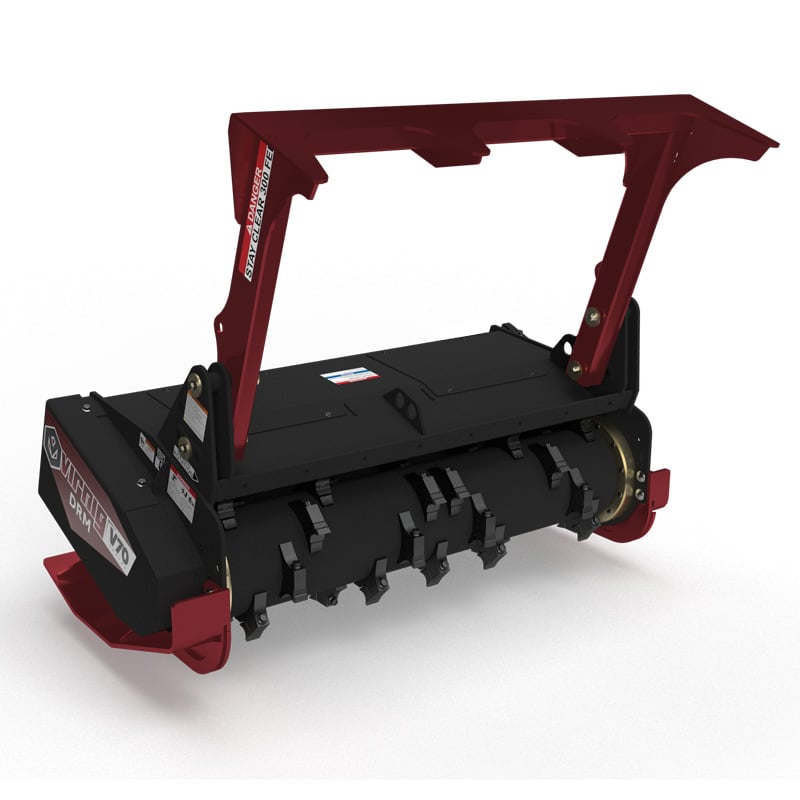 Field Testing Feedback on the Drum Mulcher
When testing a high-performance attachment like Virnig's V70 Drum Mulcher, it's important to expose it to different terrains and environments.
We sent prototypes to specific locations in the United States to gather critical feedback that helped us improve the final design and longevity of the attachment.
Here's what we learned!
Faster Spinup, Speed & Recovery
The Virnig Drum Mulcher sets new benchmarks with the ability to rapidly reach maximum speed, outperforming competitor units. The quick spinup and recovery times provide operators with a distinct advantage on the jobsite. Time is money when every extra minute adds labor and fuel costs. Overall drum speed is 2500 RPM, averaging about 500 RPM over most drums on the market.



Cover More Ground in Less Time
The overall performance of Virnig's Drum Mulcher left a lasting impression on testers. The mulcher effortlessly navigated through white pine, buckthorn, poplar, oak, and alder, and took down hardwoods with ease. The mulcher's remarkable speed and recovery, combined with a variety of tooth options tailored to different terrains, contribute to its exceptional cutting efficiency. It allows operators to achieve unparalleled productivity.


Finer Initial Material Finish
When compared to competitor units, the Virnig Drum Mulcher sets itself apart with superior results during the initial knockdown phase. The mulcher immediately produces finer, smaller mulch, which means a more refined output. This refined mulching not only improves results in the first pass, but also reprocessing which we'll cover next.


Better Ground Material Reprocessing
Virnig's Drum Mulcher really excels at ground cleanup, leaving behind smaller, finer chip sizes. This feature is highly valued by operators as it significantly reduces the effort required for reprocessing. The mulcher's ability to deliver a finer material output enhances efficiency of ground material reprocessing, saving time, money, and fuel for operators.



Better Visibility
Virnig's skid steer drum mulcher incorporates an adjustable push bar design that optimizes operator visibility. Unlike some competitor models, Virnig's push bar does not require additional bracing through the middle. A clear line of sight enhances safety and allows operators to maneuver with precision and confidence.



Well Thought-Out Push Bar Design
Testers praised the two 'fanged' push bar design of the Virnig drum mulcher, which essentially allows three positions to push from instead of a single large 'U' shape seen in some competitor push bars. Virnig's thoughtful design allows operators to adapt to different scenarios with ease, ensuring efficient and effective performance across many diverse environments.


Better Performance in Different Terrains
Tooth options and durability play crucial roles in overall performance. Testers reported exceptional wear resistance and performance, especially when steel is combined with carbide options for higher productivity in rocky conditions. The drum mulcher's ability to withstand harsh terrains makes it a reliable companion for land clearing professionals.



Cuts Instead of Pulverizes
A key distinction of the Virnig drum mulcher lies in its cutting power. Unlike most competitor tooth shanks raised 5 inches above the drum, Virnig's tooth shanks are positioned at approximately 3 inches. This design creates a noticeable difference in cutting efficiency. Testers consistently observed that Virnig's mulcher requires less power to cut through difficult material compared to competitor models. While some mulchers "pulverize" or wildly chip away, Virnig's mulcher delivers precise cutting, meaning more manageable debris at a higher accuracy.



Aggressive Design to Tackle Bigger Material
Testers raved about the openness of the front of the mulcher, which lacks a hydraulic door found on some competitor models. This openness allows the mulcher to roll forward more effectively, facilitating the pushing and cutting of larger trees. The aggressive design of Virnig's Drum Mulcher ensures that no task is too challenging, providing operators the confidence to take on even the most demanding land clearing projects.
Overall, feedback from field testing has been instrumental in ensuring that the V70 Drum Mulcher exceeds expectations of professionals in the forestry industry.



Drum Mulcher Performance Highlights, Specifications, AND OPTIONS
For forestry work that requires long hours on the job site, or precise mulching in a populated area, having the right equipment makes all the difference. With its impressive performance features, exquisite engineering, and options to dial into exactly what you need, Virnig's V70 Drum Mulcher is ready to tackle the toughest jobs with ease.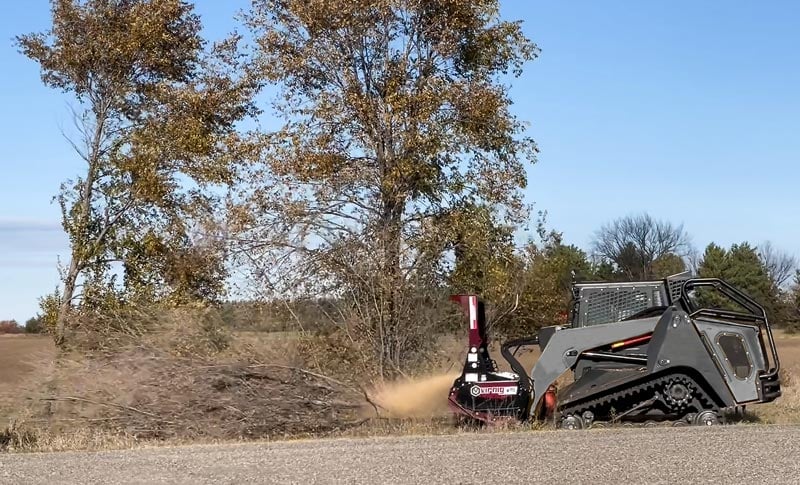 Drum Mulcher Highlights
Fixed & Variable Speed Bent-Axis Piston Motor Options. Variable Motor Provides More Torque for Productive Stump Grinding & Mulching Below Grade

Factory Tuned to the Loader for Optimal Drum RPM – No Motor Adjustment or Service Techs Required

18" Perfectly Balanced Quadco® Drum with Fully Enclosed Greaseable Bearings

Anti-Wrap Drum Plates Protect Drum from Debris & Wire Wrap

Interchangeable Quadco® Bolt-On Steel and Carbide Tooth Options Available

AR400 Bolt-On Skid Shoes, Adjustable Push Bar & Replaceable AR400 Wear Liner

Adjustable Bottom Bite Plate to Control Material Discharge Size

Spindle Low Pressure Oil Vent Safeguards Bearing Adapter Seals if Motor Seals Fail

Case Drain Connection Indicator Provides Visual Confirmation of Functioning Case Drain

Rear Chain Curtain Limits Flying Debris & Helps Protect Operator
Drum Mulcher Specifications
Cut Capacity – 14"
Cut Depth – 2" Below Grade
Cut Widths – 60" & 72"
Recommended Flow Rate – 30-50 GPM High Flow Only
Overall Weight – Up to 3,165 lbs
Recommended Loader Capacity – Greater than 2,800 lbs
Drum Mulcher Options
FIXED MOTOR
Economical motor for mulching lighter vegetation above ground.

VARIABLE MOTOR
Provides more torque for productive stump grinding and mulching below grade.

SMOOTH DRUM
Designed for heavy ground engagement and mulching into the soil.

BITE CONTROL DRUM
Helps maintain drum speed by limiting the depth of the material being processed.

PRESSURE GAUGE
Monitor hydraulic operating pressure for maximum productivity.
STEEL PLANER TEETH
For maximum productivity and the finest mulch without ground contact.
CARBIDE PLANER TEETH
For higher productivity and minimal ground contact.
CARBIDE HAMMER TEETH
For significant ground engagement in rocky conditions.
Why Does Virnig Field Test?
Field testing plays a crucial role in the development and prototype stages for Virnig Manufacturing. We start with internal product testing, which is thorough and deliberate. But to truly innovate and craft astounding attachments, we need to know how they'll perform for a variety of operators in real-world conditions and environments.
Field testing provides the opportunity to evaluate how attachments perform when faced with different materials, soil types, weather conditions, and job site requirements. Our testers help identify any potential weaknesses or areas for improvement, ensuring that Virnig attachments will ultimately deliver optimal performance in the field.
The opportunity to gather valuable feedback from operators and end users is a critical part of Virnig's process. These individuals who use Virnig attachments on a regular basis provide insights into the attachments' usability, ergonomics, and performance. Their feedback helps us understand the practical challenges faced by operators, and allows for iterative improvements to be made for the design, functionality, and longevity of our attachments.

Another important aspect of field testing is to assess durability. Virnig attachments are designed to withstand rigorous, heavy-duty use, and field testing is essential to validate durability in real-world scenarios. By subjecting attachments to skilled operators performing demanding tasks over an extended period, we can verify their structural integrity and identify any weak points.
With feedback from phase one, we may change parts or redesign. We may scrap a project and start over. Our goal is to meet the highest standards of quality, functionality, and longevity, and we remain in a testing phase until we're confident we've exceeded all of the above. Field testing data enables us to make necessary design enhancements, select better materials, or improve our processes to enhance attachment reliability.
Our objective is to exceed the expectations of our customers, and the only way this is possible is by partnering with actual users of our products and allowing their feedback to influence our final designs. By continuously improving our attachments through field testing, we can ensure Virnig attachments meet the highest standards of quality, reliability, and customer satisfaction.
It doesn't end there, though. One of the many benefits of designing and manufacturing in-house is that we can continue to improve our attachments post-launch with user feedback. We listen to everyone at every stage, so if YOU use Virnig products and have ideas for improvements, we want to hear from you!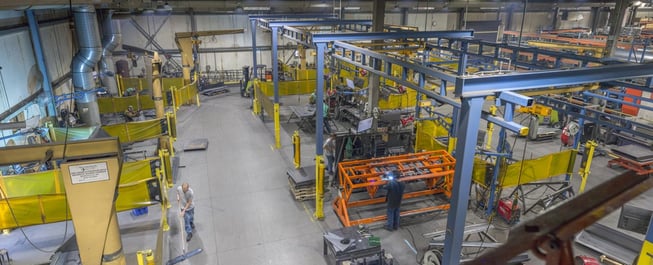 WHEN & HOW Can I Order A Virnig Drum Mulcher?
Our first limited run of V70 Drum Mulchers will be available for a December delivery date, and dealers are already placing orders to reserve their inventory. Please click here to locate a Virnig dealer near you.
To work with our inside sales team, please click here to request a quote. We can help find local pricing and connect you with a Virnig dealership in your area, ideally one that has already pre-ordered the attachment.
Virnig's V70 Skid Steer Drum Mulcher represents a true breakthrough in land clearing technology. Faster spinup and recovery time, exceptional cutting efficiency, and the ability to produce finer mulch during initial knockdown highlight its superior performance. The mulcher's improved ground material reprocessing, high visibility, fanged push bar design, and durability across various terrains further contribute to its unmatched capabilities.
With its focus on precise cutting power, enhanced versatility, and the ability to tackle larger material, the Virnig Drum Mulcher empowers operators to achieve unparalleled productivity and efficiency in land clearing applications. As the forestry industry continues to evolve, the Virnig Drum Mulcher stands at the forefront, setting new standards and raising the bar for performance and reliability. Professionals can confidently rely on Virnig's Drum Mulcher to exceed expectations and accomplish even the most challenging land clearing projects with ease.

THANK YOU TO OUR FIELD TESTERS!
We're so incredibly grateful to our real-world V70 Drum Mulcher testers all over the United States. They provide the valuable feedback we need to keep innovating and cutting a path forward through the land clearing industry. Thank you for your honesty, your time, and your help in crafting the best drum mulcher on the market!