We care about your needs. Over the past 28 years, we have built our attachments to better serve you. In our efforts to create and continuously improve, we put our skid steer attachments through extensive product testing. We need to know they can withstand project demands and provide high-end performance, durability, and ease of use.
Before a new and improved skid loader attachment hits the market, we test it. When we're happy with performance, we hand it over to customers to test for an extended period of time. While our internal testing is quite thorough, we want to know how it's going to perform for you.
Product Testing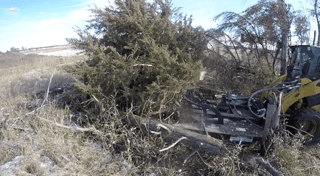 Our testing process allows us to discover any areas that need improvement before a new or updated design is manufactured and sold. After all, it's much more efficient to get things right the first time.
Choosing an Attachment Tester
We look for people who are going to push an attachment to its limits and really see how it performs. No matter what we're testing, we want to put it through real-world situations to make sure it performs as it should, the way you want it to. We choose end users who will give us accurate and detailed feedback to provide you with product quality assurance.
Typically, commercial users have pretty broad experience using attachments for skid loaders, and that experience makes them a great choice for testing. They can use it to give a detailed and specific review.
Your Feedback Matters
At the end of testing, end users give us feedback. What worked and what didn't. We want to make sure the attachment holds up to the demand of jobs and your overall expectations. If it falls short in either arena, our engineers work on a solution to maintain product quality control.
Our product designs are original. The attachments are designed with you in mind and engineered to be durable and functional. And feedback from testing helps us create a better product and manufacture attachments for skid loaders that we're proud to put the Virnig name on.