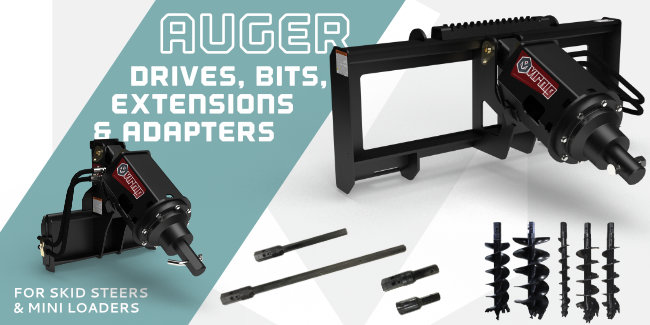 Experience the Next Level of Performance with Virnig's New Auger Attachments for Skid Steers and Mini Loaders
At Virnig, we take pride in offering high quality & durable solutions for earthmoving, landscaping and construction professionals. Virnig's new augers for skid steers and mini loaders deliver years of effortless drilling, and we're excited to introduce them all to you!
The new High Torque Auger Drive, Standard Auger Drive and Mini Skid Steer Auger Drive are built for pros who expect the best performance and longevity. Virnig auger attachments are compatible with all major brands of skid steers and mini loaders, and provide even more flexibility with 3-4' auger bit lengths, hex and round outputs, extensions, adapters, and mount styles.
FOR PRODUCT SPECIFICATIONS, PLEASE CLICK ANY OF THE FOLLOWING:


What Makes VIRNIG Auger Attachments Stand Out?
Virnig auger attachments are purposefully designed to meet the most rigorous earthmoving demands. We've integrated top quality components and intelligent design features into our auger attachments, setting them apart from the competition.
Here are some key features of Virnig auger drive attachments:
High Torque Powertrain: Equipped with high torque Eaton® and Parker® hydraulic motors and USA-made planetary drives, Virnig augers deliver unstoppable, bi-directional performance and power in extreme soil conditions.
Hydraulic Pressure Relief Valves: Virnig augers come with hydraulic pressure relief protection, which prevent

blown seals from excessive pressure if an immovable object is hit underground. You can drill with confidence and peace of mind.



Superior Hose Routing:

Virnig auger hoses are positioned away from potential hazards and directed from the top of the motor can housing. This setup enables you to drill up to 16 inches deeper than the planetary shaft hole, as long as the drill bit is 12 inches in diameter or more.



Versatility: Virnig auger attachments are compatible with a wide range of bit types and sizes, allowing you to use them for a variety of drilling applications. With standard bits, tree bits, rock bits, tooth options, adapters, and extensions, you're sure to find the perfect combination.

Robust Construction: With heavy-duty premium components and a reinforced steel frame, Virnig attachments are built to last.

Applications of Auger Attachments
Virnig auger attachments are versatile and can be used for a wide range of earthmoving, agriculture, landscaping, and construction applications. Some of the most common applications include:
Post Hole Digger: Our auger attachments are ideal for fence post installation. They'll help to dig holes for posts quickly and efficiently, reducing the time and labor required for this task.

Foundation Drilling: Virnig auger drives in combination with standard, tree, or rock bits can drill holes of various diameters and depths, making them excellent tools for foundation drilling and other construction applications.

Tree Planting: Our auger attachments are perfect for planting more trees in less time, as they can dig precise holes quickly and easily.

Landscaping: Virnig auger attachments can be used for a range of landscaping tasks, such as digging holes for greenery, digging trenches, and installing irrigation systems.

Why Choose Virnig Auger Attachments?
At Virnig Manufacturing, we are committed to providing our customers with the highest quality and most innovative attachments in the industry. Here are some reasons to choose Virnig auger attachments:
QUALITY
Virnig attachments are built to last, with high-quality components and materials that ensure reliable and consistent performance.
INNOVATION
Our attachments incorporate the latest technology and design features, making them more efficient, versatile, and easier to use than other attachments on the market.
COMPATIBILITY
Our auger attachments are compatible with all major brands of skid steers and mini loaders. Virnig auger bits, extensions, adapters, and teeth options provide you with the flexibility to use them with any soil conditions.
SAFETY
Virnig attachments come with enhanced, intuitive safety features, ensuring that you can work with confidence and peace of mind.
SUPPORT
We pride ourselves on exceptional customer support, and our team of experts is available Monday thru Friday to answer any questions you may have. We offer a full one-year warranty on all attachments, plus lifetime support with a dedicated service and warranty team.
Need help choosing the right auger attachment for your construction or landscaping business? Please email us or give us a call to speak with our knowledgeable team.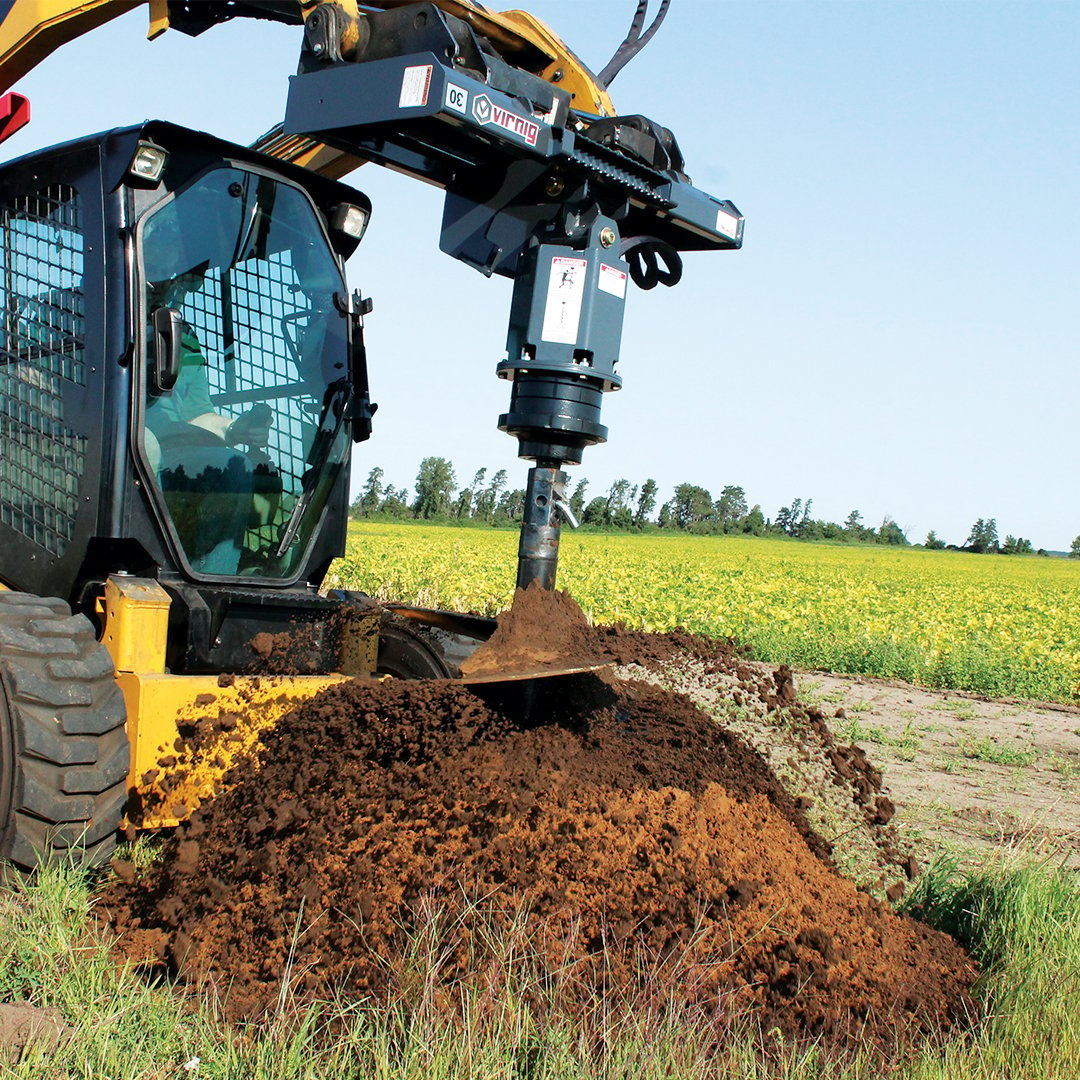 Ready for a Virnig Auger Attachment?
If you are looking for innovative, high-quality, and versatile earthmoving solutions, look no further than Virnig auger attachments.
You'll really dig 'em.
If you know what attachment you'd like, find a dealer near you to check pricing and availability.